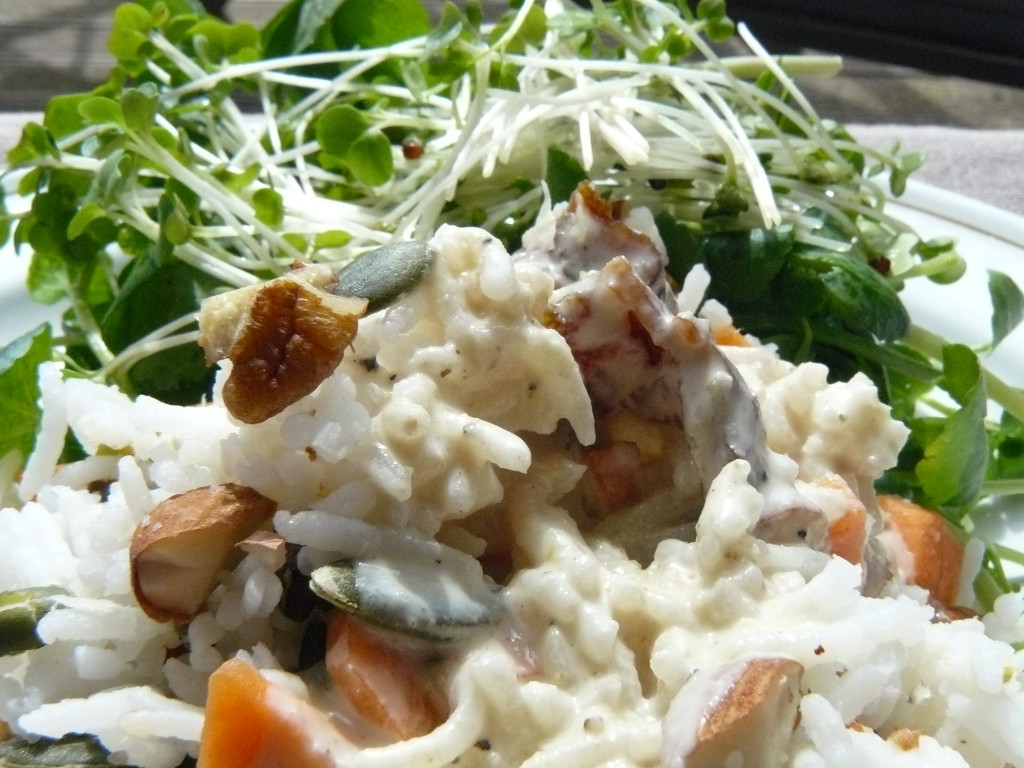 There are many benefits to this Rice, Nut and Seed Salad. It tastes light and summery but is actually a great carb-loading dish for those of you training for triathlons, summer runs and autumn marathons (yes, it's time for that again!) It makes great picnic food. It's very lunch box friendly, and you know how much we love a good lunch box. Finally, I don't know about you but I never, ever, ever make the right amount of rice so this is a brilliant way to use up the leftovers.
You can use any kind of rice you like – it tastes great with them all. Depends how much fibre you want, I suppose. The nuts, seed and tahini are good sources of protein, of course. The dried apricots give a lovely contrasting texture to the nuts and are a good source of iron and Vitamins A and C.* Served with salad leaves and bean sprouts, this is a fab nutritional all-rounder.
*We've mentioned this before but it's worth repeating: use unsulphured apricots (they'll be brown, not orange). Sulphured apricots cause the most noxious gas imaginable and nobody needs that in their lives.
The Recipe
Rice, Nut and Seed Salad with Tahini Dressing
Ingredients
Ingredients
For the rice:
1 tablespoon sunflower seeds
1 tablespoon pumpkin seeds
1 tablespoon hazelnuts
1 tablespoon pecan or walnuts
1 tablespoon hazelnuts

1 tablespoon almonds
8 unsulphured dried apricots
1 carrot, diced
2 cups cooked rice (white, brown or wild)
For the tahini dressing:
2 tablespoons tahini
Juice of 1 lemon
Half teaspoon honey or agave syrup
Quarter teaspoon each mustard powder, sweet paprika and cumin

2-3 drops soy sauce
4-6 tablespoons warm water
To serve:
Salad leaves
Beansprouts, alfalfa or cress
Instructions
Chop the nuts and dried apricots roughly, then mix all of the rice salad ingredients together in a large bowl.
To make the dressing, place all of the ingredients except the water in a jar and shake well. Add about 4 tablespoons of the water and shake again. If the dressing is too thick, add more water and shake again, repeating until you're happy with the consistency.
Serve with salad leaves and sprouts, alfalfa or cress (or all three!)