The four month sleep regression. My god. When Stanley was tiny, I thought that if you made it unscatched through the first three months, then it was plain sailing from there. How wrong I was. After a pretty idyllic newborn stage, the four month sleep regression hit us like a scooter to the ankles. In between all the loveliness of getting to know our wonderful baby, we also had some pretty hard times for a few months. I'll share some glimpses of what our lives were like during months four to seven-ish of Stanley's life, and some coping strategies we found that might help other parents facing down the barrel of sleep deprivation.
So, what is the four month sleep regression?
At 4ish months, some babies seem to forget how to fall asleep, and certainly lose the ability to stay asleep. It's an important developmental stage – moving from barely-sentient newborn to clever little infant, but it still feels like a kick to the teeth, when you'd finally started feeling normal and getting into a bit of a routine.
From three and a half months, for us this meant horrendous bedtimes, accompanied by frequent night wakings. Or more specifically, I should say 'evenings' as 'bedtime' didn't exist at all. For over two months, most evenings were made up of at least 90 minutes, sometimes up to three hours, of rocking and crying – 90% of it Stanley's – as we tried to get him to sleep and he wailed in confusion, not understanding what sleep even was. All of the tricks that had previously worked, from boobing him to sleep, to bouncing, all began to fail week by week. Adam and I would each take shifts trying to calm the baby upstairs, eating our dinner cold and watching World Cup matches alone, whispering updates on the score in the hallway.
Then, once we'd finally tricked him into falling asleep, the process would sometimes be repeated throughout the night until whatever point about twelve hours later when we would give up and take him downstairs to stare into space glassy-eyed. It didn't help that this period coincided with the longest days, and any light seemed to keep him more awake. My solution? Blocking out every tiny chink of light coming in from the windows, in my best imitation of a crack den. Both magnets and tin foil were involved. This is not necessarily a coping strategy I'd recommend, but the rest of the post contains a few of the things that actually worked for our family. As in my last baby post, I know nothing about babies so am only offering advice as to how to look after yourself!

1) Lower the bar
I had to let go of my notions of what I was going to get done on maternity leave. I was planning on it being a kind of 'Golden Age' for the blog – I'd head for a hike on the morning, take some photos in the sunshine, then put my lovely baby down for a nap and tap out a post on "How to Dress for Babywearing" or "Training for a Marathon, Post-Partum Style". I even optimistically set up my desk in the nursery, all the better to write at one end of the room while my babe cooed in their crib at the other. I was going to be a blogging superstar – after all, I was totally off work for months and months, right. How else was I going to fill my days?
I did manage to blog a bit while he was a tiny baby, when he slept all the time. I even somehow managed to complete my post-grad qualification in Executive Coaching during his naps in those early weeks. But once his sleep got worse all I could do was survive – brain energy and time were pretty hard to come by. I couldn't drive AND understand my Sat Nav at the same time, so creating quality content was out of the question. It is very telling that I have only just managed to write this post on the four month sleep regression, the day that my maternity leave finishes! And that's ok. Stanley is alive, and I'm mostly sane. That was my real job over the last 9 months. Blog superstardom might have to wait until he goes to uni…
2) Grab sleep when you can
(Sorry for this really obvious one.) When Stanley slept, I did too, as much as I could. His naps were all over the place, and often, I'd just settle myself down and start drifting off, to be awoken by him screaming blue murder in the next-to-me cot. Literally the most horrible alarm clock ever – not only an ear-piercing shriek, but one that meant I had to get up and do something, immediately! More successful were our weeks of afternoon naps snuggled together in my bed – wonderful, cosy, but totally unproductive blog-wise. Sometimes when Stanley fell asleep in the car, I would park up on our drive, bring my eye mask and a blanket outside and sleep in the car next to him. I awoke once to the neighbour's kids peering in the window as they arrived home from school. Hi, guys…
Handing the baby over to my mum or husband for a few hours while I got a good chunk of sleep was invaluable in stopping me from becoming demented. The little grabbed bits of sleep weren't enough to make me feel properly rested – it was a bit like bailing water out of a boat with a hole in it – but they definitely did help.
3) Avoid Caffeine
I know this one sounds totally bizarro, and if you're already rolling your eyes into the back of your head thinking I'm completely ridiculous, just skip on to the next point.
It might seem obvious that when you're really tired, coffee is your best friend. But for me, actually I wanted to make sure that when I got the chance, I had proper naps and felt rested afterwards. Which obviously wasn't going to happen if I was hopped up on caffeine. This wasn't too hard for me, as I'd given it up during pregnancy I just never started again, and didn't really feel the loss. I've just started having the occasional non-decaf tea now and I feel like I'm on fighter pilot pills.
4) Travel, if you can cope
If you're going to get no sleep, you may as well do it somewhere beautiful. When Stanley was 4 months old, I took him on a girls' weekend to Tenerife, and when he was 6 months old, we took a family trip to Northern Spain where he ate his first solid food. He absolutely loved the attention he got while we flew, and there's nothing easier than travelling with a breastfed baby – free food on tap.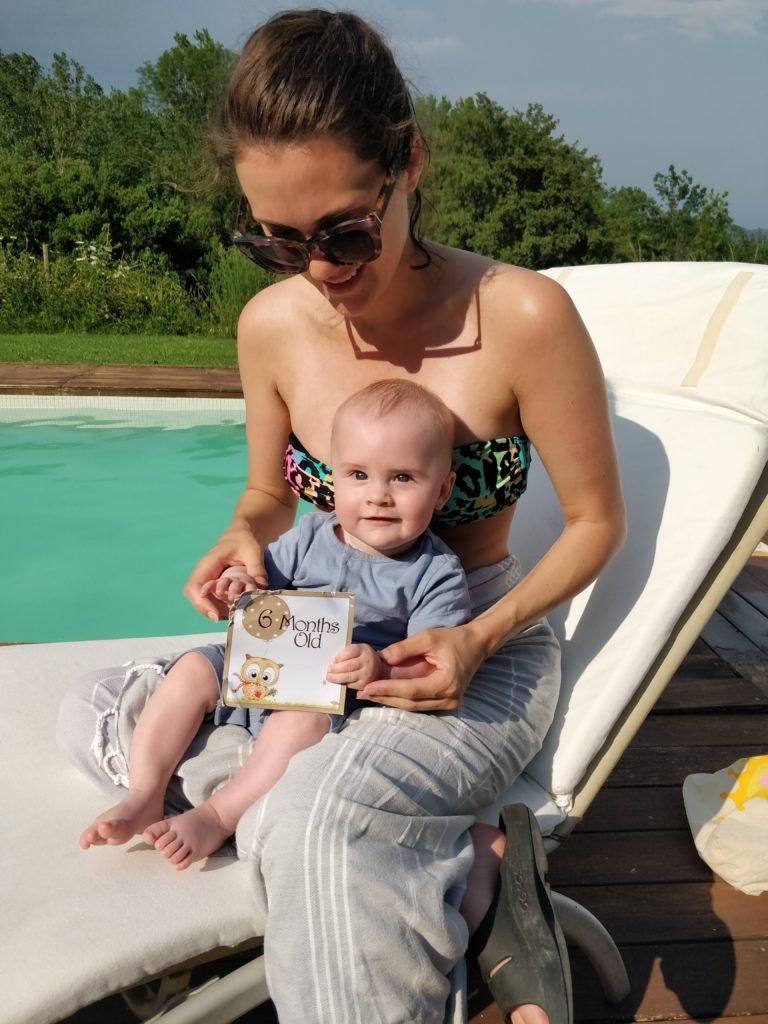 5) Find your Tribe
It is so, so important to surround yourself with supportive mamas, close either in geography or just availability to offer advice. This lovely post from the New York Times sums it up perfectly – "You need people who are in the trenches with you because you forget so fast what babies are like. Already, I cannot recall what a child does at four months vs. five months vs. six." I'm lucky that my best friend had a baby just one week after I did, but we've been less lucky that she lives on the West Coast of Canada – 4656 miles away – so coffee dates have been thin on the ground. This hasn't really mattered, as we've both got such strange waking hours that we can have a WhatsApp conversation on any element of the babies' strange behaviour and put our minds at ease.
Similarly, everyone says that going to an NCT antenatal class is just buying yourself friends, and they're completely right. My NCT friends are my best purchase of the year, and I'm not taking them back unlike some of the baby junk we've bought. While I really appreciate the advice (and hand-me-downs!) from friends with older babies, I would have gone mad without some amazing people right in the trenches with me during this period of my life. Friendships forged in fire – I couldn't be without you, or your amazing babies. Thank you.
6) Embrace 'Musical Beds'
Even if you are emphatically against the idea of bed sharing with your baby, there will be some nights that the baby decides their cot mattress is a bed of nails. God knows why they suddenly get a 'my cot is lava' feeling, but the only way you're going to get any sleep on those nights is to chop and change who sleeps where, as the tiny boss is in charge. Before I had Stanley, I was very judgemental of parents whose partners ended up in the spare room, and swore we'd never do it. Then I realised that everybody got some sleep the nights when we did a bit of bed tetris, and just embraced it. (Always follow safe co-sleeping rules, of course). Where you start the night may not be where you end it, and that's ok, if it means everyone gets a tiny bit more sleep.

This stage was a total killer, but so worth it, as at the other end we had a baby with a personality, who loved being with us and lit up when we walked in the room. He's so much better than he was before the regression, and we wouldn't change the process for the world, as it got us to where we are now. Though I maybe should have invested in better black out blinds earlier to save on the Trainspotting chic.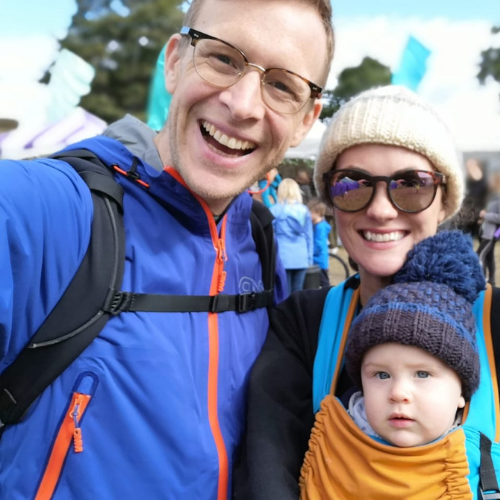 I'm headed back to work tomorrow, and my husband will be starting his Shared Parental Leave until the end of the year. I've had an amazing maternity leave all told. The best summer in years, amazing friends, happy, beautiful healthy baby. Bring on the next chapter, with my wonderful husband and son getting to spend some time together. Thank you so much to everyone who has been a part of Stanley's life so far and made my maternity leave so special.