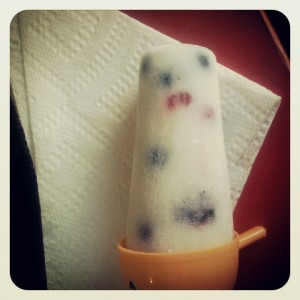 It is scorching in London today, so I am very pleased with the Me of yesterday who chucked together a batch of these and popped them in the freezer. Good one, Yesterday-Bibi.
Before I get to the recipe, a few words on being out and about when it's hot:
Hydrate! 
Go early. (I was running at 6am today, ack!)
Wear sunscreen.
Rehydrate afterwards.
These 'pops are fantastic – the creamy yogurt and peanut butter are the perfect counterpoint to the jam. As they're not churned like ice-cream, other frozen yogurt ice pops can get big crystals in them, but the jam doesn't freeze in these guys. This means that the milk crystals are a lot more diffuse, giving what the nerds would call 'a mouthfeel with a consistent level of fracturability' and what I'd call 'yum'.
I don't think you have to be a peanut butter-head to like them, but I'd need an unbiased opinion on that. If you're a bit unsure, try the Team GB variation, which is the only red, white and blue food I would ever be able to stomach.
Peanut Butter and Jam Frozen Yogurt Ice Pops
Ingredients
4 tbsp of peanut butter, preferably smooth
2 tbsp of something sweet, such as honey. I used agave nectar.
Yogurt
Milk (read instructions below for amounts)
3 tbsp raspberry jam
1. Before you start, fill your ice pop tray with water and pour it into a measuring jug. You're going to make about 90% of this amount of peanut butter yogurt mix, to give it room to expand when it freezes and for the jam. Pour OUT the water and remember the figure you're aiming for.
Into the measuring jug put the peanut butter and sweet thing.
2. Now fill the jug up to your remembered figure with any kind of yogurt and any kind of milk in an approx 2:1 ratio. Give a really good stir with a whisk or fork – you don't want any lumps of peanut butter.
Pour the mixture halfway up your ice pop container, and then put in 1 teaspoon of jam on top of the mixture. Remember the ice crystals? You want this jam to run in ripples through the pop, so give it a poke with something pointy, like a popsicle stick. Pour the rest of the yogurt mixture on top and give another poke through for further rippling.
3. Put your lids on carefully, and put right-way-up in the freezer. Wait 6 hours, or overnight and you'll be rewarded for your patience with creamy, crunchy, melty treats.
Team GB Variation
Ingredients
Small handful each of blueberries and red berries (raspberries, redcurrants etc), fresh or frozen
3 tablespoons something sweet, honey or agave nectar
Half teaspoon vanilla extract
Yogurt
Milk
1. As above.
2. Put you handfuls of berries in your measuring jug and add your sweetening and vanilla. Add yogurt and milk up to your remembered volume. Give a good stir – it doesn't matter if the berries break . They'll give out their lovely juices into the vanilla frozen yogurt and look extra patriotic.
3. As above. Give them a couple of minutes to thaw when they come out of the freezer, as the berries can be quite hard at first.