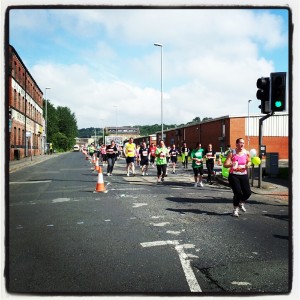 I've done countless races. I love the buzz of joining dozens, hundreds, sometimes tens of thousands of other people with my running gear on. There are the nervous newbies (we've all been there) and the Garmin-ready leg-swingers hyped up and itching for another PB.
Then there are the volunteers. 'Who?' did I hear you ask? You know, them, the semi-invisible people who actually MAKE IT ALL HAPPEN! To my shame, I'll admit that I've barely given them a second thought in the past, except maybe to mutter grumpily when the 'service' they provide isn't quite good enough – bag drop too slow, not enough marshalls on the route, whinge, whinge…
I decided it was time to see what it was like from the other side and signed up to help at the Jane Tomlinson Run for All 10K in Leeds. The first thing I discovered was that volunteers have to get up very early. The race started at 9am prompt but we had to be at our meeting station at 7.45 – turns out there's stuff to be done before it all begins. Who knew?
In our regulation high viz vests, we walked the course with coordinators, alongside the road traffic teams setting out the cones and road signs, the volunteers setting up the water stations and the St John Ambulance crews organizing the first aid points. Did you know that St John people give 4 million voluntary hours each year (yes, 4 million!) to make sure we're safe at events like this? Check out their volunteer programme here.
We were  assigned marshalling points along the way – mainly to police closed roads and prevent motorists trying to gatecrash proceedings. The next thing I learned was how every single driver thinks that 'Road closed' signs apply to everyone but them! Amazing quite how many decided to chance their luck, even though there had been signs warning of closures for weeks before the race.
Unfortunately for the runners, the sun, which rarely shows its pretty face in British summertime, decided to come out. This was fine for the elites, who are used to variable conditions (it's a fast, flat course and the winner came in at 30:48). It wasn't so much fun for the new runners though, especially not the ones in costume. It gets pretty hot running in a wig or a comedy hat; it's more or less unbearable when you're dressed in as a gigantic bear, as the poor guy below sweatily attested at 8.5k. Spare a thought for his pal with the bucket too – it's no fun running with those things either – and the more generous spectators are with their change, the worse it gets!
They ran, all 8000 amazing people who took part and I spent much of my time tearing up at their hard work and dedication (another lesson: if you get up early enough to put mascara on, make sure it's waterproof). Many of them will keep on running – it's pretty addictive, as we know – but if they never run another step they're still superstars in my mind. Absolutely inspiring.
Of course, somebody has to come last – these lovely hula girls and another headless, overheating bear brought up the rear. A case of last (by some considerable distance) but emphatically no means least.
When it's all over, the clean up begins. Oh, yeah, somebody has to do that, don't they? That'll be me and the other volunteers then… Spare a thought for them next time you chuck your water bottle or plastic cup – it takes quite some time to gather 8000+ of them from gutters and grass verges!
It was an incredible, truly thought provoking experience and I'll definitely do it again. I made some new pals and decided to do my Great North Run this year for Macmillan instead of for my own entertainment. It was exhausting though, almost as tiring as doing a 10k…