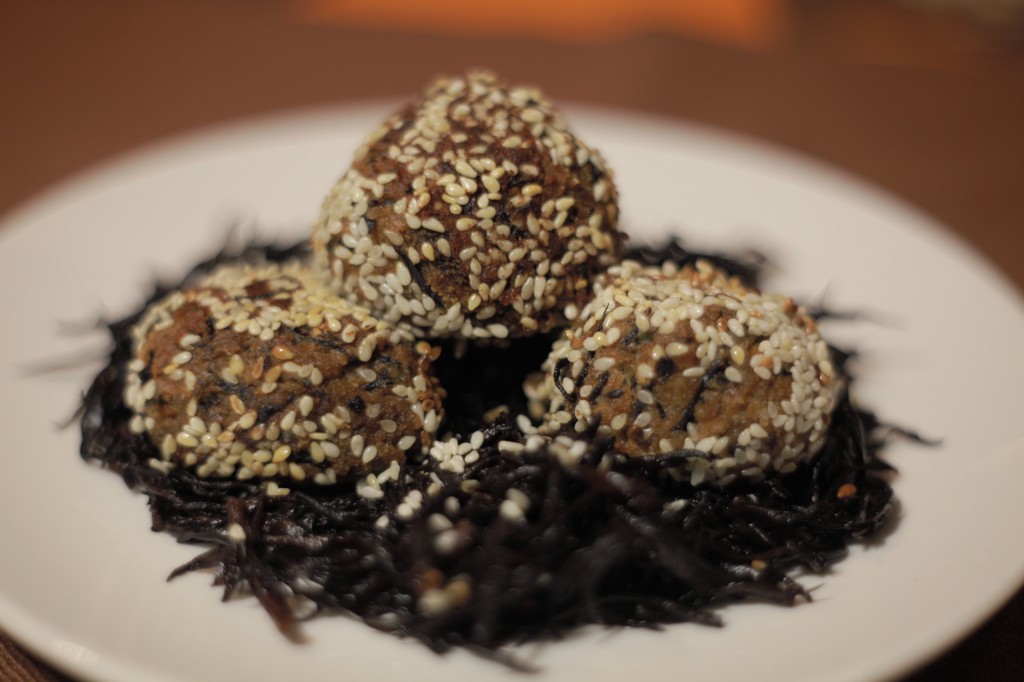 It had to happen sooner or later, didn't it? Yes, we were bound to post a recipe with seaweed in it. The only surprise really is that it didn't happen sooner. Seaweed used to be much maligned as hippy dippy food. Now though, with the relentless rise of sushi (they sell it in meal deals in the supermarket – who could have predicted that?) it's quite commonplace in many people's diets.
You can get a lot from adding seaweed to your diet. It's high in essential amino acids, making it good source of vegetable protein for vegetarians. It's high in Vitamin K and also contains Vitamins A and C. And it's like a mini-mineral mine, containing potassium, magnesium, iron, calcium and iodine. Not bad for a food that many cultures have ignored for centuries.
Tofu, Seaweed and Sesame Party Snacks
Makes about 20
Ingredients
25g Hijiki seaweed
200g firm tofu
6 spring onions, chopped finely
1 carrot, grated
6 chestnut mushrooms
1 tablespoon miso
1 tablespoon soy sauce
2 heaped teaspoons fresh ginger, grated
1 dessertspoon sesame oil
100g wholemeal breadcrumbs
3 tablespoons sesame seeds
2 tablespoons vegetable oil for frying
Method
1 Soak the seaweed in a small bowl of water for 10 minutes.
2 Saute the spring onions, carrot, mushrooms and ginger in the sesame for 10 minutes, until softened.
3 Place in a mixing bowl and add the breadcrumbs and 15g of the softened seaweed.
4 Crumble in the tofu and mix well.
5 Shape the mixture into balls about 2cm in diameter. Spread the sesame seeds on a large plate and roll the balls on the plate to coat them.
6 Shallow fry in the vegetable oil for 6-8 minutes until lightly browned. Turn frequently to prevent the sesame seeds from catching.
Serve on a bed made from the rest of the seaweed (which is edible as it is, by the way).