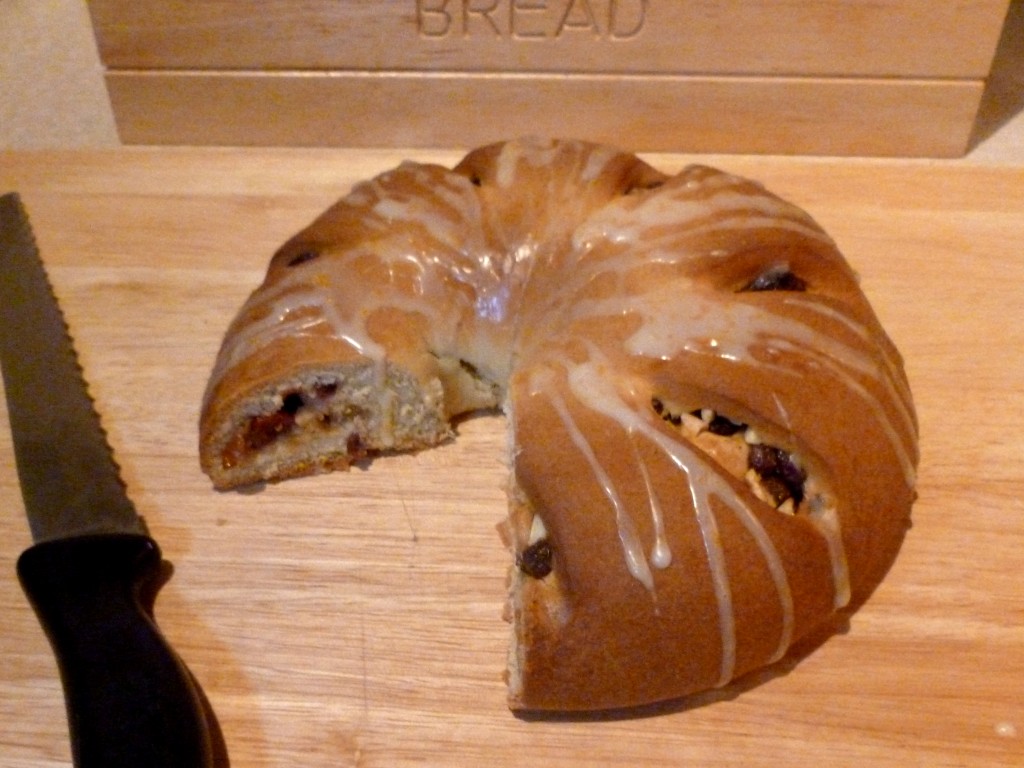 This is what they'd call a 'showstopper' on The Great British Bake Off but is actually quite simple to make. It would make a nice family baking project around the holidays. It would also be the perfect way to use up the mixed fruits that are lurking at the back of your cupboard, too.
Allegedly, it's lovely the next day sliced and toasted under the grill. I doubt that we are going to get the chance to find out – it's been out of the oven for 45 minutes and there is less than half left!
Christmas Fruit Crown
Makes 12ish slices. For us, that's meant 'serves 4'!
Ingredients
250g strong plain flour
60g caster sugar
7g packet fast-action dried yeast
5 tbsp warm milk
60g butter, melted
1 egg, beaten
For the filling
25g butter, melted
50g glace cherries
200g dried mixed fruit
50g blanched almond, chopped up
50g caster sugar
2 tsp mixed spice
To serve
6 tbsp icing sugar
zest of one orange
Method
1. Put the flour, sugar, yeast and a pinch of salt into a large bowl. Mix the butter, milk and egg in a jug then pour into the flour bowl. Mix well, adding a little more flour to the mix if it's very sticky. Tip out onto a floured surface and knead for ten minutes (good for your biceps!) Re-flour the surface and roll the dough out into a rectangle around 30cmx20cm.
2. Brush the 25g of melted butter over the dough, leaving 2cm along the far side unbuttered. Mix together the cherries, dried fruit, almonds, spice and caster sugar and spread all over the buttered area. Brush water along the far, unbuttered edge and roll the dough up tightly towards that edge, sealing the dough.
3. Shape the dough into a ring and put on the baking tray with the join on the underside. Cut the dough a few times to let the fragrant fruity mix peep out. Cover with oiled cling film and leave in a warm place until it doubles in size.
4. Heat the oven to 200c/180c fan / 400F / gas mark 6. Bake for 35 – 45 minutes until it is golden-coloured, and sounds a bit hollow when you tap it underneath. (It won't sound as hollow as a regular loaf, as it's full of fruit!)
5. Cool on a wire rack. Mix the icing sugar, orange zest and enough water to give it a single cream consistency. Drizzle over the loaf with a fork. Leave to set before serving (don't worry, it doesn't take long!)