Next weekend, mum will be running the Pain Barrier Mud 10K. She doesn't even like getting her feet wet on a normal run! Stay tuned to see how she does. In the meantime, here are 4 races from around the world that I'd love to have a bash at, one day.
1. Color Me Rad 5K, Nationwide US
You start off the race in pristine white, and bombard each other with different colours at various checkpoints along the race. In their own words – "Each section of the run adds a new explosion of color to your clean, painter's palate until you cross the finish line into a final blitzkrieg of color." Totally rad.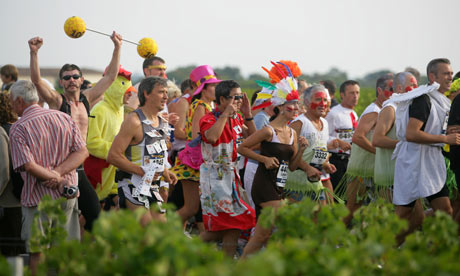 2. Marathon du Medoc, Bordeaux, France
(Photo: De Tienda/Dubroca/AMCM/PR via The Guardian)
Set in the picturesque Medoc area of Bordeaux, we could pretend that seeing some French scenery is what we find interesting about this race. In fact, it's the 30 chateaux that you pass through, offering cheese and wine instead of the more usual power bars and water. I doubt anyone's ever run a PB on the course, but that's not what its there for. Santé!
3.  Hatfield and McCoys Marathon, West Virginia and Kentucky, US
At the site of the famous and bloody feud between two families in the Wild West, descendants of the two compete over something actually important – to have the shortest combined time over 26.2 miles. Don't worry if you don't happen to be related – you get to choose a family at the time of registration and you race for them. Just picture the duelling banjos from Deliverance when you start flagging for an extra boost.
4.  Zombie Evacuation 5K, UK (But lots of these in the States as well)
A 5K obstacle race with "a theatrical twist" – ZOMBIES. The aim of the race is to make it through the 5K with all of your 3 'lives' (tags attached to your waist) intact, while the volunteer army of zombies shuffle/dash after you trying to grab them.
You thought nothing could beat the adrenaline of running across the Tyne Bridge with thousands of other runners in the Great North? You didn't factor in fleeing from decomposing hoards across an obstacle-ridden trail in the British countryside, did you?
What's the weirdest race you've heard of? What's the best race you've ever done?