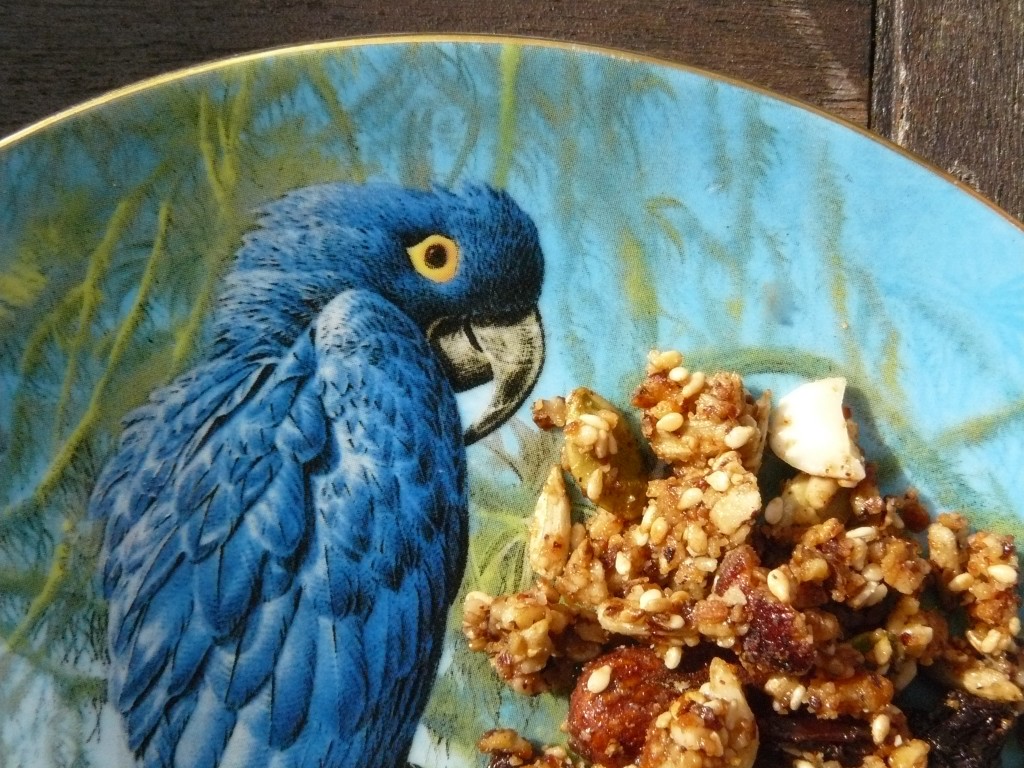 Ah, yes, here we go. Let's get the 'vegetarians only eat bird food' gags out of the way… This sweet-treat mix made of nuts and seeds does look like something the parrot would enjoy, we grant you, but it's a brilliant snack for runners. It's great for before, during and after long runs, and also wonderful to stave off hunger when you're racking up the miles during marathon training.
I had a little bag of this with me every night when we were doing rehearsals for NVA Speed of Light in Salford. We ran up to 3 hours each night for 7 nights and needed all the healthy help we could get! This energy mix has all the goodness of nuts and seeds, plus it's made with low GI agave syrup. Sugars are still sugars, of course, but this recipe uses just enough to bind the nuts and seeds together. 
This is a really moreish mix. On your first taste, you'll think 'Yeah, I quite like that.' On your second, which will be only a matter of moments later, your thoughts will be along the lines of 'Actually, that's really good!' Your third thought will be 'Someone take that away from me – I can't stop eating it!'
Divide it into small portions and carry some in your kit bag at all times. It's great to snack on before a race or the gym, fab to have with you during a long training run and perfect to eat in that all-important refuelling window straight after hard core exercise.
Sweet Nut and Seed Energy Mix

Ingredients
1 tablespoon hazelnuts
1 tablespoon almonds
1 tablespoon pecans
2 tablespoon sesame seeds
2 tablespoons pumpkin seeds
2 tablespoons sunflower seeds
1 tablespoon agave syrup
2 tablespoons sultanas or large raisins
Method
1 Buzz the nuts in a food processor or with a stick blender for a few seconds (leave some chunks – don't buzz them to dust).
2 Roast them in a dry frying pan for a few minutes until they begin to brown slightly. Place in a bowl and set aside.
3 Now roast the seeds in the frying pan until they start to brown.
4 Return the nuts to the pan, stir well with the seeds and add the agave nectar. Stir well to prevent the agave sticking.
5 Cook for about 1 minute until the agave starts to stiffen slightly and the nut and seed mix starts to bind in small clusters.
6 Remove from the heat, allow to cool for a couple of minutes then stir in the sultanas or raisins.
7 Spread on a baking sheet or large plate to cool evenly. It's ready to eat when it's cool and still slightly moist but not too sticky.