As you know, we're big fans of exciting vegetarian dishes. We're also very fond of a good curry. So when Prashad, an Indian vegetarian restaurant just outside of Leeds, invited us to sample their wares we were, to put it mildly, deeee-flipping-lighted. Prashad is not just any old restaurant, it's one of Britain's best. It was a finalist on Gordon Ramsay's Best Restaurant 2010 series, has been featured in The Michelin Guide and The Good Food Guide and gets only rave reviews on Trip Advisor (a more or less unique achievement, we think). Now, with head chef Minal having her eye on a Michelin star, they've upped their game even more. Their blend of home-cooked Gujarati cuisine with locally-sourced, fresh Yorkshire produce is unique – and very, very tasty.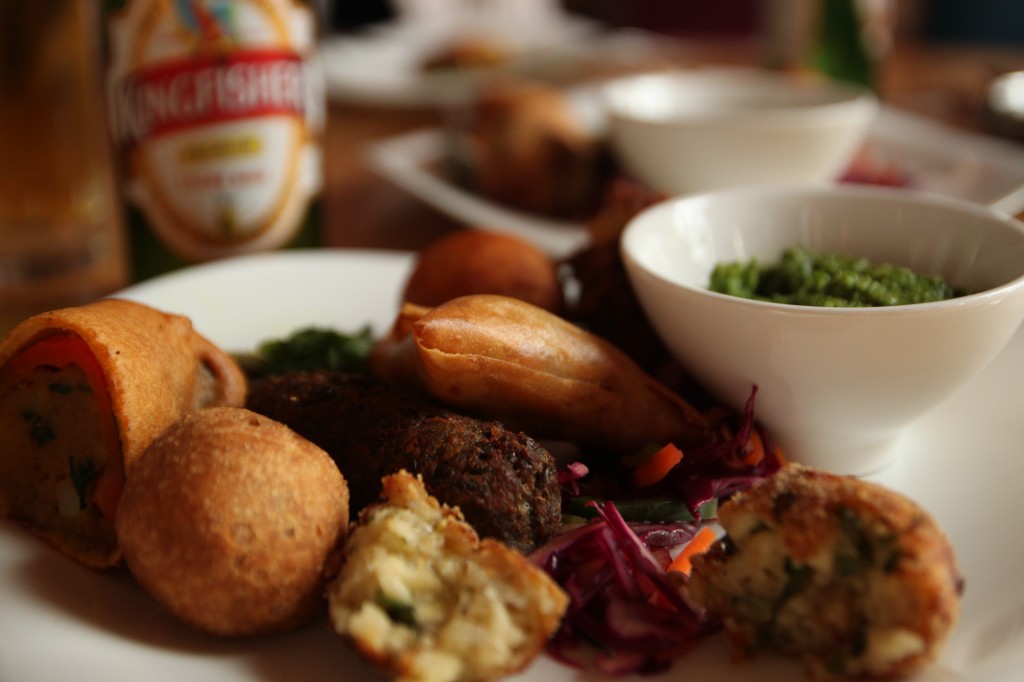 We were there mainly to sample their National Vegetarian Week offer, their Sharing Platter. It serves 2, is half price (£5.25) and comes with a bottle of Kingfisher beer each. It's an amazing deal – every single one of their starters on one delicious bundle. Unbeatable, really.
We didn't stop there, of course. Well, how could we? We tried a couple of their stunning mocktails – a Mango Lopez and a Berry Indian. Some of the prettiest drinks you ever did see. Tasty too. Our main courses were Chole and Seasonal Vegetable Handi, served with Mixed Veg Rice and fluffy Puris. I realize here that I could use the vocabulary so beloved of restaurant critics: it was sublime, earthy, luminous, zesty etc. Let's dispense with the fancy stuff though; it would be easier and more accurate to say simply that it was absolutely wow, yum, mindblowingly and then some.
Luckily, running burns off a lot of calories so we're always able to find room for dessert. Praise be, because that took us to another level of bliss. Three desserts: Kulfi with pistachios, almonds and cardamom; Non-Dairy Ice Cream that miraculously managed to taste like the creamiest thing on earth; and Faluhda, a rose flavoured milkshake with vermicelli and rehydrated basil seeds. Faultless, every one, and beautifully presented.
I'll admit it's getting tricky here. A review is meant to contain at least some minor criticisms, isn't it? What can we say, though? The food was interesting without being faddy and everything we ate elicited 'Ooh, that's delicious – what is that flavour/taste/ingredient?' The service was impeccable – not a spot on the tablecloth, not a dish served at the wrong temperature. We also got to have a good chat with Chris Blackburn, more commonly known (by us) as the Yorkshire Pudding Champion of the Universe. He's probably the only Yorkshire Pudding celebrity on the planet and he really knows his stuff. A mine of information on this great British delicacy, he set us thinking about what would be the perfect YP for runners. So far we have peanut butter, goats cheese and sesame (separately, of course). If you have other ideas on this, do let us know.
Anyway, back to Prashad. It's hard to believe that a gem like this is tucked away just a mile or so off the M62 between Leeds and Bradford – but it is so if you're in the area, you really should treat yourself to the Prashad experience. Prashad's National Vegetarian Week deal runs from 20th-26th May. The restaurant is in Drighlington, BS11 1AT.
If you can't make it there, treat yourself to The Prashad Cookbook – if you buy it from that link to their website you get a bonus free gift (a secret ingredient!) too. Follow them on Twitter @prashad_veggie for news on upcoming offers and some home cooking inspiration. National Vegetarian Week events and offers take place all over the UK. Follow @VegSoc and @NVW2013 on Twitter for info and updates. Our gorgeous photos were taken by Naomi Moores. If you'd like her to photograph your dining experience, email her here.