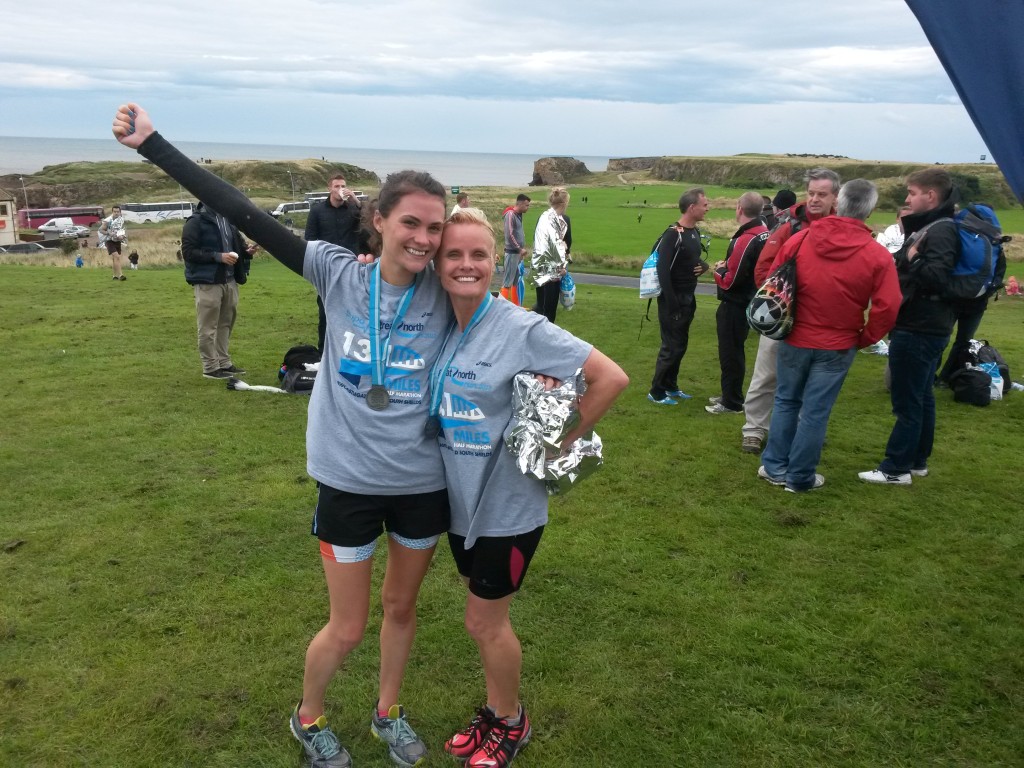 Bibi – The Great North Run was my first half-marathon since I hit-the-wall and heaved-by-the-side-of-the-road at Edinburgh when I tried to run 13.1 miles under 2 hours. As race day approached, and more and more of my colleagues asked me how I intended to do, I would mumble something about "a bit over two hours would be great", knowing in my head that anything over 1:59:59 would annoy the heck out of me.
I am a well-documented numbers nerd, so ahead of the race I worked out the EXACT pace that would take us to just under 2 hours and I stuck to it like glue throughout the race. Each mile needed to be a hair over 9 minutes on my Soleus GPS, no more, no less. The first couple of miles were actually slightly faster, despite our frozen limbs from waiting at the start line, as we got pulled along by the cheering crowds, the unseasoned runners shooting off at the starting gun and our own determination to beat the guy in a full Bagpuss costume.
Along the route, each and every one of my 9-minute-miles was powered by high-fives from small children and the bands along the way. I probably added a good half a K darting over to high-five kids in anoraks, damp but grinning. Soggy weather is great for runners, but awful for poor spectators in their parkas! I'm a bit nonplussed that so many runners ran with their headphones in along a route with such phenomenal spectators and live music every 2 miles. It seemed not quite in the spirit of things, and they were quite ignorant of the other runners around them. They were in the minority though – overall, it was the best race crowd I've ever been a part of.
We crossed the finish line in 1:58:22, feeling wonderful. So wonderful, in fact, I signed up for the 2014 Great North Run Reminder Service first thing on Monday morning…
Janey – The Great North Run is a humbling experience and no mistaking. 56,000 people, nearly all of them running for charity, pushing their boundaries, often doing something they've never done before and never will again. This year, the weather forecast was for heavy rain and gale force winds and yet still runners turned up in their tens of thousands. We kitted ourselves out with some bin bag couture and old sweaters to add to the mountain of throw aways. They're collected and donated to charity and, given this year's chilly weather, some organisation or other will have an absolute bonanza selling on slightly soiled hoodies.
Even when I know I've done all the right training, I get nervous as a kitten before races. The presence of so many people helps to take your mind off it though. We spotted Tony the Fridge, which was useful for reminding me that my task was really not so tough… Heartwarmingly, he got an enormous cheer from the crowds at the start line as he passed on the way to his starting point at the very back. Such an inspiring guy – definitely a 'do not start crying now or you'll never stop' moment!
The start of the race was fantastic – 20 minutes to get over the line, of course, but we got to high five a rugby player we've never heard of and get quickly into the underpass 'Oggy, oggy, oggy' chants. We were really exhilarated until mile 4 when the rain started coming down in best fake-Hollywood chucking buckets fashion. This didn't bode well for the next 9 miles but, incredibly, it was over before mile 5! Miracles do happen.
I have to confess that I'm a dasher and darter in races; I see a gap and go for it. Bibi was brilliant at keeping pace though, with frequent shouts of 'Mum, slow down!' Perfect, for to use the phrase made popular that day by Alistair Brownlee, I am a tactical numpty and will gain time only to lose it later by not pacing properly. My clever daughter had also memorised the race profile so that we (well, she) knew when there'd be a chance to pick up some speed, where the hills were etc. You know, all the things that numpties like me forget to think about.
Like almost everyone taking part, we were running for charity. In our case, it was (and is) the Jane Tomlinson Appeal, a charity very close to our hearts. The day of the Great North Run would have been my brother Mark's birthday; he died of cancer when Bibi was six and to run together in his memory made the day even more special for us. We'll be doing the Yorkshire Marathon soon too, fundraising so that other families affected by cancer can get the kind of support we received. Please donate if you can – every single penny helps. Thank you 🙂

Thanks to The Nutribox, our official snack sponsor; their Sports Nutrition Boxes help keep us on track during training. Thanks too to Brooks Running UK for our trainers; this race report is the best possible testament to them!