Once a year, Leeds city centre becomes awash with light and colour. It's Light Night, you see, and artists, performers and all manner of entertainers fill the city with light installations of one form or another. This year, for the first time but definitely not the last, Veggie Runners were added into the mix. Working with Space2, a non-profit arts organisation, we blended art and activity by making runners part of the event too. The separation of culture and exercise has long been a bugbear of mine; I wrote a piece last year for Leeds Inspired on Art and Running, crossly declaiming such ideas. Our Light Night Art Runs were designed to prove once and for all that the two things do go together, and beautifully.
Events like Light Night Art Runs don't happen overnight, of course, and it took months of form filling, box ticking, email sending, email following upping, telling people off, getting told off in turn etc to pull it all together. You've probably planned events – you know the score. But (as you no doubt said after your own event) it was all worth it because the whole thing was amazing.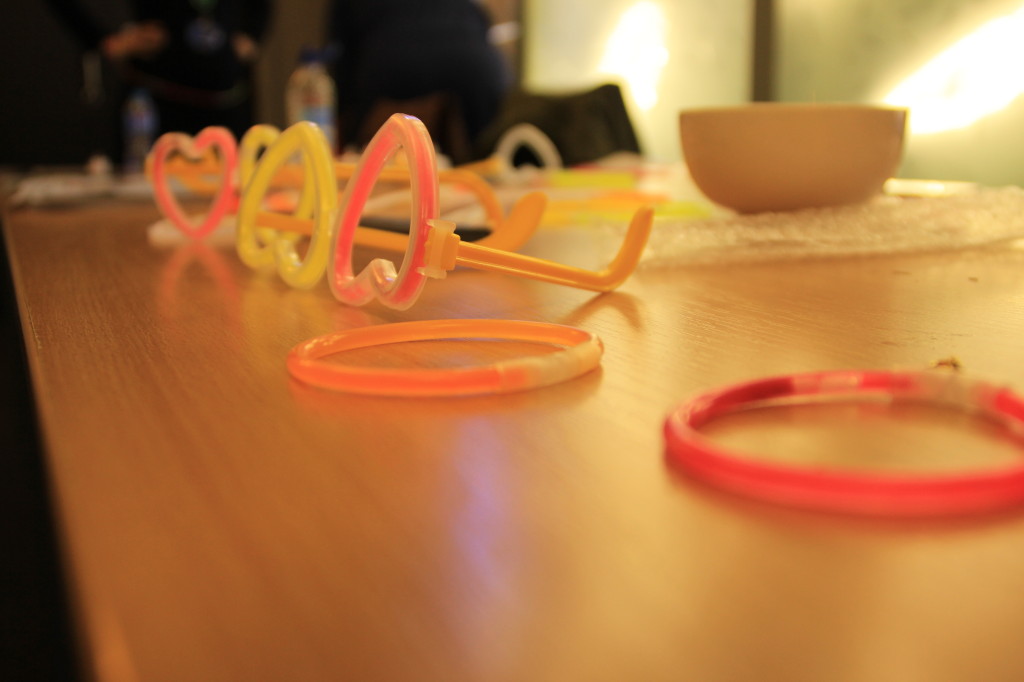 The lovely people at Yorkshire Dance provided us with a room to use as our base for registration, photography, goody bag stuffing and the putting on of glow sticks (there were a lot of glow sticks on the night).
The general idea was for runners to see and be part of the spectacle, which they emphatically were. It seemed at first like a tall order – this was the first time Light Night Art Runs had been staged so runners had no real idea of what they were signing up for. But, bless them, sign up they did. Now I don't know if this implies that runners are intrepid or just not all that smart but we were gratified to watch all the available slots filling up. We were also delighted to see just how much Light Night attitude they had – there was so much neon and so many glow sticks it was like an old skool rave, but with considerably healthier participants.
We had almost 100 runners on the night, following routes that we'd mapped around the city to take in the best of the Light Night installations and add a little something of our own into the mix. We ran in single file to create more of an impression for the audience wandering the streets.  We had a brilliant time forming a glowing snake of runners weaving around the city and running through iconic buildings like the Victorian Corn Exchange. There were gasps and 'Oohs' and 'Look, it's the light runners!' as we passed and even spontaneous applause along Briggate and in the new Trinity mall. As one runner said at the end, 'I'd do this every Friday night!'
My hypothesis is proven. Running is art. Case closed.
Huge thanks to our Light Night sponsors:
Outlaws Yacht Club, The Nutribox and Up and Running made a great night even better.
Thanks too to our fantastic run leaders who gave up their Friday night – Holly Williams, Kate Corner and Adam Hunt (and Bibi, of course). Our stilt walker, Emma, was a star too (not least because it was oddly warm for October and she wore a purple fur costume the whole evening!)