This Sunday, we'll be running the Yorkshire Marathon and I'm… apprehensive, to say the least. Though I've trained well, had a very successful 22 mile run and have got my nutrition strategy in the bag, I'm still worried. The great guys at Marathon Talk say – "Half of 26.2 is 20", and I've heard that you run the last 6.2 miles of your marathon with your head, not your legs.
With this knowledge in mind, I'm getting myself prepared for a "Why am I doing this? I want to give up" moment. In short, I need a hero, which is why I'll be running with a picture of this guy in my pocket.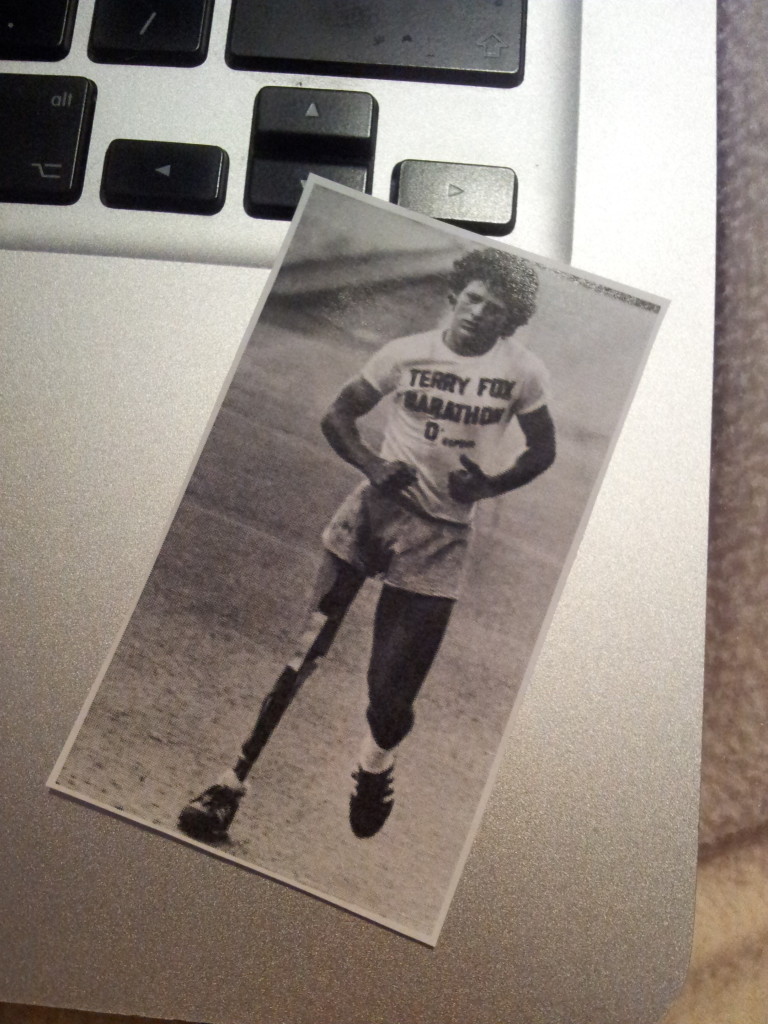 'This guy' was Terry Fox and if ever there was a hero to give you strength at your darkest hour, he was it. A talented high-school athlete, Terry's sporting career was cut short aged 19 with the discovery of a tumour in his leg. When he was in hospital having his leg amputated, he read an article about an amputee runner and was quietly inspired. In secret from his family, he hatched a plan to push himself further than anyone, amputee or no, had ever done before. Determined that people in the future would be free of the disease, Terry Fox decided to run across Canada to raise funds for cancer research. His dream was to raise $1 for every person in Canada by performing an incredible, inspirational feat of endurance.
Starting in Newfoundland, he ran an average of 26 miles each day Westwards. This was the days before prostheses designed for running existed. Terry ran with a shuffle-run, with blisters bleeding on his stump. He was sunburned and exhausted, but every day he got up and ran another marathon. While he was on his epic journey, his cancer relapsed but he continued to push onwards until he could go no further, as the cancer spread to his lungs. After 143 days, and 3,339 miles, Terry's 'Marathon of Hope' ended. He lived long enough to see the day that the Terry Fox Foundation raised $24.1 million from 24.1 million Canadians, but died in June 1981, aged 23.
I can't do him justice here, so please read more about his story at the Terry Fox Foundation. Inspired by Terry, GB Parathlete Richard Whitehead recently ran a marathon every day from Land's End to John O'Groats in aid of Sarcoma UK.
I've printed out a picture of Terry, and this quote from him on the back:
I was determined to take myself to the limit for this cause.
I'm going to laminate it and keep it in my shorts pocket in case I flag during the Yorkshire Marathon. At 20 miles, I'll try not to be thinking of myself – I'll be thinking of Terry Fox, and of Jane Tomlinson and of the money we're raising for other families affected by cancer. 
Terry Fox is my #Mile20Hero – who's yours? 
To sponsor our marathon for the Jane Tomlinson Appeal, click on the
'Sponsor Me' button below.