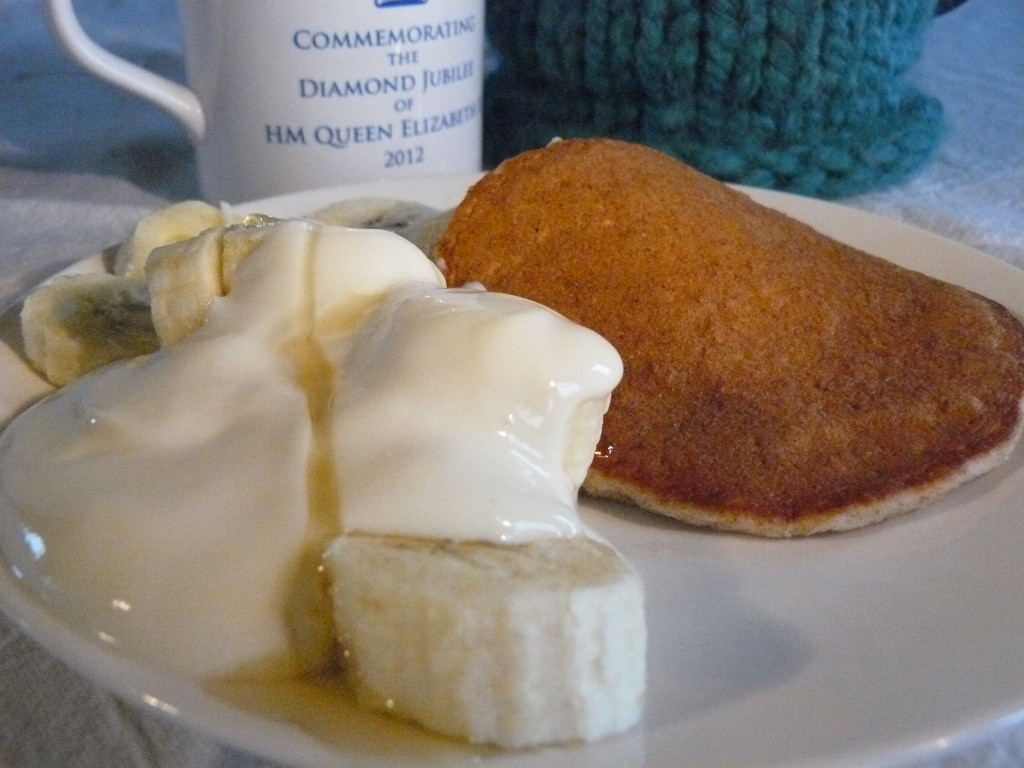 Everybody loves pancakes, right? These are quick and easy to make – fab as a healthy breakfast with fruit and yoghurt and great with peanut butter and/or jam for marginally less healthy start to the day! It's Shrove Tuesday today – aka Pancake Tuesday (aka Day of Joy on a Plate!) but you can eat these anytime.
They're slightly sweet so they're not for savoury dishes (well, you can try if you like – do report back on how it goes!) Also, because they have sesame seeds and a little bit of sugar in them, keep an eye on them when they're cooking or they could turn into crispy pancakes in a heartbeat.
You can use wholemeal or white flour – choice is yours. I'll be honest, I prefer white as it's a little bit lighter. Wholemeal works well too though so don't miss out if that's what you prefer 😉
Vegan Pancakes
Makes about 8
Ingredients
8 tablespoons wholemeal or plain flour
1 tablespoon soft brown sugar
1 tablespoon sesame seeds
2 teaspoons baking powder
4 tablespoons soya yoghurt
200ml soya milk (or other plant milk)
Pinch salt
1 tablespoon vegetable oil for frying
Method
1 Buzz the sesame seeds with a stick blender to break up the husks.
2 Place all of the ingredients except the vegetable oil in a large bowl and mix together well.
3 Heat a frying pan over a medium heat then add the oil, spreading it evenly across the base of the pan.
4 Use a ladle to spoon the mix into the pan – you should be able to cook a couple of pancakes at a time.
5 Cook for about 2 minutes on one side then flip over. Cook until both sides are golden brown.