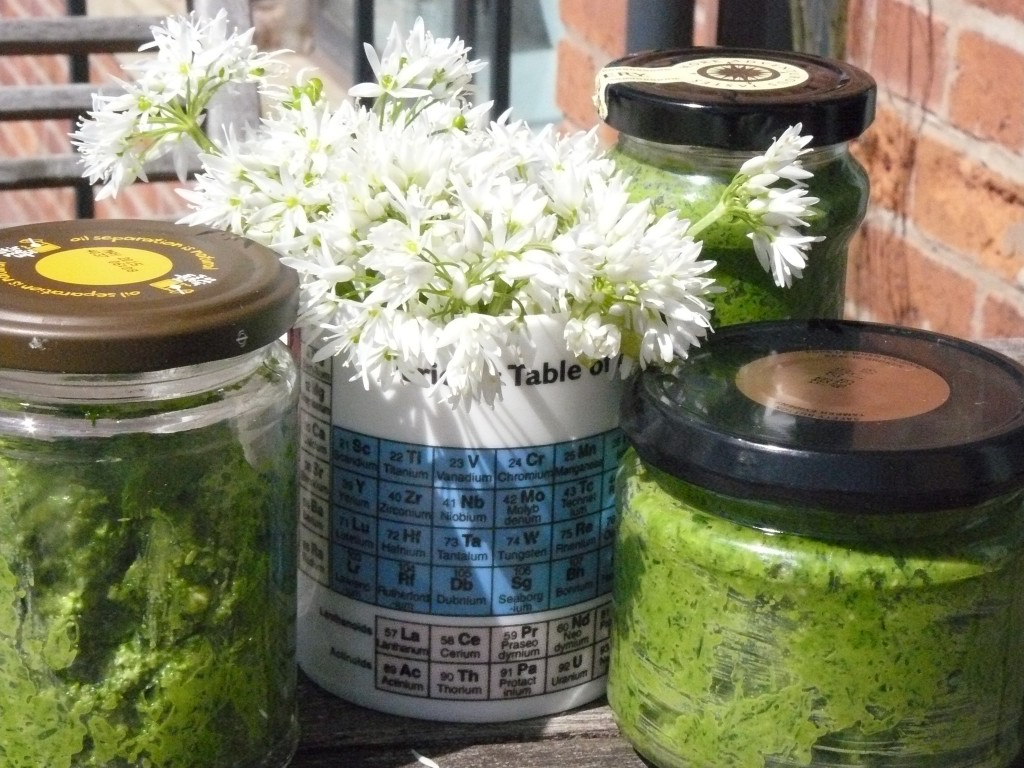 If you have a nose on your face (and I really hope you do), you'll have noticed that wild garlic is wildly in season right now in Britain.* All over  the country shady woodland is carpeted with pretty white flowers and lush green leaves. I went foraging for some at the weekend, scrambling around the woods on my hands and knees and feeling earthy and at one with nature. I was actually in a Leeds suburb; imagination is a powerful thing…
All of the plant is edible but you only need the leaves for this wild garlic pesto. Don't dig the roots up – we Veggie Runners all about responsible foraging. Take a pair of scissors with you and snip the leaves close to the ground – mature leaves have more flavour so leave the baby ones to grow for the next forager. The flowers really make a salad look special so take a pick a few of them too – they taste great as well. 
Wild garlic has high levels of folic acid and also acts as a prebiotic, promoting the growth of friendly bacteria – healthy anyway but perfect if you've had a course of antibiotics or if your immune system has been weakened by illness. The nuts have plenty of protein, of course.
This is so moreish you won't just want it on pasta. It's great in sandwiches, with jacket potatoes and it gives a great boost to steamed or roasted vegetables. Use any leftover leaves in soups and salads.
The pesto will keep for about a week in the fridge, though you'll probably have it all eaten long before that. It freezes well too – make it into patties (small burger size) and freeze individually; that way, you can use them as and when you fancy.
Vegan Wild Garlic Pesto
Makes 2-3 jars
Ingredients
100g wild garlic leaves
80g cashew nuts
80g blanched almonds
Half teaspoon salt
Half teaspoon mustard powder
4 tablespoons good olive oil
2 tablespoons nutritional yeast 
Method
1 Pulse the cashews and almonds with a food processor or stick blender until they're broken up but still have some texture.
2 Set the nuts aside and pulse the wild garlic leaves and olive oil until they start to get a paste-like consistency.
3 Add the salt, mustard powder and nutritional yeast and pulse together.
4 Stir well and place in clean jars. Store in the fridge.

*Apologies to readers outside the UK – hope you have wild garlic where you are too!