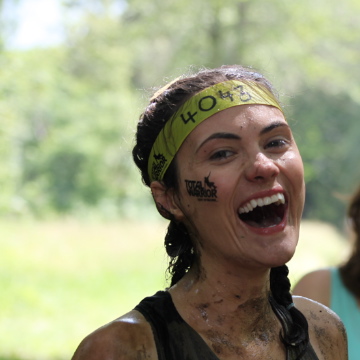 Huge thanks to Zsolt Sandor at MothershipUK
for the fantastic photos
It is a truth universally acknowledged that lots of people think we're total nutcases. Admittedly, our idea of fun (running the 96 miles of the West Highland Way, signing up for triathlons when one of us doesn't own a bike etc.) is not shared by everyone. So when we signed up for Total Warrior we weren't surprised when friends suggested we were crackers. It was only when we were halfway round and leaping over flaming logs into a freezing pool of muddy water, we started to think  they may have a point.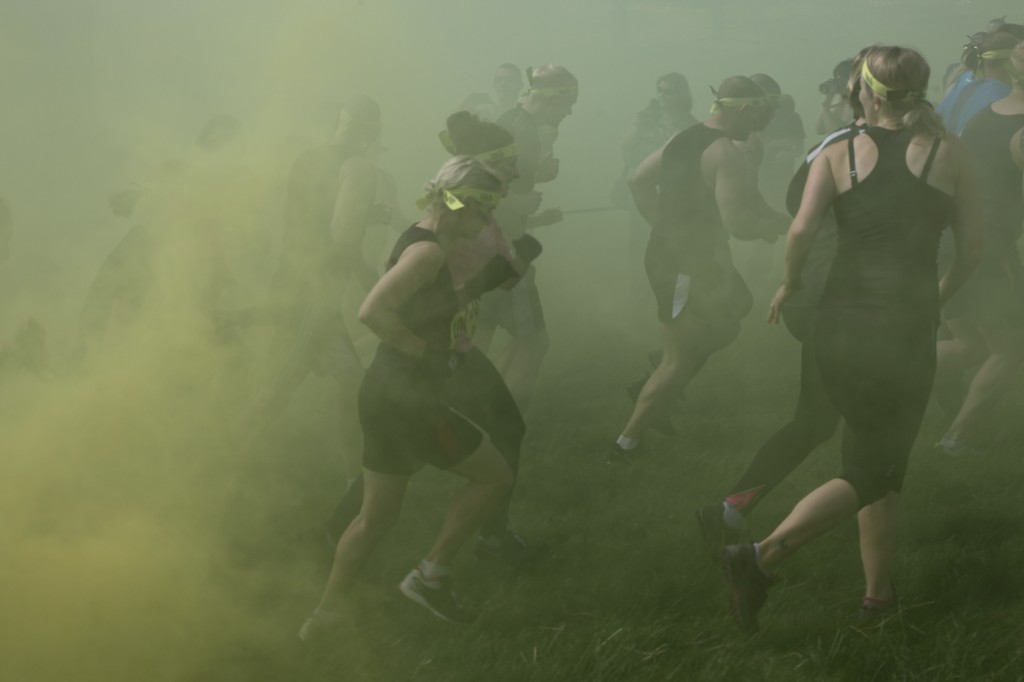 Apart from the mustard (coloured) gas you run through at the start, Total Warrior starts off innocuously enough. Some tough hill reps for sure but every runner knows how to handle them and it certainly spread out the pack quite quickly. Then you run for maybe 10 minutes and start to think, 'Psssht, this is easy! Dunno what all the fuss is about.'
Ha, poor deluded fools! In no time we were crawling under barbed wire, neck-deep in murky water crossing a freezing river and climbing increasingly high wooden walls, relying on the kindness of strangers to chuck you over.
There's miles of mud (or maybe it was merely many, many metres but it felt like a very long way). At one point, a woman near us got deeply – like, really deeply -entrenched in the mud and a whole group of us had to dig her out, every moment running the risk of getting stuck ourselves. That's the nature of runs like this; do unto others and all that – you have to look after other people because there may (no, will) come a time when you need some help yourself. Plus, the woman was hilarious: 'Ooh, I was like a highly-strung racehorse back there,' she said. 'I had a proper Shergar moment.'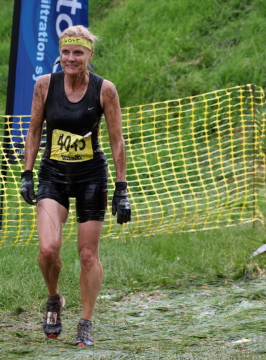 We know that some people have a bit of a downer on these big events and we do see where they're coming from. From the outside, it can seem like the fun and challenge are a bit manufactured. Point taken but, we'd say, not valid. We love to run wild and free as much as the next runner. But if you like to push your body to the limits – and we know a lot of you do – events like this are absolutely brilliant: challenging, sociable and really good fun.
We both had our moments out doubt. Bibi did not want to do the fire jump – it took her three goes but she leapt it in the end. I really, really didn't fancy crawling through the claustrophobic tyre and tube obstacles but I did them. Eventually.
You'll notice from the photos that we were grinning like idiots most of the way round. Which probably does make us nutcases. Oh well, whatevs. We thoroughly recommend Total Warrior. An ice bath followed by a waterslide, coming hot on the heels of monkey bars and minor electrocution – what's not to love?
Check out the photo album on our Facebook page. Warning: it's not pretty!
There's still time to register for Total Warrior when it hits the Lake District on 2nd and 3rd August. It's a seriously brilliant day out and at the very least you will love the beer you get at the finish line.