Veggie Runners were recently lucky enough to interview Boff Whalley, author of Run Wild, a book its publisher describes as 'A passionate and beautifully written narrative about running and the world of discovery and adventure it brings.' A reasonable assessment, we think. Boff is a long-time runner, passionate about getting off the beaten track and exploring the wilderness. He's also vegetarian, which makes him double-cool in our book. Thoroughly nice chap too.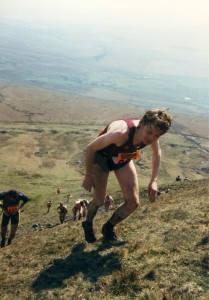 'Not long after I started running. Competing in the Three Peaks race. Around 1989?'
VR: How would you define 'wild running'?
BW: Basically I wanted to come up with something that encompassed lots of different kinds of running, that didn't put people off – something that might include both mountain running and canal bank running, two-day desert marathon running with parkland running.
VR: Run Wild is much more of 'why to' than a 'how to' book. Why did you decide to take that approach?
BW: I like that description. A Why To rather than a How To. I couldn't have written a How To. My image of wild running is that it encompasses so many varied and eclectic and interesting ideas that it just wouldn't fit into a How To. I find wild running inspiring and fascinating, always, and running in the northern English industrial landscape is a great place to connect all the history and culture and politics and anthropology of running. None of that's much use as a How To, is it? Me suddenly wanting to talk about Coleridge or about the Kinder Trespass. But I think the Why To stuff is equally as important as the How To stuff.
VR: You're clearly not impressed by big, organized races, particularly urban marathons. Many people find them very inspiring though. Why do you find these events problematic?
BW: I don't have any problem with people running these races, obviously. It's great that people just want to run, for health and fitness and for the challenge, etc. But I have a problem with the idea that, to most people, this urban marathon defines running, it's what running is. And that to me is the same as people thinking that the best way to eat meat is to buy a McDonald's burger.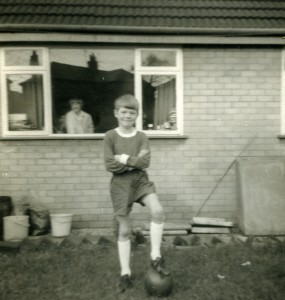 'Me as an 11 year-old at home in Burnley. It's a Chelsea strip. Oh the shame.'
VR: You note that your lifestyle allows you more freedom than most people. Do you have any tips for wild running that can fit with the everyday lives of people with more constraints?
BW: I do say that, but I also can say that my lifestyle (my job) means I have no regularity and routine, things which I think are really good for proper training. But that's about serious racing and you're talking about fitting in off-road running with city-centre jobs etc… Well, in the long run (i.e. your life) you decide what's important to you, and I've made off-road running important to my life for the past 25 years. So whenever I've moved house, for instance, I look at a map and try to force decisions that make it easier for me to continue to have access to good places to run.
I lived in London for a while, and when we were looking for a flat to rent, one of my main priorities was to find somewhere close to a big clump of green. So we moved to the Archway, half a mile's run to Hampstead Heath. It kept me sane, having that access.
Other than that, I'd say that parks and canals and rivers and urban 'greenbelts' can all be more interesting and rewarding as places to run than roads, roads, roads. I lived in urban Leeds for many years, discovering ginnels and paths that led to the canal, working out cut-throughs that led out to city-edge fields and river valleys …
VR: Your 'Comment is Free' article contrasting wild and city running in The Guardian ruffled quite a few feathers. Why do you think readers got so worked up about what you wrote?
BW: I tend to think that readers of online articles who reply with outraged one-sentence put-downs are men who spend their mornings in front of their computers wearing nothing but their underpants and a sense of indignation. Hence, I don't pay any attention to them.
'Onstage somewhere in around 2000.'
VR: The wild running you advocate takes runners to remote, isolated places. As a female runner and mother of a young woman who runs, I didn't feel women's safety was given enough precedence in the book with just 2 pages. Can you expand on why women shouldn't be afraid of wild running?
BW: That's a really good point, and I can see why you say it … I talked to my friend Sarah Rowell, herself a seasoned off-road runner and author, and her replies were so matter-of-factly simple that I had to believe her.
I really do think we're tending to emphasise fear too much in society. Fear of the other, whatever it may be. I don't belittle any woman's worries about running alone. It's completely understandable. But what is clear is that the fear is greater than the reality. I know this isn't much comfort. Perhaps this is why I put in the statistic about men having much more likelihood of being attacked – I can't, as a man, just say to women runners,  "Well statistically, the chances are you'll be safe, forever, especially if you keep away from the places where you're most likely to be attacked – your home, the city street, your car, the gym …"
But at the same time it's important to encourage women not to submit to the more irrational fears and therefore to enjoy running, sensibly, in places where there's little likelihood of ever having trouble. And the (as you put it) more remote, isolated places – up hills, over moors – are the least likely places a woman would be in danger.
Saying this doesn't make many women feel any safer running alone, obviously. If running in a group on urban roads makes a female runner feel safer, then I'm not arguing with it, that's a good choice.
VR: Do you set yourself running challenges or is running wild all about going with the flow?
BF: I go with the flow. I used to set myself challenges, but now I just enjoy whatever comes up. This might be because I'm old enough to have completed most of the challenges I set myself! Mind you, when I race, it's always a challenge. I don't take races casually, I always try my hardest. No jogging round.
VR: Tell us a couple of your favourite wild runs.
BW: Well I just moved to Otley in Yorskhire and so I'm loving every minute of discovering the area where I live.
I love running in the Lake District, anywhere, any time.
I love running around the wild landscape of the Pennines, where there are remnants of the industrial revolution meeting farming meeting wild landscape, old packhorse paths, ruins of mills, aged forests, unkempt moorland – all mixed up, interchangeable and fascinating.
ADDENDUM
I was so happy chatting about running that I forgot to ask Boff about his vegetarianism! He very kindly prompted me and followed up by email.
BW: Now then. Vegetarianism. Became a vegetarian in 1982. What it did was focus my ideas on food, made me think about what I was eating. Instead of living off the standard student diet of cornflakes and burgers, (which I did), I suddenly took an interest in nutrition and food value.
When I started to run the fells, this became even more important. Especially when finding energy food for long races! This was before the advent of energy gels and protein bars etc.
I remember doing the Three Peaks Race in around 1989 and trying to eat vegan nut bars, dry as a bone, mulching and chewing these stupid grainy bars whilst trying to run. I came to realise that my best option on the fells was bananas and Mars bars. But when I found out that Mars company were testing their products on animals, I ended up for a while with just bananas and flapjack! Obviously now it's relatively easy to have plenty of nutritious, easy-release energy food whilst running. For longer races I take gels and bananas. No fancy liquids, just water. I love to drink from running water, streams, rivers.
—
Boff's Bio
I was born on New Year's Day in 1961, in Burnley, Lancashire. After Secondary Moderns and Grammars, I limped badly through a year at Maidstone Art College and a year at Leeds University, before giving it all up to start a band.
From 1982 until the present I have been a writer and guitarist for the group 'Chumbawamba', a band famous for one hit single and for throwing water over the deputy Prime Minister. In a parallel life, I have also written prolifically for several magazines, composed soundtrack music for films by Ken Loach and Alex Cox, and had an autobiography published ('Footnote', Pomona 2003).
I've written drama for theatre, had plays produced by BBC radio and recently written several musicals. The last of these, 'Big Society!' starring Phill Jupitus ran for three weeks at Leeds City Varieties Music Hall.
In a parallel life I have been running fells and mountains since around 1987.
Run Wild
is available from
Amazon
and through other booksellers.