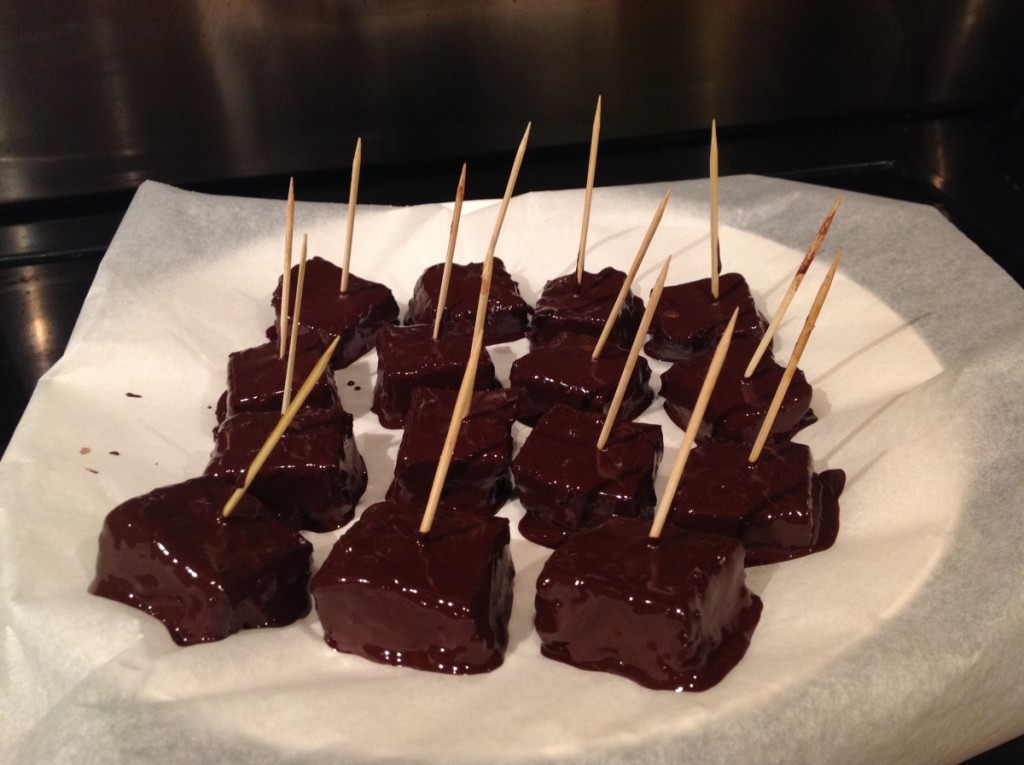 If you're not a fan of coconut look away now. These are the most delicious, most coconut-y, vegan, chocolatey sweet treats ever. These also demonstrate just how much we get from the humble coconut. They contain creamed coconut (the kind comes in a block), coconut milk, dessicated coconut and coconut essence. The dark chocolate balances the flavours so the coconut comes as a delicious burst and not like a coconut has been dropped on your head from the top of a tall palm tree.
These are vegan, no bake and have no added sugar (apart from what's in the chocolate already). I made half with chia seeds and half without, just to see if it made a difference to the flavour. It didn't really and added a little of the benefits of chia seeds. It did, however, make the coconut filling a bit grey – the difference between snow white and Mae West's famous driven snow. The recipe below is to make a full batch with our without chia seeds – just follow the instructions at No. 1 if you want to include them.
You'll need to use the thick 'cream' from the top of a can of coconut milk (use the rest in a curry or something – love food, hate waste and all that). If you're living somewhere warm – lucky you! – pop the can in the fridge for an hour to thicken it up before using.
These are really easy to make too and look fab boxed up as a gift. They really are that good, like a very sophisticated and less cloying Bounty bar. They keep for a couple of weeks in the fridge too so I've added Vegan Chocolate Coconut Treats to my list of wholesomely delicious things to have with a cuppa. Every cuppa 🙂

Vegan Chocolate Coconut Treats
These no bake vegan chocolate coconut treats are easy to make and really delicious. They last for a couple of weeks in the fridge, making them the tasty little treat that keeps on giving.
Recipe type:
Treats, Desserts
Ingredients
4 tablespoons thick coconut milk (from the top of the can)
1 teaspoon coconut essence
200g dessicated coconut
200g coconut cream
70g dark chocolate
2 heaped teaspoons chia seeds (optional)
Cocktail sticks for dipping the coconut squares into the melted chocolate
Instructions
If you're using chia seeds, place them in a small bowl and stir in with the coconut milk. Leave for 10 minutes until the chia seeds are soft.
Melt the coconut cream in a pan over a low heat (or in the microwave). Watch it closely - it will only take 2-3 minutes to melt and it can burn easily so check and stir it frequently.
Mix the melted coconut cream, coconut milk (with or without chia seeds), dessicated coconut and coconut essence together in a large bowl.
Place a sheet of greaseproof paper in a 20cm square baking tin (or a larger one and just use half of the tin). Spoon the coconut mixture into the tin and press all the way to the edges.
Place in the fridge for at least an hour.
Use a sharp knife to cut the coconut into 2-3cm squares and pierce each square with a cocktail stick.
Melt the chocolate in a bowl over a pan of simmering water (or in the microwave but take it slowly - check and stir every 15-20 seconds).
Holding the cocktail stick, coat each square thoroughly with chocolate.
Place on sheet of greaseproof paper and leave to set.
Gently ease out the cocktail sticks and store in the fridge in Tupperware. Eat within two weeks.