What are the best tips for first-time marathon runners? With eight marathons between us, and some spectacular successes and failures in those eight, we've had a chance to think about this. We had a fantastic training session recently sharing our thoughts on this with Maxime and Phil, two of the Pink Lady® Apples team, who will be running London Marathon alongside Bibi soon. Well, they'll be running in giant apple costumes so Bibi might just be able to pip them to the post (see the bottom of this post for a pic of their incredible costumes and another terrible apple pun or two).

We started with mindfulness. One of the biggest fears of first-time marathon runners is, well, fear itself – fear of not finishing, fear of hitting the wall, fear of eating or drinking the wrong things, fear of dying… If you've ever ran a marathon, you'll know how anxious these feelings can make you, and how powerful they can be as your mind gets more tired. Mindfulness is the best (and cheapest!) way to deal with this.
By practicing mindfulness through meditation before the race, you also practice non-identification with those scary "I should do better, I'm not good enough, this is it" kind of thoughts during the 26.2. We're both big fans of meditation, and have incorporated it into our daily lives for well over a year. We've found that it helps us deal with day-to-day troubles more clearly, and that we have more space to respond rather than react to negative situations.
Practice being in the moment – don't worry about how far you have to go and don't waste time getting cross with other runners. Any time you feel stressed, recognise it and try to move away from negative thoughts about yourself, about others and about the world around you. Try it on your next training run – it really does make a difference to how you enjoy a run.
Try it at home tip: Leave your GPS watch and music at home for a run or two. You won't die, we promise! Try meditating with an app for ten minutes a day in the weeks leading up to race day to cultivate strength in focus and willpower.

Mindfully tuned in to the training session, we worked next on speed. This is one area of training that first-time marathon runners often neglect. The general idea is that if you're running 26.2 miles at a steady pace, you don't need speed training, right? Wrong!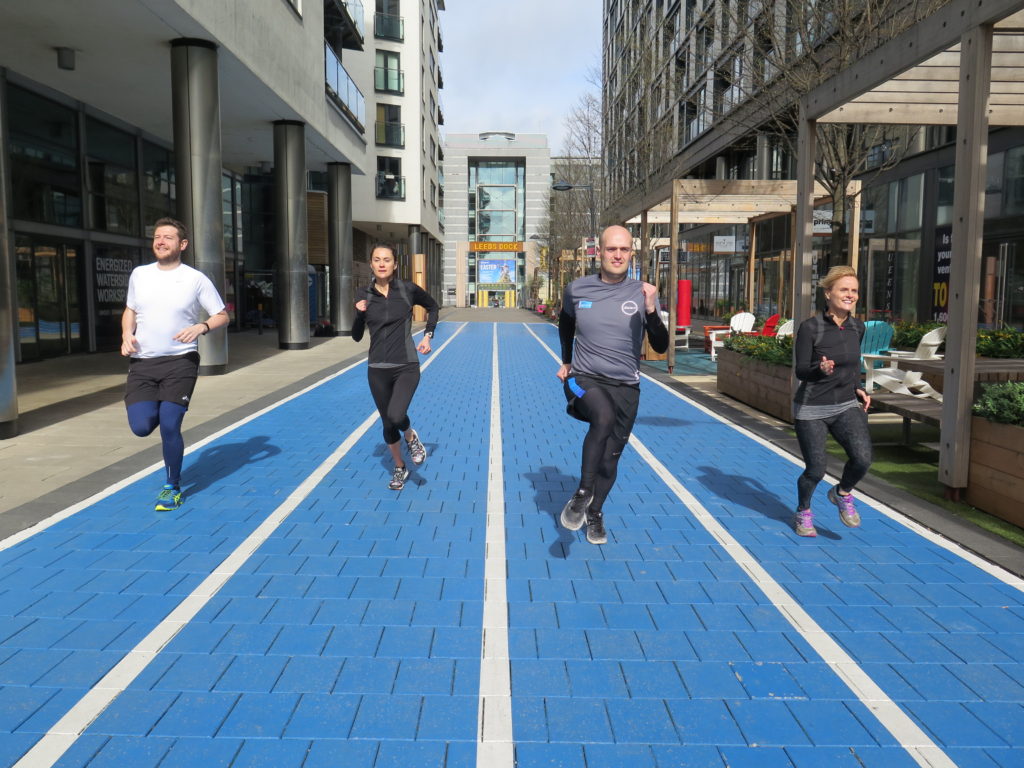 There are several good reasons for including speed work in your marathon training schedule.
Speed work helps improve your running economy – the analogy most often used is that you get more miles to the gallon if you do regular speed work.
Running many miles week after week at a steady pace can get pretty dull. Speed training breaks up the monotony and brings a bit of fun to your training.
You can do it with friends. It's hard to persuade non-marathon types to join you for a 22 mile run. It's easy to get friends to come out with you for a half hour sprints or intervals sessions
Try it at home tip: It's easy to fit in a speed work session when you're pressed for time. Even 20 minutes of speed drills (say, 200m sprints with 20-30 seconds rest between each) will give you a good workout and help keep your training on track.

We capped off our session with some agility training. Agility centres around the ability to stop, start and change directions quickly without injury or loss of momentum. While long runs build the large muscles used to power our legs when running, it is the micro-muscles in our knees, ankles, hips and elsewhere in our bodies, are important in helping those muscles to work efficiently and with control.
Agility especially important in crowded races, where you end up doing lots of manoeuvring and darting around people, in motion more similar to football than running. If you have only ever practiced running in a straight line, it's easy to end up with a sharp pain in your knee or ankle as you swerve during a race – such a bad result after 16 weeks of training!
Try it at home tip: This is another training technique that brings big rewards but doesn't take up much time, plus doing drills like this makes you giggle (see photo!) and is a great way to include your kids into a workout if they're the right age and silliness. Find a pavement somewhere quiet and do a 5 minute workout hopping, jumping, doing hopscotch, skipping, doing sidesteps and the grapevine, swapping moves every lamppost. These activities all help us to train those teeny tiny muscles, and help prevent injury on race day.
The guys will certainly need to practice their 'bobbing' running a marathon in these costumes… If you're running or watching the race, be sure to give these guys a big cheer, as they'll need some support as they race to make sure they don't crumble. (Sorry, last one, I promise). Don't forget Bibi is going to be running her first ever solo marathon too so if you spot her in amongst the thousands of runners, give her a shout too.
For cross training tips to keep the core strong (another marathon training essential!) check out
Pink Lady® Core YouTube videos
We've made this post in partnership with  Pink Lady® apples as part of their Snackisfaction® campaign.