"When will you stop running?" was a question I was asked a lot when I was first pregnant, and I didn't have an answer. I knew I would run as long as I felt comfortable, and safe. So, I didn't know that the Abbey Dash would be my last pregnant race at the time I ran it. But this local 10K was a great one to go out on, at seven months pregnant.
The weather was perfect – clear skies, temperature in the low teens. Last year race day dawned with freezing temperatures and sleet and hail, and so we were very grateful to be able to drop our bags off before the race and not fear hypothermia in bin bag outfits like in 2016. 
I wasn't sure how the race would feel at seven months pregnant, or what time I might achieve. Two weekends previously, I had stormed a Hardmoors trail 10k and loved the experience, especially being offered two medals at the finish line for my efforts. (haha) My route PB for the flat Leeds course before bump was 51 minutes, and I knew I obviously would be nowhere near that at this point. I guessed I would probably manage around 1hr 10mins, but to take ANY pressure off myself, I turned my GPS watch into the inside of my wrist so that I couldn't see it while running.
The first kilometer of the race was probably the hardest – there was pressure in my pelvis, and my legs felt heavy, along with the rest of me. I thought to myself "What am I doing this for?" and had a couple of "Am I actually going to manage 10K?" kind of feelings. I then realised that a lot of the pressure in the pelvis wasn't actually baby, but pregnant bladder! So, I ran off the race route briefly and sneaked an ungainly wee. After that, I felt much better and just ran to the pace my legs felt like.Mum was kind enough to sacrifice her race time to run with me, so we just ran and chatted the whole way. It was really pleasant just enjoying the run rather than stressing about the time or my pace kilometre by kilometre, like I usually do for a 10k.  A few other runners noticed the bump and gave me "well done"s, which was a lovely boost.
Mum and I finished the race together in 1 hour and 4 minutes, still full of smiles and feeling full of beans. It was much faster than I had been anticipating, even with my wee break, and I was really satisfied with the whole great race experience.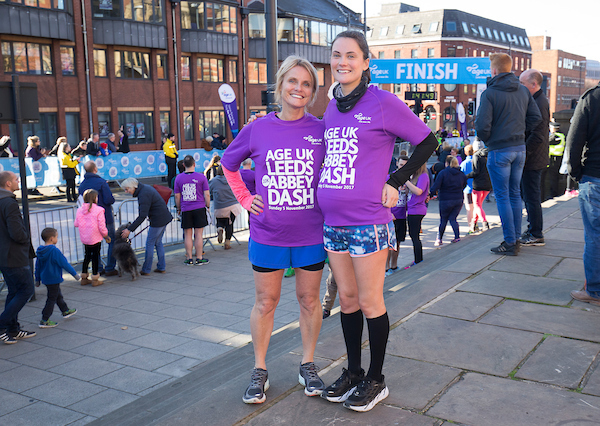 That was 5 weeks ago, and I haven't run since.
If it was so nice, why did it turn out to be my last race? I just stopped 'feeling it', if I'm honest. At the beginning of my pregnancy, I had followed loads accounts on Instagram who tagged their photos #pregnantrunner or #runningfortwo and had been super impressed by the women still putting the miles in right up until their due dates. Amazing Mary P from the blog A Healthier Moo ran a 17 mile race at 35 weeks! I had imagined myself to be amongst those women running right up until the end, especially as I had had such success running in the middle of my pregnancy. But at 31 weeks, after a really, really fantastic race with a surprisingly good finish time, I realised that I'd prefer to leave the party while I'm still having fun than hang out to the bitter end and find myself not enjoying running.
Also, the clocks changed around that time, and I didn't want to slog out in the dark. Being pregnant has made me feel a bit more vulnerable, as I'm not just looking after myself any more. And between my hypnobirthing meditation each day and my 9pm bedtime, there's not loads of free time and I want to use it focussing on my family. I haven't even signed up for any races at all next year, as I don't want to put any additional pressure on myself other than dealing with a newborn. I've obviously never been through the experience before, so I have absolutely no idea how I'll feel at the time. I'm happy to leave the option open for entering last minute race if I feel up for it, but I don't want any big milestones that might make me feel overwhelmed or like I'm failing at anything.
I've stopped following some of the accounts (especially the woman who was still running 50 miles a week at her due date, and back up to that mileage again just two weeks after giving birth), as they weren't making me feel good. More power to those ladies who keep going, I'm really impressed with you guys, but it just hasn't been for me. I'm getting slower and tireder, and my daily activities require all of the energy that I have now. I'm still swimming often, but I have to time my workouts with the rest of my life too. For the first time since I discovered exercise, training has started depleting my energy stores rather than boosting it, and so I can't do it on the days when I have lots of other plans.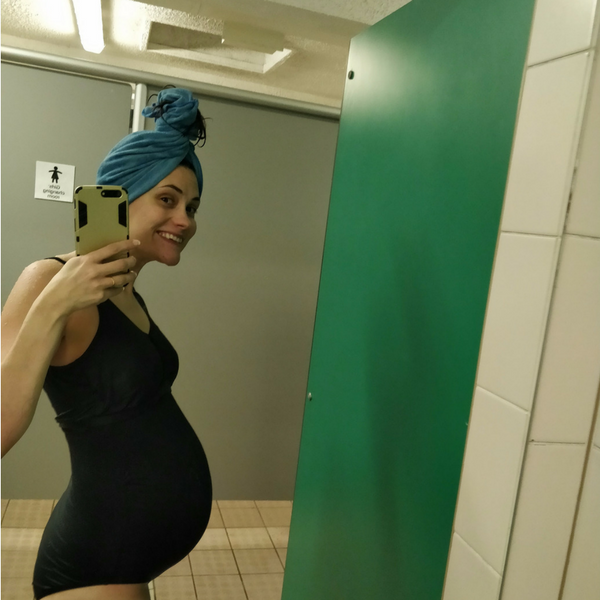 I know it would have been physically safe to keep running longer, and perhaps if it were another season with lighter evenings I may still be running now, but I don't regret my decision to stop when I did. I've got something a bit bigger going on than just my own training – I'm preparing for my biggest challenge yet. If that means my focus changes for a bit, then so be it.
Do you think I should have kept trying to run longer? If you're pregnant or have been, when did you run until?