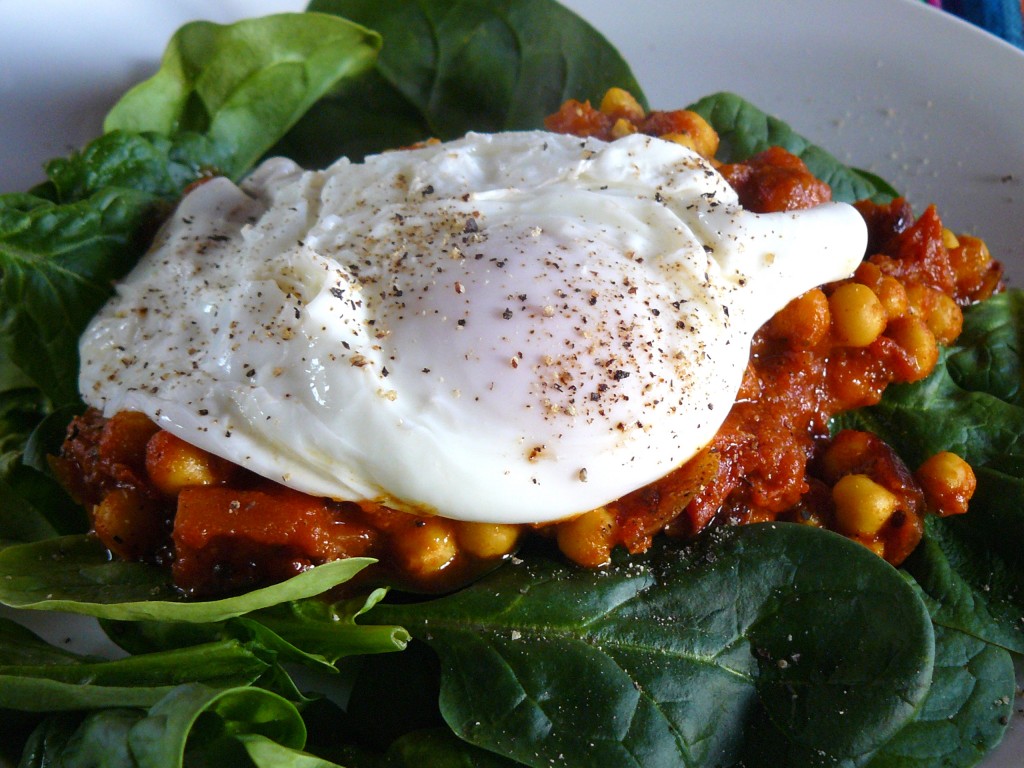 I did the Eccup 10 mile race recently, a gorgeous, undulating run through the glorious Yorkshire countryside. The weather was breezy but bright, all adding up to a fabulous jaunt on a Sunday morning. Typically, though, I was starving after I'd showered and prettified myself up a bit. So there I was, fresh and lovely with my insides eating themselves. What to eat, what to eat…?
It said in Runner's World that chickpeas and eggs make the perfect recovery breakfast because 'Vitamin B2 works with iron in the formation of red blood cells, giving muscles a more efficient delivery system of nutrients and oxygen. Eggs are a great source of B2, while chickpeas will help you meet your daily iron quota.'
Which all sounded great but, erm, chick peas for brunch…? Didn't quite work for me until I remembered that eggs work pretty well with curry, which in turn works splendidly with chickpeas. Hmm, inspiration struck me like a hammer on a gong…
Here it is – my curried chickpea sensation (and v easy to make when you're ravenous, as it takes 15 minutes max). Runner's World were right; this was perfect and set me up for the rest of the day.
Poached Egg & Curried Chick Peas
Serves 2
Ingredients
1 can (400g) chickpeas, drained
Half a teaspoon each – mustard seeds, curry powder, cumin seeds, garam masala
1 tablespoon tomato puree
2 large tomatoes, chopped
2 cloves garlic, finely chopped
1 dessertspoon oil for frying
1-2 eggs per person
1 teaspoon vinegar (any kind will do – helps to bind the poached eggs together)
Method
1 Heat the oil over a medium heat in a frying pan and cook the garlic gently for 3-4 minutes.
2 Add the mustard seeds and stir for about 30 seconds, then add all of the other spices. Stir for 2 minutes.
3 Add the chick peas and stir, coating completely with the spices.
4 Add the tomato puree and chopped tomatoes and mix thoroughly.
5 Put a lid on the pan and cook over a medium heat for 5 minutes or until all the ingredients are heated right through. Check occasionally and stir if necessary.
6 While the curry is heating through, crack the eggs into a pan of shallow, boiling water with a teaspoon of vinegar in it.
7 The eggs and the chickpeas will both be ready about the same time.
Serve with spinach (I prefer raw but steamed works too) on wholemeal toast or toasted bagels.