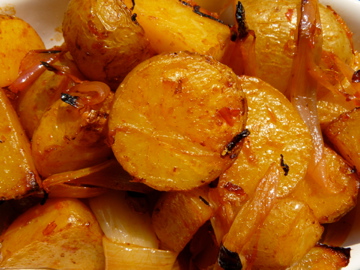 Regular readers will know that we're always looking for new ways to make carb loading exciting. Here's another – ditch the bland pasta and perk your carbing up with these Harissa Roasted New Potatoes. They add a bit of zing to breakfast, lunch and dinner  and they pack a pow in your picnic. Easy to make too, which you know we like.
There's a great – and easy peasy – recipe for harrisa paste in our Moroccan Chickpea Tagine recipe (which is mega-delicious, btw). You can use shop bought if you're pressed for time though.
Harissa Roasted New Potatoes 
Serves 4
Ingredients
1kg new potatoes, halved
4-5 shallots, sliced roughly
2 tablespoons olive oil
2 teaspoons harissa paste
Zest and juice of 1 lemon
Method
1 Preheat oven to 190C / 180 Fan / Gas 5 / 375F
2 Place the halved potatoes, shallots and lemon zest in a shallow, ovenproof dish.
3 Mix the other ingredients together well. Pour over the potatoes and shallots and stir well, making sure everything is fully coated.
4 Roast 40-45 minutes until the potatoes are softened and starting to crisp round the edges.