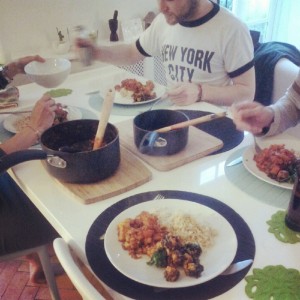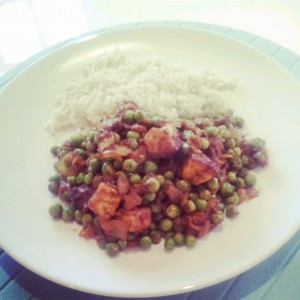 Paneer is an Indian cheese that adds great texture to curries and kebabs. If you're a bit more committed you can make it yourself by straining curds in muslin, but I just buy it from Indian shops or larger supermarkets. Mum used to make it herself when she was more of a hippie. Maybe you can persuade her to share the recipe, if you're so inclined.
The paneer I buy is ready-cubed, but you can buy it in a block and cut it up into 2cm cubes with a sharp knife. I keep mine in the freezer and take out handfuls as needed.
I originally found a similar recipe in one of my first Nigella Lawson cook books. I like the fact that you can make this from your store cupboard, and it seems like a bigger effort than it is. This goes into the day-to-day repertoire very quickly.
Paneer is a source of both protein and calcium, and the vitamin C in the peas helps your body absorb the latter.
Ingredients
Serves 4, with rice and bits
Cubed Paneer,  approx up to the 500ml line in a measuring jug (defrosted if previously frozen), or 1 block
2 tbsp butter
2 tbsp oil
2 tsp garam masala
1 tsp tumeric
1/2 tsp chilli flakes
1 onion, chopped
2 clove of garlic, chopped
2cm piece of ginger, grated
Frozen Peas, up to the 500ml line in a measuring jug
3 tbsp tomato puree, dissolved in 500 ml vegetable stock
Small bunch fresh coriander, chopped
1. Heat the oil and butter in a saucepan, over a medium to high heat. Fry the paneer until golden. This will be a bit spitty, so be careful and don't wear your best clothes.
2. Using a slotted spoon, remove the paneer to a bowl and cover. Turn the heat under the pan down to medium, and add the garam masala, turmeric and chilli and toast for 30 seconds before adding the onion, garlic and ginger.
3. When the onions are softened and the kitchen is smelling all curry-y, add your peas and tomato-sodden stock. Simmer until the peas are almost tender, then reintroduce that golden paneer. Bring all of the ingredients back up to heat, stir in your coriander.
Serve with rice, yogurt and mango chutney, if you fancy.