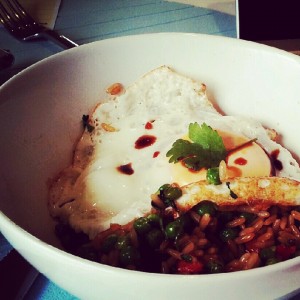 My friend Mollie first introduced me to this Malaysian breakfast dish. I was instantly hooked – it's convenient if you have leftover rice, uses up the veg in the bottom of the fridge drawer and most importantly is ridiculously tasty .
Some people make a little one-or-two egg omelette at first, remove it from the pan, cut it into slices, to be added later when the veg has cooked through. If that sounds nice to you, give it a go. I do it my way, with a fried egg on top, for two reasons
a) I love the mixture of the unctuous yolk mixing with the sharp and salty sauce at the bottom of my bowl
b) that's how Mollie taught me it.
You can do whatever you like best – isn't that nice?
I like mine to be very gingery & spicy, as it means I need less of the salty soy sauce, but you know your own palette, so adjust the first ingredients accordingly. Use whatever veg you have on hand, chopped very small and evenly so it cooks at the same time. My favourites are frozen peas, cooked in the microwave first, tenderstem broccoli or julienned carrots.
Nasi Goreng
Serves 1, easily scaled up for more
Ingredients
1/2 clove garlic, crushed, grated or chopped very finely
2cm length of fresh root ginger, treated similarly
Chilli, chopped (use seeds or not, depending on preference)
Vegetable oil for frying
A cup of cooked rice – brown is obviously better for you but white does just as well
A cup of any vegetables you have available. 
One of
– 2 tbsp kecap manis (a sweet soy sauce from Asian shops)
OR 2 tbsp of soy sauce mixed with 1 tsp honey or agave syrup.
OR 2 tbsp wheat-free tamari with 1 tsp honey (For a gluten free option)
1 egg
2 tbsp fresh coriander
Method
1 Fry the ginger, garlic and chilli (if using) in the oil in a wok or frying pan large enough to hold all of the ingredients later. Over a medium heat, give a stir to make sure they don't catch and blacken.
2 Add your veg and cook for 3-5 minutes.
3 Now heat up another, smaller frying pan on another hob. Heat some oil in it, then crack your egg in. I like runny yolk with no runny white, so I put a small lid on the pan, so it sits a mere centimetre above the bulge of the yolk. This reflects the heat back in, cooking the white without overheating the yolk.
4 As soon as the egg goes in the one pan, add the rice and soy sauce mix into the other, giving a good stir.
5 Just before serving, chop some coriander into the rice mixture, check it's hot through and the egg is how you like it. Then decant it all into a bowl and flop the fried egg on top.