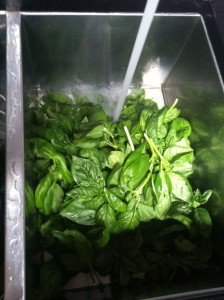 This recipe comes from our fabulous Canadian friends, Lehna and Jamie (who are known to their adoring public as burlesque goddess, Champagne Sparkles, and sound artist extraordinaire Jamie Drouin).
This is a stunningly straightforward vegan pesto that (sharp intake of breath) gives some of our own recipes a run for their money in the 'yow, that is delicious!' stakes. Luckily, there's always room in life for fabulous food (big sigh of relief).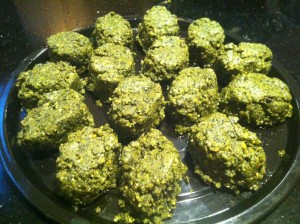 Of course, this Vegan Pesto (aka The Besto!) is delicious with pasta but don't use it only on that. It's great as a substitute for stock in soups and stews, in sandwiches, as a pizza topping, under scrambled eggs… Or, as Lehna and Jamie put it, "Add this to anything – it's just that good! After you taste this you'll wonder what the heck you were buying in tubs at the grocery store!"
In case you didn't know, basil is something of superhero among herbs, rich in Vitamin K, calcium, iron and Vitamin A, among other things. Lehna and Jamie make the whole process as simple as can be…
1. Buy the basil
2. Wash it!
3. Admire it!
4. Drink wine and whirr the hell out of it!
5. Make 1/4 cup scoops and freeze!
Vegan Pesto (aka The Besto!)
Easy to make vegan pesto made with basil, nuts, nutritional yeast and plenty of garlic
Ingredients
1 and a half cups of basil
⅓ cup good olive oil
1 cup nuts (we use cashews)
5 cloves garlic
⅓ cup Nutritional/Engevita Yeast (available from health food shops)
Salt to taste
½ teaspoon ground black pepper
Instructions
Blend all ingredients together.
That's it - nothing more! It makes a thick paste and freezes well.
Freeze by making quarter cup measures (in the UK, those Gu dessert dishes are ideal). Pop them out onto a pizza tray and then freeze overnight. Store in a plastic bag or Tupperware for several months.