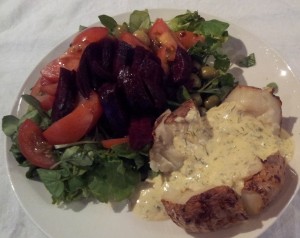 Oh man, this sauce is lip-smackingly delish and it takes 5 minutes to make (yes, 5 minutes!!) It's great with baked potatoes or pasta so perfect for runners who are carb loading in advance of a race. It's also great for everyone else because it's so yum. But here's the science on carb loading if you want to know why runners should do it. Cheddar and Dill Sauce
Serves 2
Ingredients
150 ml (i.e. half a tub) creme fraiche
100g mature cheddar, finely grated
1 tsp English mustard (Dijon will substitute but it has less of a kick)
Handful of fresh dill, chopped
Salt and pepper to taste
Method
1 Warm the creme fraiche slowly over a medium heat until it starts to bubble gently.
2 Remove from the heat. Add the cheese, mustard and dill, stirring until the cheese has melted. Season to taste.
3 Return to the heat until the sauce starts bubbling gently again.
Serve with baked potatoes or pasta and salad or steamed veg.