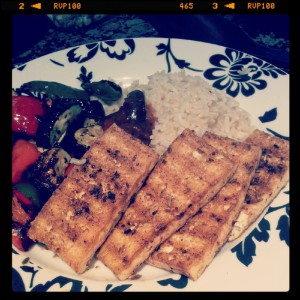 Ras el Hanout is a North African dry rub, with dried peppers, cardamom, nutmeg, allspice, cinnamon, cloves, fennel, and my favourite of all, rose petals and lavender. I love the idea of eating flowers, so byronesque, beyond romantic. You can get it in North African shops and, increasingly, supermarkets, which where I got mine.
Tofu is like a sponge for flavourful foods. I'm sure the flavours would develop beautifully if you had time to marinate the tofu for several hours, but I did mine on the fly, giving it 20 minutes after the veg had first gone in the oven, and it still had a surprising depth of flavour. I used to think that pressing tofu to get rid of the water was a throwback, but it actually vastly improves the consistency of the grilled steaks. (I think I may have been confusing it with salting aubergines.)
What this recipe is good for:
A. was doing his first triathalon, so we wanted something lean but tasty for dinner on Saturday to get him prepped. It was a short version of sprint distance (400m swim, 20k bike and 5k run), so he didn't feel he needed an absolute mass of food or any carbo-loading. The colourful veg provided nutrients, and along with tofu and brown rice were a perfectly balanced meal.
Serves 2
Ingredients
1 block firm or extra firm tofu
Olive oil
3ish tbsp ras el hanout
Method
1 You need to press your tofu to get rid of some of the water. Drain the stuff in the packet away and give the block a careful squeeze over the sink. I then placed it on a plate with another plate on top – plonked on the heaviest thing I could find (the pestle and mortar) and left it for 15 minutes. Drain the water from the bottom plate into the sink.
2 Cut the block into even slices. The thickness of a Mills&Boon, about 1.5-2cm. Drizzle with olive oil and pour a little of the ras el hanout on each side of each slice. Rub with your fingers to really get the spices into the nooks of the tofu. You want a nice, even coverage on the outside of each slice.
2 Leave to marinate for as long as you've got til dinner.
4Heat a little oil in a griddle or frying pan and fry off the steaks. They'll need about 4 minutes on each side to get a nice consistency on the outside – chewy but yielding.
Serve with roast or steamed veg and a grain for dinner, or cook smaller pieces for party nibbles.