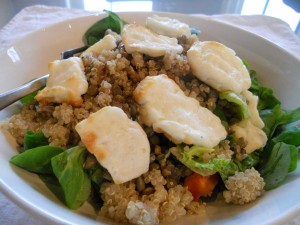 We've been thinking about packed lunches this week, what with it being back to school time and all. Not that we're going back to school – with 12 years at university between us, not including actually working in them, we think we're done with all that. We do see parents frantically shopping for school uniforms  though and stationery stores are chock full of young nerds on shopping sprees for mini-highlighters and the perfect propelling pencil (we approve wholeheartedly).
This is a perfect dinner one night with lovely leftovers for lunch the next day dish. The recipe we used as a base came via our lovely friend David (the one who has made some excellent running mixes for us too – he's a clever chap, isn't he?)
We fiddled with the recipe (we are contrary little madams), using cannellini beans and halloumi instead of lentils and feta. We also ditched the onion and added lemon zest to make the sauce more zingy. Basically, we took the original idea and Veggie Runner-ed it, which we hope is acceptable to you. We ended up with a dish oozing flavour, along with a healthy dose of protein, fibre and Vitamins A and C (among others). We added some quinoa to the one in the photo to add even more protein.
We made this as a warm salad for dinner and packed half of it in Tupperware to eat cold for lunch the next day – delicious both ways.
Cannellini Bean & Roast Carrot Salad with Halloumi
Serves 4
Ingredients
6 large carrots, cut into batons
1 red pepper, cut into strips
1 tbsp cumin seeds
1 tbsp runny honey
1 tin of cannellini beans
2 tbsps lemon juice
1 tsp lemon zest
200g spinach (or other salad leaves if you prefer)
1 pack halloumi (250g), cut into 1cm slices
2 tbsp olive oil
Method
 Heat the oven to 200C/180 Fan/Gas Mark 6.
1 Place the carrots, red pepper and cumin seeds in a roasting tin. Mix well with 1tbsp of the olive oil.
2 Roast for 20-25 minutes, then stir in the honey. Cook for another 5 minutes and remove from the oven.
3 At this point, heat the cannellini beans with the lemon juice, lemon zest and a teaspoon of olive oil. Note: DON'T add salt – it will make the juice taste bitter.
4 Heat a large griddle pan. Brush the halloumi with the rest of the olive oil and brown it on both sides. Note: it takes a few minutes to heat through but once it starts it browns very quickly, so keep a careful eye on it.
5 Toss the roasted vegetables and beans with the spinach and place the halloumi slices on top.
Serve with crusty bread.