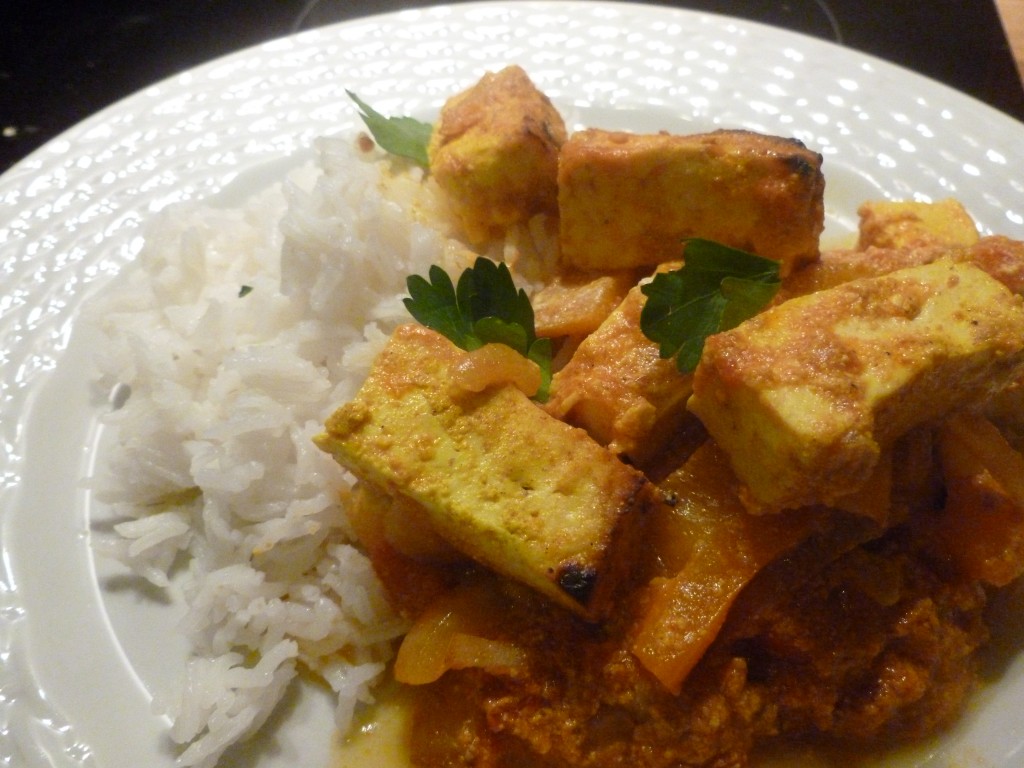 I strongly believe that cuisine is like language – living, and ever changing. Orthodoxy has no place in my kitchen. The quest for "the authentic ratatouille/baba ganoush/tikka masala" is not that interesting. I'd prefer to have the best one! Besides, playing by the book is not as much fun as a bit of experimentation. (I mean in the kitchen, people.)
Tikka Masala is one dish that has morphed to become unrecognisable through time and tweaking. While originally based on Indian home cooking recipes, the concept of tikka masala is distinctly British – Glaswegian, to be precise! Between differences in each restaurant in their approach to marination, spicing, added vegetables, consistency and heat, it is said that the only thing consistent about chicken tikka masala is the chicken.
And that's about to change here! My TOFU tikka masala recipe marinates the tofu overnight in yogurt and spices, then bakes  in a hot oven for a lovely toothsome consistency, before adding to the brightly coloured sauce. The almost luminous colour is all natural, as you'd expect from Veggie Runners, coming from a marriage between ochre turmeric and bright red tomato paste.
The tofu is low in fat, and the sauce is a great source of anti-inflammatory and anti-microbial ginger and garlic. There are 52g of protein in a block of tofu, so if you even just eat 1/4 you'll put a good dent in your protein intake for the day. Give it an extra boost by eating with quinoa. The cooked tomato is a source of lycopene, which is known to be an anti-carcinogen.
This may not be the first tikka masala recipe, but it's up there with the best, and it's good for you too!
What's your favourite curry? How do you think you could make it a bit healthier? 
Tofu Tikka Masala
Serves 3 – 4
For the Tikka Tofu
250g natural yogurt
2 cloves garlic, crushed
1 tsp grated ginger
½ tsp tumeric
½ tsp chilli powder
½ tsp garam masala
2 tbsp groundnut or other low-flavour oil
juice of half a lemon
1 block firm tofu, pressed
For the Sauce
1 onion, peeled and cut into half moon
1 tsp grated ginger
2 peppers of different colours
1/2 tsp turmeric
1/2 tsp ground coriander
1/2 tsp garam masala
1/2 tsp chilli powder
150ml natural yogurt
tin of peeled plum tomatoes
handful of coriander leaves, chopped
Method
1 Press your tofu and leave to one side. Mix all the other ingredients in a medium oven-proof dish. Cut your tofu into pieces and add to the curry sauce, turning with your hands to get a really good coverage on all sides. Leave to marinate for at least two hours, preferably overnight.
2 Bake your tofu in an oven at 190C/375F/gas mark 5 for 30 minutes, checking every 5-10 minutes and basting with the creamy sauce. You want some brownness on the tofu, but if it starts to burn, but a piece of kitchen foil over the top of it.
3 Meanwhile, fry your onions and ginger in a large frying pan, then add your chopped and deseeded peppers along with your spices. Cook for 10 minutes until softened. Add the tinned tomatoes and yogurt, bashing the whole tomatoes with a wooden spoon to break them up. When your tofu is ready, add to the sauce and serve with chopped fresh coriander and rice.