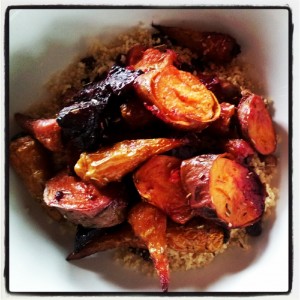 OK, so it's not the best photo ever but it's hard to make wrinkled veg look sexy when the only kit available is your phone. One day we will hire Mario Testino (is he still famous?) to take our photos for us. For now, ignore what you see and let your taste buds guide you instead.
Roasted beetroot, of course, is now widely considered a superfood for runners. Research has shown that they can run faster and for longer when they've eaten some. It's the nitrates, you see, which widen blood vessels and thus boost the amount of oxygen in the blood. So we hear. We haven't formally tested this ourselves but do let us know if you whizz round the park after eating this.
This makes a lot, so you can make it when you have friends over or have the leftover roasted veg cold in sandwiches or salads.

Roasted beets & sweet potatoes with couscous
Ingredients
4-6 raw beetroot, peeled and chopped into rough cubes
3 medium sweet potatoes, sliced
500g baby carrots (Chanteny or similar) - optional
2 cloves garlic, thinly sliced
1-2 tablespoons olive oil
2 teaspoons fresh or dried thyme
240g couscous (half a standard packet)
50g almonds (a small handful), chopped
50g raisins (a small handful too)
Good quality olive oil for drizzling
Ground black pepper
50g soft goats cheese - optional
Instructions
Preheat the oven to 200C / 400F / Gas 6 / Fan 190C.
Spread the veg, including the garlic, in a roasting pan or large ovenproof dish.
Add the herbs and olive oil. Mix thoroughly so that the veg is well coated. Don't be tempted to add extra oil though or everything will end up soggy.
Cook for 40-50 minutes (keep checking - cooking time depends on the size of your cubes).
Make the couscous according to the instructions on the pack, adding the almonds and raisins before pouring in the hot water. Stir and leave to stand.
Serve the roasted veg on a bed of couscous. Drizzle with olive oil if desired and smother in black pepper (not optional in our book but you decide). If you want the dish to be vegan, eat immediately. If not, crumble some goats cheese on top if you fancy.