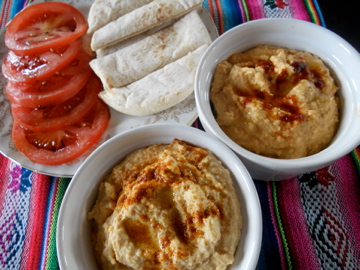 Ah, hummus – so easy to make, soooooo easy to get wrong. When it's good, it's fantastic. When it's not, it can be bland, stodgy, sloppy, too garlicky, not garlicky enough… This recipe is foolproof, mainly because we tested about 50 different versions to get it right. It's quick and easy and about 100x better than shop-bought. Plus it's a good source of protein and fibre but short on saturated fats and cholesterol.
We made a batch using the recipe below and split it in two. Then we added half a teaspoon of harissa* to one half to give it a piquant oomph. Both were delicious (don't ask for more photos because both the regular and the harissa hummus – the hummii, plural? – were devoured in a heartbeat).
*You can use shop-bought harissa to save time but you'll find it's even better if you make your own. There's a recipe here with our Morroccan Chickpea Tagine.

Hummus and Harissa
Hummus
Ingredients
1 can chickpeas (garbanzo beans to our North American chums) - Note: keep the liquid when you drain the beans - you'll need it!
3-4 tablespoons lemon juice
2 tablespoons tahini
1-2 cloves garlic, chopped
Large pinch of salt
Black pepper
2 tablespoons olive oil
1 teaspoon paprika
1 tbsp harissa (optional)
Instructions
Place the chickpeas, lemon juice, tahini, garlic and most of the olive oil in a large bowl or food processor. Blend well but leave a bit of texture - you don't want it to feel like baby food.
Add a little of the water from the can if it feels too stiff. (Lots of recipes just add water but you might as well use the tasty stuff from the can, no?)
Add salt and black pepper to taste.
If you're making a harissa hummus too, split it into two and mix half a teaspoon of harissa paste into one half.
Place in a serving bowl, sprinkle with the paprika and drizzle on the remaining olive oil.
Serve with bread, crackers, oatcakes, rice cakes - more or less anything that can accommodate a savoury spread, really.