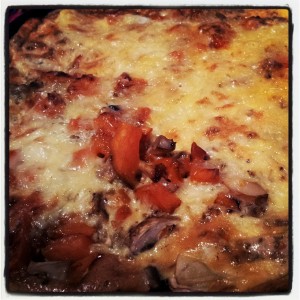 It being Better Breakfast Week in the UK, and maybe elsewhere in the world too, the best meal of the day has been on our minds a great deal. In truth, breakfast is on our minds a lot. We never go to bed without making sure that we have something good ready for breakfast in the morning.
Sadly, we don't have staff to prepare our dishes for us, nor do we always have time to cook first thing on a morning. What we do have though is good planning skillz (yes, with a 'z' – skills with an 's' are so old skool). The best thing to do when we know we're going to be short of time is to make something that you can have warm for dinner at night and cold for breakfast the next morning.
This Mushroom and Sweet Potato Fritatta fits the bill perfectly. It's great with a salad for supper and also fantastic on toast or in a hunk of baguette in the morning. Sweet potatoes are low calorie source of beta-carotene, which helps keep your eyes, skin and immune system in good form.
Mushroom and Sweet Potato Frittata
Serves 2-3
Ingredients
2 sweet potatoes, cut into small cubes
6 mushrooms, chopped finely
3 cloves garlic, chopped
1 teaspoon cumin seeds
4 eggs, beaten
Salt and ground black pepper to season
100g mature cheddar cheese, grated
1 tablespoon olive oil for frying
Method
1 Warm the oil over a medium heat and add the sweet potatoes, cumin seeds and garlic, turning often. Cook gently for 10-15 minutes until the sweet potato begins to soften.
2 Add the mushrooms and cook  for a further 5 minutes.
3 Pour in the beaten eggs and season well with salt and ground black pepper. Cook for 5 minutes until the egg sets in the base and around the edges of the pan.
4 Sprinkle the grated cheese on top and place under a grill set on medium heat. Cook until the frittata is bubbling and the cheese is starting to brown. (This should take about 5-8 minutes – just keep an eye on it).
Serve with salad (try our Super Seedy Salad for an extra Vitamin C and protein kick) but be sure to save some for a breakfast bap the next morning.