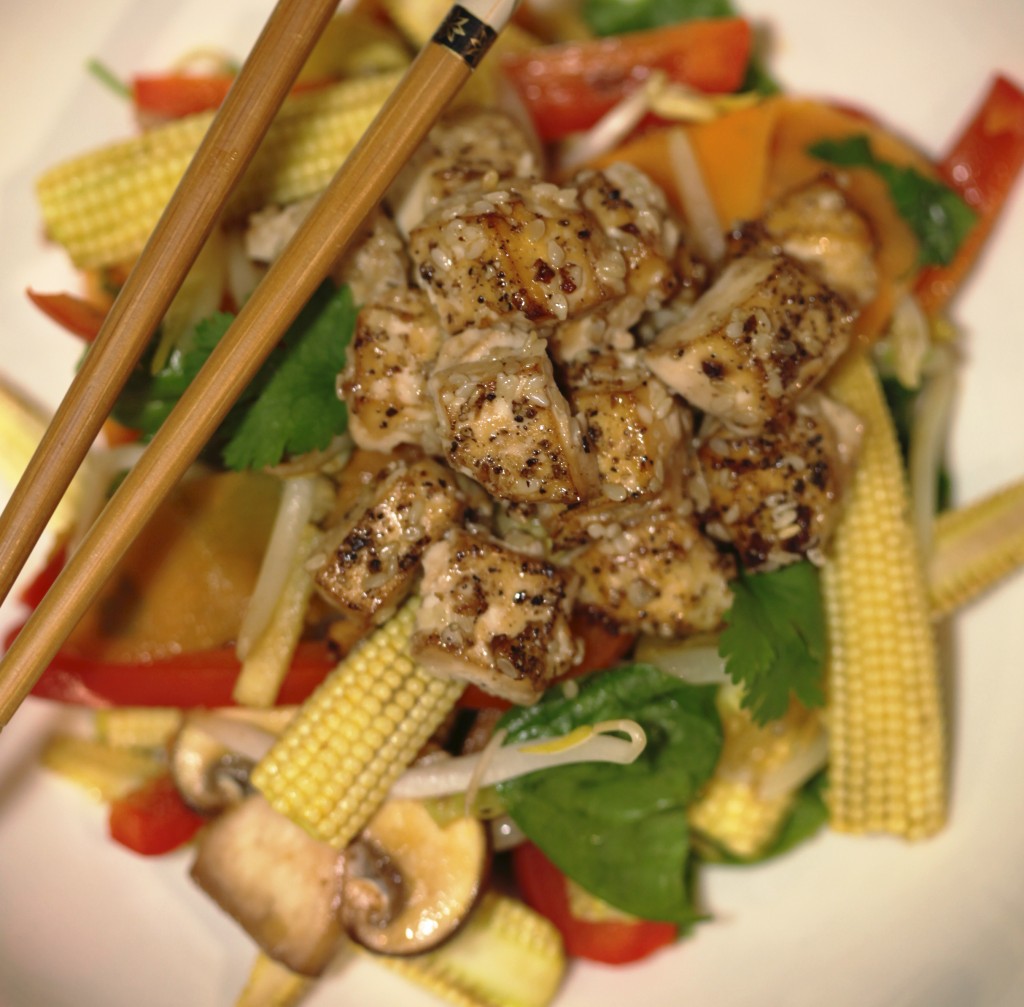 Photos by Zsolt – www.zsoltsandor.com
One of our favourite restaurants in the whole wide world is Rebar in Victoria, British Columbia. We haven't actually been everywhere in the whole wide world, of course, but we have been to this restaurant many times, mainly because a) it is wonderful and b) we used to live just up the road. We did try to provide a link to their website but, in typical 'hey, man, no hurry' west coast fashion, it says 'Full website coming soon.' This could take some time but you could buy their cookbook in the meantime, should you feel that way inclined after making this dish.
This recipe is so good it's been featured in Hello magazine alongside Kate and Wills, Victoria Beckham and Brangelina. That's right. We're proper celebrities. Or at least our tofu is…
This sesame-baked tofu is a variation on one of Rebar's signature dishes. They usually serve it with monk's curry, a Thai green curry type thing. V tasty too and we'll write that up at some point as well. When we did the tofu this time, though, we served it with a stir fry and some brown rice – high protein with low-fat, low-cholesterol and low-saturated fat. Remember though that soy sauce, which is used to bake the tofu, is high in sodium so don't have this for dinner every night (though, believe us, you'll be tempted to when you've tried it).
If you have time, press some of the water out of the tofu first – place it in a bowl, put a saucer on top and put a weight on top (a jar of jam or cup of water will do). Leave it for half an hour and drain off the excess water. This isn't essential and doesn't affect the flavour but it firms up the tofu a bit more and makes it easier to cut up.
Sesame Baked Tofu with Aromatic Stir Fry
Serves 4
Ingredients
For the baked tofu
1 pack firm tofu (usually about 300g but you can cook more if you like – it's good cold in sandwiches so just double up on other ingredients too)
2 tablespoons light soy sauce (don't use dark soy sauce – it's too heavy for this dish)
2 tablespoons olive oil
3 tablespoons sesame seeds
Black pepper to taste (no salt – this dish doesn't need it)
For the stir fry
2 cloves garlic
1-2 teaspoons grated root ginger
2 spring onions, finely chopped
3-4 pak cho, roughly chopped OR 2-3 handfuls of fresh spinach, rinsed thoroughly
1 pepper (any colour will do), finely sliced
1 carrot, finely sliced (if you do this down the length with a vegetable peeler, it goes pleasingly curly)
1 pack beansprouts
6-8 baby sweetcorn, cut in half lengthwise
6 mushrooms, sliced
1 tablespoon sesame oil for frying (vegetable oil will do if you don't have this)
2 tablespoons (or a small handful) of fresh coriander, chopped
Method
For the baked tofu
1 Preheat the oven on a high setting – 220C/425F/Gas 7/Fan 200C.
2 Cut the tofu into 2cm cubes and place in a large, deep baking tray or overproof dish.
3 Add all of the other ingredients and mix together thoroughly so that all the tofu is coated.
4 Bake for 30-40 minutes (cooking time will depend on the type of tofu and the size of the cubes – start checking at about 25 minutes). It's done when tofu is starting to brown and crisp a little. Don't leave it too long once that's happening or it will get chewy.
For the stir fry
1 Have all of the ingredients ready but don't start cooking this until the tofu is ready and out of the oven.
2 Heat the wok empty first, then add the oil and heat until it's just starting to smoke (ever so slightly!)
3 Add the garlic, ginger and spring onions. Cook for two minutes until it starts to smell delicious.
4 Add all of the other ingredients and stir briskly, keeping them moving until the pak choi just starts to wilt (just 2-3 minutes – it's tempting to cook for longer but stir fry is tastiest when the veg still has some 'bite' to it).
5 Stir in the fresh coriander just before serving.
Serve on brown rice, scattering the tofu on top.