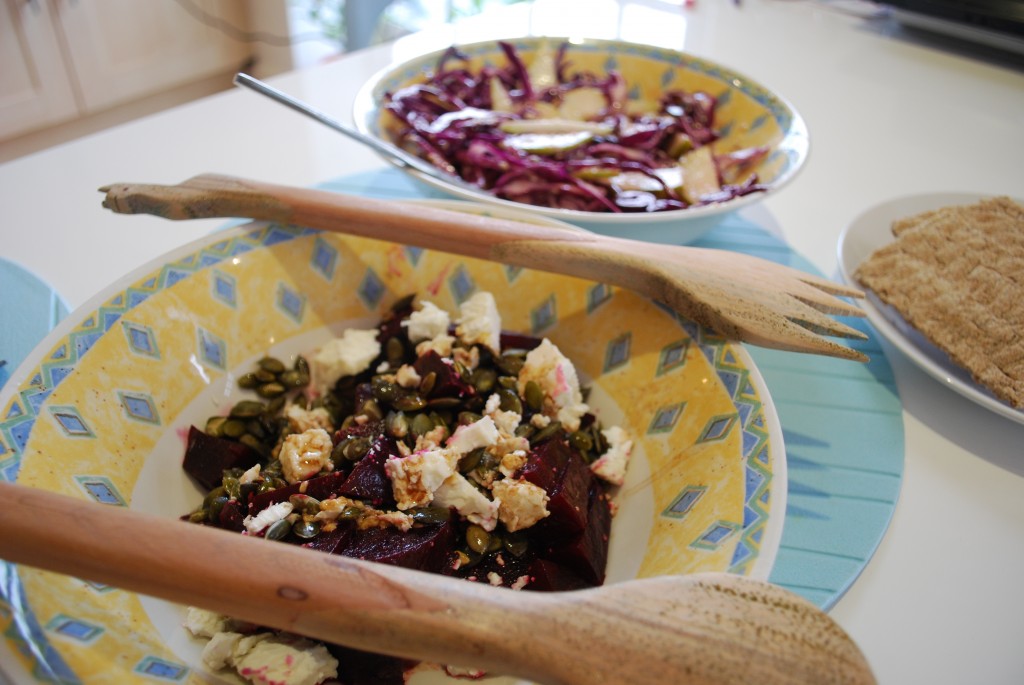 (Photo taken by my lovely friend Elaina of Copenhagen blog Fint & Dejlig when she came to visit me in London).
Beetroot can seem a bit scary in a Lady Macbeth looks-like-blood-down-the-plughole kind of way. But a) there are ways around this and b) the benefits of beetroot, particularly for runners, are well worth a bit of 'Out damn spot, out I say' handwashing. Mum discussed the benefits in greater detail in our beetroot and sweet potato salad recipe.
I actually bought my beetroot ready-roasted from the chap at the market. How convenient is that? Though the paper bag looked like something Malefecent would have picked up at 'Organs R Us' by the time I got home, all I needed to do was rinse and chop.
If you don't have that choice,  drizzle whole beets with olive oil and wrap up in tin-foil and roast in a medium oven, preferably while you're cooking something else too to save energy. After about 30-40 minutes, when they can be pierced with a fork, take them out and slip their skins off with your fingers. Have your Shakespeare moment, then use the beets as you wish. This salad is tasty, with the salty cheese and sweet beets complimenting each other perfectly. It's also a good source of iron, which long distance runners run the risk of being deficient in.
I've not put quantities as you know how many beets you have and people to serve.  It looks like a lot of pumpin seeds, but they're the 'other vegetable' in your salad and they're phenomenal for you. The add a great crunch too, which is always good.
Beetroot, Feta and Pumpkin Seed Salad
Ingredients
Roasted beetroot
Feta cheese
2tbsp pumpkin seeds per beet
Balsamic vinegar
Olive oil
Method
Toast the pumpkin seeds in a little pan. When they make a pleasing popping sound and are looking a bit golden, they're done.
Chop your beetroot into bite-sized pieces
Crumble over feta
Pop those pumpkin seeds over that lot and drizzle with olive oil and balsamic. I'm sure you don't add salt to your food, but you definitely don't need it here, as the feta is salty in itself.