Recently, we decided to find out exactly who you are – the people who follow our chatter, who comment on our posts, who we tweet with, share our running trials and tribulations with, who cook and eat from recipes we create. People we have a bit of a giggle with and feel we know well. It seemed like the easiest way to do this was to ask. So we asked you to tell us in 5 words or less how you would describe yourself as a runner. Your replies were a real eye opener. We were overwhelmed by the response, on many levels.
It started small but to the point…
then got bigger…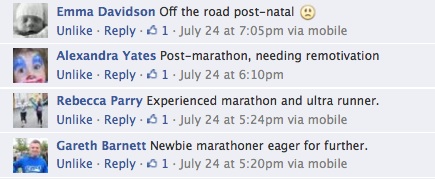 and bigger…
Some people couldn't stick to five words but, hey, when what they have to say is fascinating, we think that's allowed. (SH is Shanghai, btw).

We can't fit all of your answers into this post – we'd crash the internet, which would obviously signal the end of the world as we know it (maybe no bad thing…?)
We loved your responses though and apologise profusely if yours isn't included. So, given what we now know, how would we describe you as runners? We'd say:
YOU'RE TOTALLY FREAKIN' AWESOME, EVERY ONE OF YOU!
(Erm, artistic licence on the 5 words thing… Sorry) We'd also break our own rule even further and add motivating, entertaining, inspiring, fascinating, thoughtful, committed, fantastic, fit, fabulous, funny…
And how would we describe ourselves in 5 words after this little exercise?
Very glad to know you!
Huge thanks to everyone who responded. It's been brilliant doing this. We're  delighted to get to know you just a little bit better.
If you didn't describe yourself as a runner in 5 words, please do in the comments below. We'd love to hear more!