Video and all images: Zsolt Sandor / MothershipUK
As you know, we love chatting and great vegetarian food in equal measure – add running into the mix and you have our idea of a perfect weekend. After the Leeds 10k recently, we hosted a post-race brunch for some of our runner friends, operating a strict 'No medal, no entry' policy. We could be nightclub bouncers if a) we were bigger and b) we ever went to nightclubs. Maybe we could be kitten club bouncers; surely nobody causes any trouble at them and there'd be kittens. Please find us a kitten club and we'll sign up right now!
Anyway, the brunch was AMAZING. Fantastic food (though we say so ourselves), great vegetarian champagne from Naked Wines (absolutely top notch*), wonderful friends and we got to talk about running all afternoon. We couldn't have been happier.

The brunch was featured in The Guardian – A Post-Race Vegan Brunch (or 'Easy Striders', as it was headlined in the paper edition – haha, we liked that!) The article didn't include all the recipes though so here's a selection of the nutritious, protein-packed, utterly delicious dishes we served. If you want to know how good they were, watch the video above and hear what our guests had to say. We planned all the dishes carefully for optimum post-race recovery. Try this menu after your next race – you can prepare all of the dishes the night before – and we guarantee you'll be full of zing and bounce the next day.
Menu – Post-Race Recovery Vegan Brunch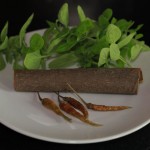 Spiced Leek and Chickpeas
Quinoa with Spiced Roasted Vegetables
Vitamin B Salad
Pico de Gallo Salsa
Arroz Verde
Classic Guacamole
We served these with flour tortillas but they work well with tacos, crispy tortillas or on their own without any dippy/wrap things! We also did Mexican Chilli Chocolate Pots and Cherry Chocolate Tiffin, both kinda out of this world but not written up yet. We'll add links to them as soon as they're ready.
*If you'd like to try Naked Wines for yourself, click on the link above or the voucher below for a whopping £40 discount off your first order.