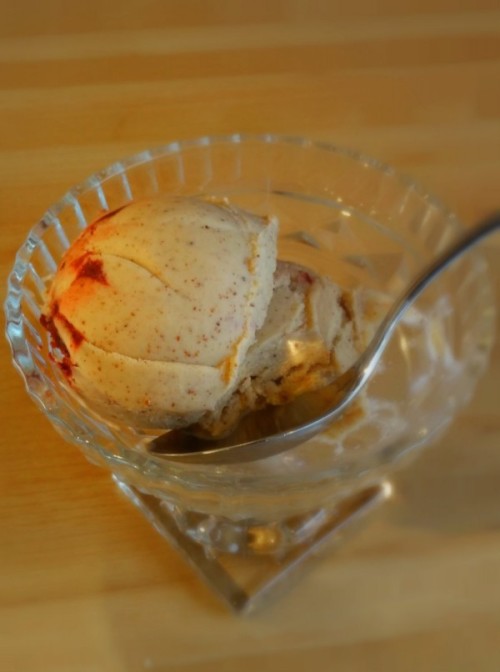 I am seriously proud of this Almond Butter Ice Cream recipe. It's totally dairy free and free from refined sugar but it's as delicious as anything you would get from a gelataria, I promise. I am often proud of what we accomplish with Veggie Runners, but this one is totes my Atticus Finch, my Holden Caulfield.
The cherry swirl is optional, but adds a fantastic Cherry Bakewell note to the proceedings (Excellent burlesque name: Cherry Shakewell).
I was lucky enough to receive an ice cream maker from my future sister-in-law for christmas, but you could still make this without, using a bit of elbow grease. It won't be quite as smooth, but it would still be delicious. If do eat mostly plant-based and eat a lot of ice cream, you'd practically make money by buying an ice-cream maker – £7 for a tub of vegan ice cream, ouch. Plus, you get to experiment with fantastic flavour combinations like these. I keep turning to my very favourite food book, The Flavour Thesaurus, for inspiration. I'm working on a cardamom, vanilla and pistachio number at the moment…
It isn't a literary classic but this recipe is one for the ages. Please pin it, share it, and most of all MAKE it. You'll love it, I guarantee.

Vegan Almond Butter Ice Cream, with Cherry Swirl
Vegan Almond Butter Ice Cream with a Cherry Swirl
Ingredients
200ml full fat coconut milk
2 tbsp almond butter
2 tbsp maple syrup
1 tbsp amaretto
100ml almond milk
pinch of salt
Handful of cherries, frozen or fresh
Instructions
Blend all of the ingredients except for the cherries until smooth.
Either churn in an ice cream maker, or put into a freezerproof dish and freeze, taking it out and really stirring it up every half an hour until creamy consistency.
If using the cherries, mush them up in a separate bowl and drain away any excess juice (not into the drain, probably right into your mouth would be best). Stir carefully through the ice cream and return to the freezer.
Take it out and let it sit at room temperature for 5 minutes before serving.