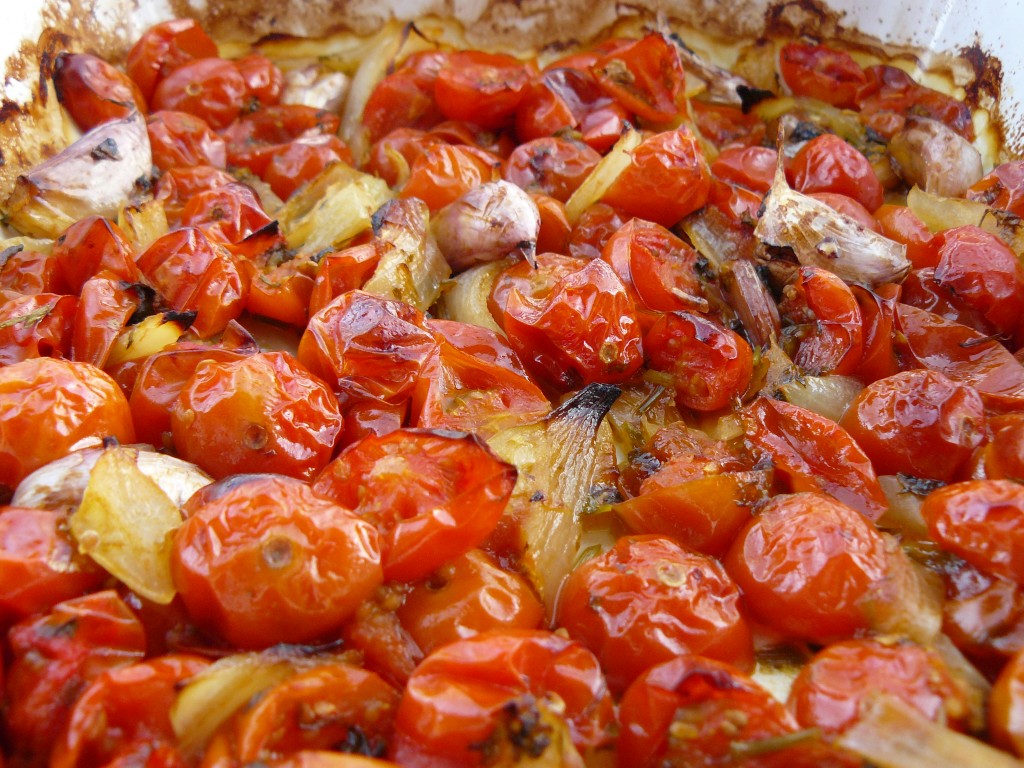 You wouldn't know it if you saw the chaos surrounding us sometimes but we Veggie Runners are actually pretty efficient. This is a handy dish to pop in the oven while you're out for a quick run or catching up on your sleep or maybe your laundry (runners do a lot of laundry…)
This easy side dish was inspired by this post on the Citrus and Herbs blog. Being an impulsive (or should I say impatient) little madam, I wanted to make it straight away so used dried herbs instead of fresh. I also spiced them up a bit with chilli flakes, but you can leave these out if you'd prefer the herby taste to dominate.
After cooking, you can remove the garlic skins and blitz this with a hand blender  to make a great tangy sauce for use on pasta, curries or pizza bases. Or just eat as it comes out of the oven as a great side dish.
These are low fat, a good source of fibre and vitamin C and great with pasta or a baked potato for carb loading before a race.
Slow Roasted Tomatoes with Chili and Garlic
Serves 3/4 as a side dish. Can be added to pasta sauces, used cold as a relish or as a base for curries.
Ingredients
1/2kg tomatoes, halved
Handful of cherry tomatoes, halved (optional)
6-10 cloves garlic, crushed with the flat of a knife but not peeled
Half an onion, sliced
2 teaspoons dried oregano (optional)
1 teaspoon dried chili flakes
2 tablespoons olive oil
Salt and ground black pepper to taste
Method
1 Heat the oven to 170C (325F / Gas Mark 3).
2 Place the tomatoes and garlic cloves in a large roasting tin. Sprinkle on the herbs. Add the olive oil and salt and pepper. Mix well.
3 Cook for 30 minutes then turn the tomatoes over.
4 Cook for a further 30 minutes until the tomatoes are soft and squishy.
5 The garlic will be soft now too. Squeeze the pulp onto the tomatoes when cool enough and discard the skin.