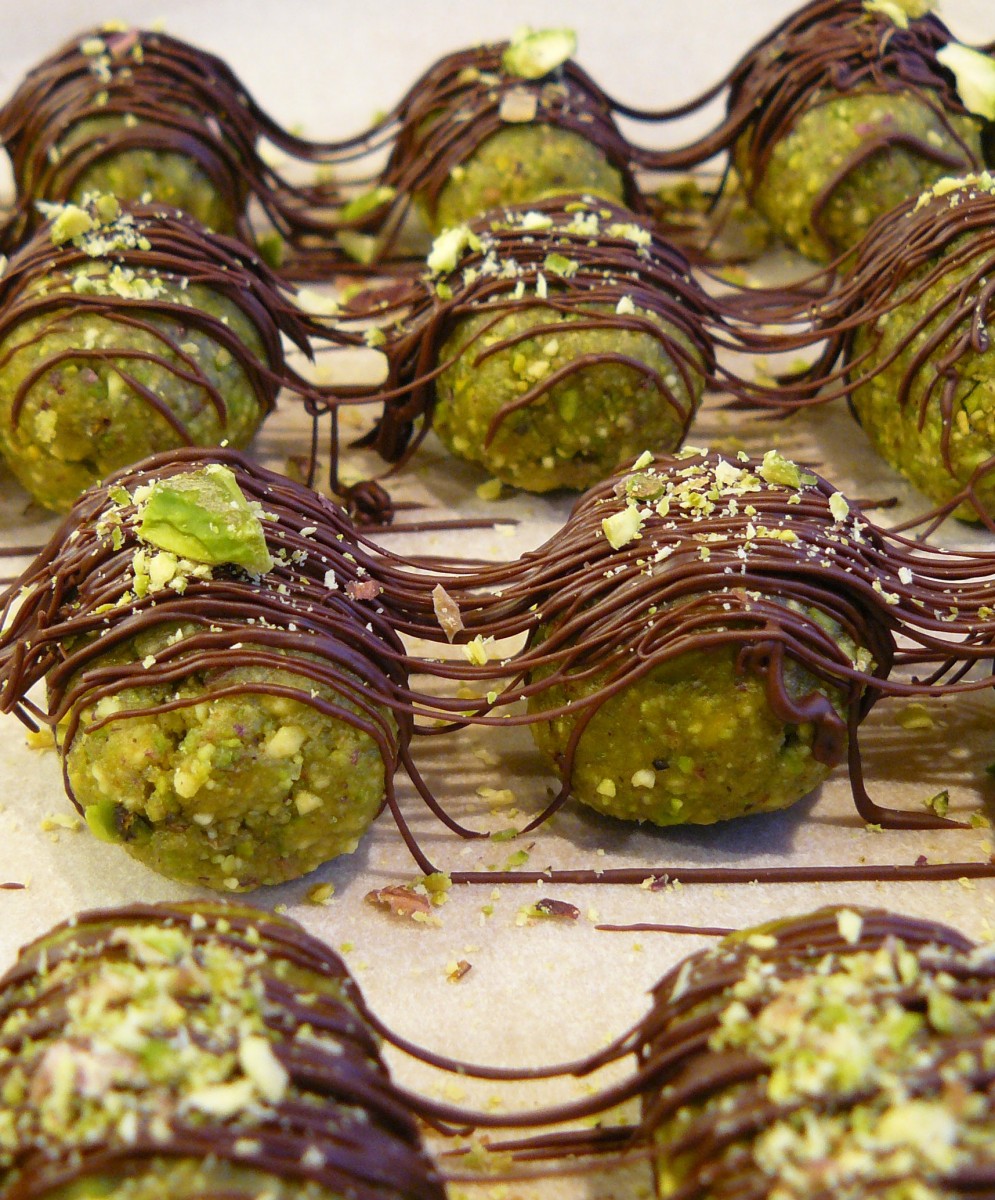 These vegan treats are delicious, super simple to make and would be lovely Christmas gifts. I don't think I can really pretend that a food containing nearly a quarter sugar is healthy, but pistachios are great sources of mono-unsaturated fats, vitamin E and iron. Just make sure you share them around and don't eat them all. (Believe me, this will be very tempting. My first batch were supposed to be gifts and didn't survive.)
If you have a high-powered blender, it's really easy and weirdly satisfying to make your own icing sugar for this recipe. We use the Froothie Optimum Blender, which pulverised it in seconds, leaving a puff of cardamom-scented sugar mist when the lid was opened. Like I say, satisfying. I think using the golden brown sugar rather than regular white gives it a fuller flavour. If you don't have a super blender, don't worry, you can just bash the cardamom seeds in a pestle and mortar and join the rest of us at step 2, using any old food processor.

Pistachio and Cardamom Marzipan
Makes about 20-25 pieces
Ingredients
300g pistachios
6 cardamom pods
90g golden brown sugar or 150g icing sugar (see description)
1 orange
50g dark chocolate
Instructions
First, make your powdered sugar. Put golden brown sugar into your high powered blender. Break open cardamom pods and add the seeds to the blender. Make sure the lid is on TIGHT and blast for about a minute, until you have icing sugar consistency infused with that incredible cardamom scent. Tip into a big mixing bowl.
Next, blend almost all of your pistachios in the same blender until you have a "ground almond" consistency - very uniform tiny pieces. Add to the bowl with the sugar.
Zest your orange into the mixture, then cut it in half and squeeze a little of the juice into the mix. Start to combine with your hands, which will get the oils out of the pistachios. Keep adding juice a tiny bit at a time, until you have a workable mixture.
Roll into little balls and place close together on baking parchment.
Melt your dark chocolate and pour it into a plastic sandwich bag.
Cut a minute nick in the corner of the bag and drizzle all over the marzipan pieces. Finish off with a dusting of the leftover pistachios.