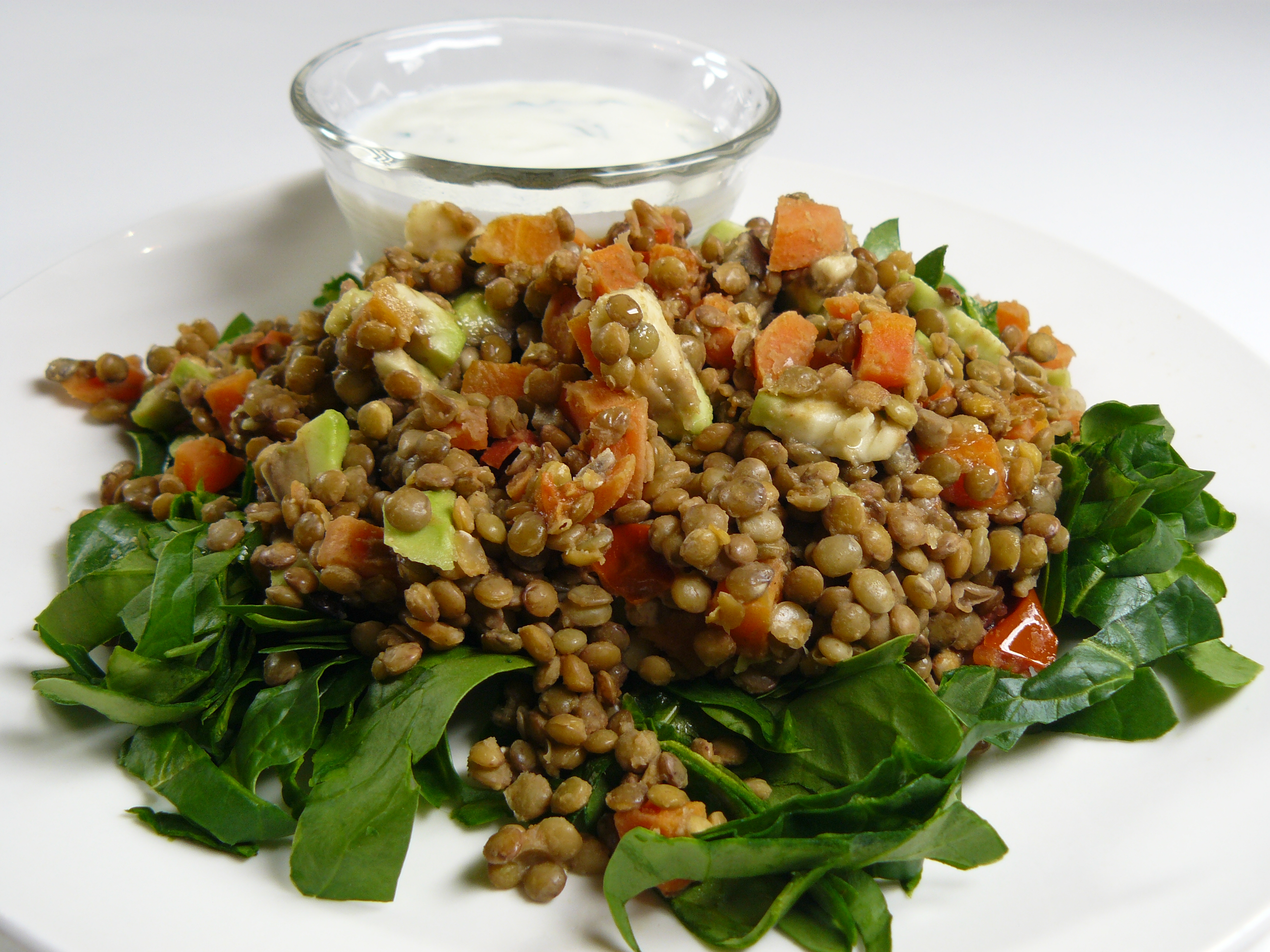 I got a gorgeous cookbook recently, Vegetarian Dishes from the Middle East by an absolutely fascinating man called Arto Der Haroutunian. The author wasn't widely known; he died in 1987, missing the wave of cookery programmes and celebrity chefs that we're subject to these days. This is a shame, as there are some wonderful recipes in the book – perhaps he could have helped divert modern cooking away from the style over substance that so many of the TV offerings provide. Keep an eye out for his books. Apart from being wonderful, secondhand ones can change hands for a lot of money.
Anyway, aside from being a lovely book, it's a mine of exciting ideas for all Veggie Runners. If, like us, you're in the middle of marathon training, this is a great protein packing dish for recovery after long runs. 
As is my wont, I played around with several recipes to come up with this Warm Lentil, Lime and Avocado Salad. It makes a tasty dinner and is delicious cold the next day, or you can warm it through in a microwave for a minute or so before serving. Eat with lime minted yoghurt (recipe below). Delish!
Warm Lentil, Lime and Avocado Salad
Serves 4
Ingredients
For the salad
200g green lentils (cook 15-20 minutes until soft but not slushy) – or use tinned lentils!
3 carrots, diced
Half teaspoon chilli flakes
Half teaspoon ground cumin
Juice of 2 limes
Zest of half a lime
1 avocado
6 cherry tomatoes, chopped finely
2 tablespoons good quality olive oil
Sea salt and black pepper

For the dressing
6 tablespoons natural yoghurt (use Total Greek yoghurt with equal parts cold water if you need extra protein)
Juice of 1 lime
Pinch of salt
Handful of fresh mint, finely chopped
Method
1 Saute the diced carrots in the olive oil for about 8 minutes. Add the chilli flakes and ground cumin and saute for 2 more minutes, stirring constantly.
2 Add the cooked lentils, stir well and heat through thoroughly.
3 Remove from the heat and add the lime juice, lime zest, avocado, tomatoes and salt and pepper to taste.
4 To make the dressing, simply stir all of the ingredients together.
Serve on a bed of raw spinach or salad leaves, with the dressing on the side. This is lovely with warm flatbreads, rice or couscous.