Is it possible to have a healthy hen do? Bibi's getting married soon and, in keeping with the way we try to live every day, we tried really hard to keep it healthy for the sake of our bodies and our budgets. We had a fantastic time and lived to tell the weekend's many tales so we must have done something right. These tips can help you have a healthy, stress-free hen or stag do, with lots of fun and loads of great memories. Following an exciting Friday afternoon hanging out with Hairy Bikers to discuss their Hairy Bikers Diet Club, we were ready for a weekend of fun.
Start With The Budget
Decide who your guests are and think about what you and they can afford. There's no need to spend a fortune to have a great time. It costs guests a lot to be at the wedding so it seems harsh to expect them to pay through the nose for the hen do too.  Even with taxis and prosecco, all guests had change from a fifty pound note from the weekend (or would if people still used notes). Nearly all the guests said the last one they'd been to cost them hundreds of pounds so everyone was happy before the weekend even started!
We didn't spend money on tee-shirts, sashes or other things that no one would feel comfortable in or ever wear again either. We're a bit obsessed with the impact that disposable stuff has, so I hired a veil from West Yorkshire Playhouse Costume Hire. Bibi wore it all weekend and looked so cute she didn't want to give it back!
Plan The Weekend Properly
This sounds obvious but often hen dos blur into a mass of bars, restaurants and clubs and can end up feeling like any other weekend, just more expensive and more drunk! Josephine, Bibi's maid of honour (who happens to be an events project manager for a London studio) and I spent time swapping ideas, making calls and deciding exactly what the weekend should entail. Then she took the reins and put all the timings in place so people always knew where they were supposed to be and when, really taking the stress out of things.
See if friends can help too to help keep the budget low. At Bibi's hen do, no one stayed in hotels – everyone bunked up in spare rooms and on sofas. One of my oldest friends (he's not ancient, I've just known him a long time!), very kindly let us use the basement of his bar, Katzenjammers near Borough Market, to do disco yoga and hang out in the afternoon, which saved us money and took the stress out of finding a venue.
Invite The Right People
Invite people you share a history with. You want your best buddies with you not people who would 'be offended' if they weren't on the list. Keep it select so the bride-to-be feels totally comfortable with everyone who's there. There were 19 people at Bibi's hen do, from people she's known since she was a baby right through to friends from university. She could happily sit and chat to any one of them for hours and we knew there'd be no dramas or miscommunications, just nice people who would all be comfortable hanging out together.
Eat Well
Don't abandon your healthy eating habits just because you're away from home. Big weekends with lots of people and activities can be exhausting. And I'm not going to lie, at Bibi's hen do we consumed a lot of fizz over the course of the weekend so we needed to make sure we looked after ourselves. Make sure you eat well and stay hydrated to keep your energy levels up and your body on top form for the challenges it faces!  We had delicious healthy brunches on both days, paid for with part of everyone's budget. We also had an amazing, healthy dinner at The Gate in Islington, a great fine dining experience for vegans, vegetarians and everyone likes gourmet food. Properly delicious and totally recommended.
Exercise
If you usually exercise on a weekend, make sure you add some in to the mix at the hen do. Your body will thank you for it when it's all over. Bibi loves parkrun so we started the day with that. I don't think she was hugely impressed with getting up early but it certainly energised her for the day! Plus it kept her out of the way so her maid of honour had chance to set out brunch and for the guests to arrive to surprise Bibi on her sweaty return. We also had the added bonus of running with our fab friend and fellow running blogger, the lovely Duns on the Run.
Spring Surprises
Nice surprises make everyone happy. We had a WhatsApp group with Bibi in it so she could get excited about the weekend along with everyone else. We didn't mention anything that was going to happen though, sharing all that information by email and messenger so she didn't have a clue what to expect. Her little face was a picture every time something or someone new turned up! We also made sure that the guests had nice surprises too – everyone was over the moon with their fantastic Sweaty Betty goody bags (thank you #TeamSB!) and their extra little treats from Illamasqua.
Among our surprises was disco yoga with Sarah Hunt Yoga (see video), which was hilarious and really got everyone energised. It's a proper yoga class except she cranks up disco tunes, encourages you to sing along and every now and then suggests a dance break where everyone swaps mats and boogies. Plus she gets you to drink prosecco in dancer pose – not as easy as it sounds but it's great fun trying!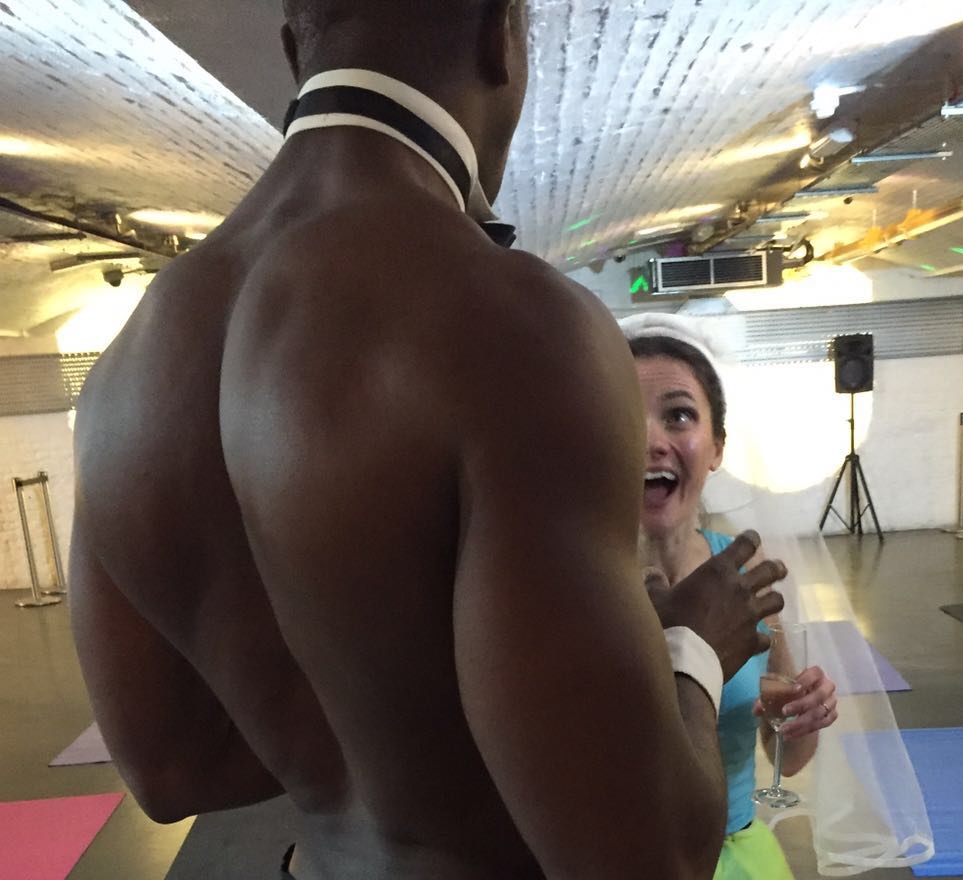 It wouldn't be a hen do without an unexpected almost-naked person, of course, so Bibi's Canadian friends who couldn't be there – this was a budget hen do, remember! – clubbed together to surprise her with a Butler in the Buff. Let's just say Bibi was very surprised when Leo turned up, as you can see from the photo. Once she got over her surprise, they had a good chat about South London running routes and burpees (seriously).
So, we did get drunk at Bibi's hen do. But we did it our way. We had loads of fun, lots of laughs and felt like one big happy family. It was cheeky, unforgettable and overall pretty healthy. Just the kind of weekend we love!
Have you every been to a hen do? What did you like, or not like about it?
Would you like to try Disco Yoga?