We Veggie Runners have an action-packed spring and summer of running coming up. It's easy to get caught up in the data and spend time stressing about pace, splits and PBs. This year we want to take time on our runs to smell the roses, get covered in mud, slither down soapy slides, you know the kind of thing. We're catching up on some of the races in pretty places we missed out on last year and adding in a few extras for good measure.
We'd LOVE to see you at the start line for any or all of these. It's always great to run with a pack – we're like little veggie huskies in that respect! – so if you'd like to join us, just let us know and we'll look out for you. Click on the headings to enter any of the races.
Gung Ho Leeds 5k, 14th May 2016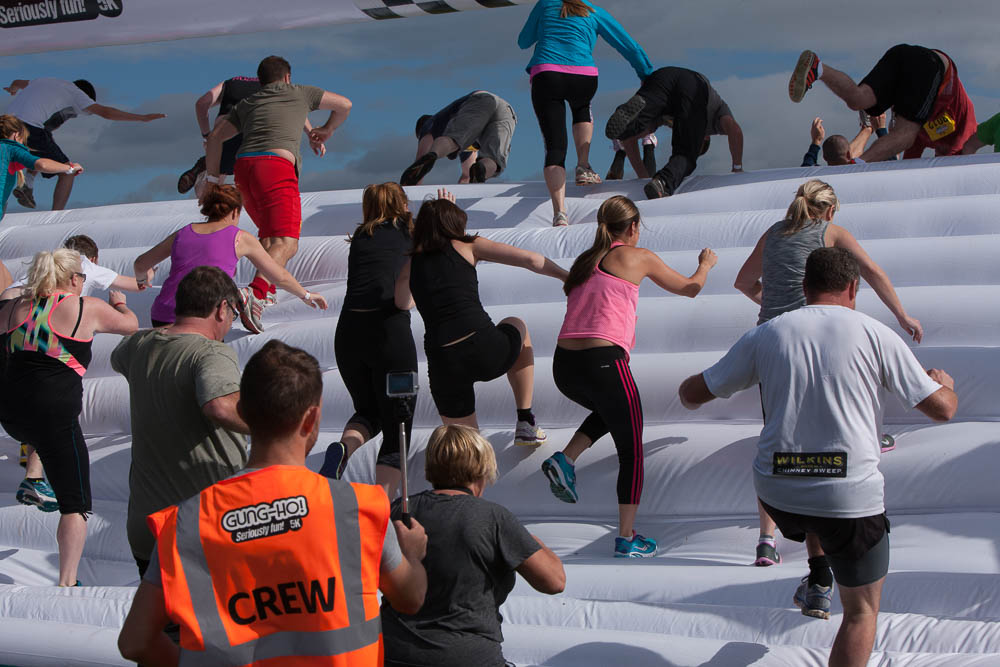 This is probably the least serious race we'll ever do – a 5k where all of the obstacles are giant inflatables. There is also foam somewhere in the mix too. PBs in bouncing and falling over guaranteed.
Edinburgh Half Marathon, 29th May 2016
Classic post-race portaloo shot
We've done this before and had a less than brilliant time. The atmosphere was fab, the race well organised but this was the day that Bibi bonked. Big time. After barfing halfway round, she did make it to the finish line and vowed to return to have a better race next time. This is that next time. There will be no gels.
ITU World Triathlon Series, 11th June 2016
This is the amazing Non Stanford, not one of us
This sounds all serious and proper but we're actually joining the Go Tri Sport wave with This Girl Can. It only costs £10 and it's aimed at people new to triathlon (which we're not but we'll be doing what we can to encourage people to take part). That way, we get to support our own community – we *love* that this is on our doorstep! – and get to join the party on Sunday too. It will be an amazing weekend, with the world's greatest triathletes taking part so if you fancy being part of it, sign up soon. Places are very limited.
This is a 10k urban obstacle course that involves swimming, wading, climbing, jumping, splashing, running and leaping into the River Tees. It looks nuts.
Loch Ness Marathon, 25th September 2016
The Loch Ness Marathon has been on our bucket list for ages. 26.2 miles, beautiful scenery, men in kilts and maybe even a monster. And it looks like Clif Bars are sponsoring it too. Looking forward to that goody bag! What's not to love?
Endurance Life Coastal Series, North York Moors 10k, 1st October 2016
The Endurance Life Series is famously quite brutal but we're going to be taking this one easy as peasy can be. It will be just a week after Loch Ness Marathon so no incentive will get us busting a gut. We'll be treating this one as a 10k of glorious pootle.
That's the Veggie Runners race diary for 2016. So far.
We'd love to see you at the start line if you're doing any of these races.
What are your race plans this year?