Veganuary is a pledge taken by people worldwide to commit to a vegan lifestyle for one month, and the best vegan cookbooks and recipes can really help on the journey. Are you taking part in the phenomenon this year?  I did my first one in 2014 and it was a big turning point in becoming more and more plant-based in my life. I still wouldn't describe myself as 100% vegan, as I have the odd slip, but I love the idea of concentrating my mind on it for a month and helping myself to realign once a year.
What makes Veganuary special is that there are loads of resources to help make the transition, such as the super helpful 'Vegan Starter Kit', and there are hundreds of thousands of people all taking part at the same time, so you have a ready-made community for support – just search the hashtag #veganuary for even more resources and information. This year over 250,000 people have signed up to Veganuary, and more and more companies have got on board with vegan offerings, from Gregg's to KFC.
There are TONS of vegan and veggie books out there – these are just the ones that I turn to religiously. I have two whole bookshelves full of cookbooks that are largely ignored in my dining room, and a tiny shelf in the kitchen – these are mostly The Chosen Ones that live 100% of the time in the kitchen, as I can't be without them.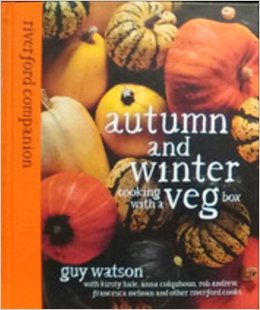 The Book: Riverford Companions – Autumn and Winter Veg.
What's great about it: Rather than being your traditional cookbooks with 'starters', 'mains' and 'desserts', this book is sorted into chapters by vegetable type. Since I stopped working away consulting, my husband and I have started getting an organic fruit and veg box delivered by Riverford. This book is a total lifesaver when you get something all muddy and knobbly and think "Is this a celeriac? and if it IS a celeriac, what the hell do I do with it?" I'd highly recommend both the boxes and the book. The book isn't 100% vegan, but I'd really recommend it for anyone looking to expand their vegetable repertoire.
My favourite recipe: Celeriac smash (now that I know what a celeriac looks like)
The Book: Thug Kitchen Party Grub: Eat Clean, Party Hard
What's great about it: One of the most intimidating things about switching to a plant-based diet is the idea that you'll never be able to socialise properly again. This book lets you know that you can now party even harder, and with tastier food. Full of gorgeous recipes that you can take to a party and have nobody even know they're vegan, and it even has some bonus cocktail recipes that I can honestly say are A+.
My favourite recipe: Rosemary Caramel Corn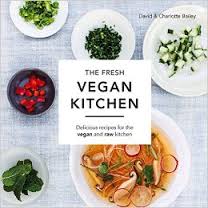 The Book: The Fresh Vegan Kitchen: Delicious Recipes for the Vegan and Raw Kitchen
What's great about it: Charlotte and Bailey live and breathe this lifestyle – they run the very successful street food van 'Wholefood Heaven', which makes the most delicious, fortifying buddha bowls. I saw them at Wilderness festival one year and had a total fangirl moment of "I'm obsessed with your book", while they tried to hurry me along because I had about 50 starving festival-goers waiting behind me in line for food. The book is as it says on the tin – full of fresh, light vegan recipes that prove plant based is anything but boring.
My favourite recipe: Tortilla Soup

The Book: The World of the Happy Pear
What's great about it: What's not to love about the Happy Pear lads? They truly have a mission to change the world with fresh veg, one person at a time. Their greengrocer/cafe in Greystones, near Dublin has become legendary in Ireland and the word is gradually spreading elsewhere, through their exposure on Jamie's Food Tube and their great social media presence. My dad and his partner Sarah live in Dublin and so were early onto the Happy Pear train, buying me their first book a couple of years ago. I've absolutely adored that one, and read it cover to cover, and was so pleased to receive this second one this Christmas. Their recipes are unfussy, but fortifying and have a lot of world influences, as the chefs in the cafe are from all over the world. I'd love to visit the cafe next time I go see my Dad, but I doubt we'd be able to get a table!
My favourite recipe: Anto's Beast Bowl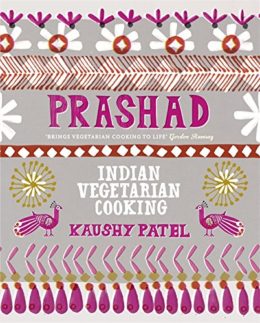 The Book: Prashad Cookbook: Indian Vegetarian Cooking
What's great about it: Like the Happy Pear, Prashad is another local legend. Based in West Yorkshire, the team at Prashad have been quietly building up a huge following at their delicious, veggie Gujarati restaurant. They attracted the interest of Gordon Ramsey, and came lead runner-up as Best Restaurant a few years ago. This book has encouraged me to buy ingredients I would never have tried before (asafoetida and okra, anyone?) and have really upped my curry game in the kitchen.
My favourite recipe: Pea and Cauliflower Curry
The Book: Cook, Share, Eat Vegan by Aine Carlin
What's great about it:  Irish-born Aine has every influence in her cookery, from fried plantain and black bean stews, to chimichangas. She likes avocado and black beans as much as I do, and has a lovely way of writing. I spied this cookbook when visiting a friend, completely gushed over it, and found a parcel waiting for me one day at home. Thank you, Lucy! This is one of those books that's as nice to read as it is to cook from, so you'll often find it on my bedside table rather than the kitchen counter.
My favourite recipe: 'Penne alla Norma' with tofu ricotta
The Book: BOSH! 
What's great about it: It's the highest-selling vegan cookbook ever, so chances are you may already even own a copy of it – even my mother-in-law owns a copy.  The BOSH lads are social media superstars, but their food actually lives up to the hype. I will admit I only got this book out from the library (Absolute game-changer once I realised I could do that!) and haven't stumped up the cash to buy it. But I would say it's a really good starting off point for beginner vegans, or just those trying to add a little more plant power to their lives.
My favourite recipe: My mother-in-law makes their roasted vegetable lasagne and it's delicious.

We often get emails and tweets asking about how to eat more plant based food, and it's a pity that only one person ever gets the answer, so we'd love to open it up. We're not doctors (well, Mum is a doctor, but her PhD in International Relations won't be much medical help) or nutritionists, but we have a whole heap of veggie experience that we'd love to help out with if possible. Also, feel free to answer each others' questions below if you've got some experience too!
Are you taking part in Veganuary? Or are you just trying to eat less meat? Do you have any questions for us? From stocking your pantry, where to eat out, how to eat to marathon train, what foods to bring to dinner parties – we're your women! Drop us a note below and we'll try our best to answer.