"Can you get enough protein if you don't eat meat?" Ask any vegan or vegetarian and they'll tell you they hear the protein question lots. Like, really lots.
We're pleased to tell you that it's really not that hard. Check out this post from registered (and plant-based) nutritionist, Laura Thomas, Are You Getting Enough Protein? The answer is almost certainly an emphatic YES. As Laura says, protein deficiencies are virtually unheard of in developed countries, and in fact high-protein diets have been linked to type 2 diabetes in adults and obesity in children.
While a good rule of thumb is that "if you're getting enough calories, you're getting enough protein", if you're a numbers person, the current UK advice is 0.6g of protein per kg of body weight – so, a 70kg adult would 'need' 42g of protein (be sure to read Laura's article linked above that questions the science of that number, though). Below is a little table of some of the easiest sources of vegan protein. If you're following a well rounded diet, it really starts to take care of itself without any special intervention.
Lentils, chickpeas and other pulses – 10g per serving
Tofu and Tempeh – 10-15g per serving
Hummus – 8g per serving
Nuts and Seeds – 5g per serving
Nut Butters – 5-6g per serving
Oats – 5 g per serving
Brown rice – 5g per serving
Dairy free yogurt – 5g per serving
Wholegrain bread – 3g per slice
Most veg, including potatoes and even spinach – 3g per serving
So, you don't need as much protein as you thought you did and it's easy to come by but still, it's nice to know a few fail-safe recipes to bump up your protein quota. That's where this handy Veggie Runners mini-guide comes in. Below are 5 of our favourite protein sources, and a handy tasty recipe to go alongside each. Sorted.
Quinoa is protein-rich and also gluten-free (it's eaten like a grain but it's actually a seed). If you're not familiar with it, this delicious dish is a great place to start. It's easy to make too. Quinoa contains 8g of protein per serving, alongside a good dose of dietary fibre and B vitamins. 
Brazil nuts are nutritionally rich – high in protein and containing lots of B vitamins, among other healthy things. These burgers are a doddle to make – just mix everything together and cook! They're a great family-friendly dish too and can be served with all the usual burger trimmings. Cashews and peanuts make good substitutes if you fancy a change.
Soya is a wonderfully versatile little bean. We used firm tofu for this recipe and often use silken tofu, particularly in desserts, to give a creamy texture without using dairy products. Don't forget tempeh too. It's a more solid form of soya, with a slightly nutty flavour. It can be marinated, sliced and fried and, because it's quite firm, is great on BBQs.
Nut butters are a great source of protein but don't limit your use of them to peanut butter sandwiches. There are loads of great nut butter recipes on Veggie Runners – we're BIG fans! – but this is definitely one of our favourites. A dessert that's good for you. How cool is that? While this almond butter ice cream is maybe a bit special for every single day (we only said maybe, you can give it a go if you want…), you can get the same protein benefits from regular but butter. A peanut butter sandwich made on whole wheat bread packs a whopping 15g of protein for about zero effort.
Beans and legumes (such as lentils) are excellent, inexpensive and versatile sources of protein. They're also low fat and carb rich, so they are pretty much perfect for active people. This Vegan Black Bean and Sun Dried Tomato Dip is one of the most popular recipes on the blog. Once you've made it, it will become a staple. Guaranteed.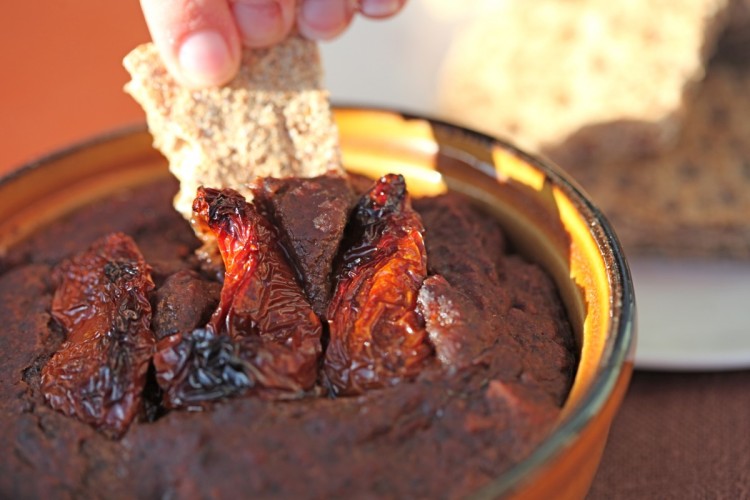 If you'd like a bit more information about vegan protein sources, check out this quick and easy cheat sheet from the Vegan Society. In a nutshell, the general idea is eat well and, well, you'll eat well, if you see what we mean!

If you have a favourite vegan recipe that hits the protein spot, let us know below. Together we can build a database of deliciousness!