All of a sudden, as I began my second trimester of pregnancy, my running started to get much faster and feel easier than it had for years.
The advice, quite rightly, is to not focus on PBs while pregnant, and just enjoy being active for as long as you can. But I've suddenly found myself smashing previous times without actually really trying.
At 12 weeks pregnant, I ran my fastest ever mile, in the middle of one of my faster half marathons. At 21 weeks pregnant, I did a 25 minute parkrun for the first time since 2015, without feeling like I was dying. There was definitely something doing on – but nobody seemed to be mentioning it in the articles I was reading about exercise in pregnancy. Just last week, at 22 weeks pregnant, I made a 7:27 mile during a hilly relay race, which was only 10 seconds slower than my fastest non-pregnant mile time on a track.
I must stress that I wasn't pushing for these times – they just started coming, like I had a hitherto unknown sixth gear waiting inside of me. My perceived exertion for a run feels like it has recalibrated, and what would have knocked me out feels more manageable. I'm not being silly, trying to get good times at the expense of my baby or my body.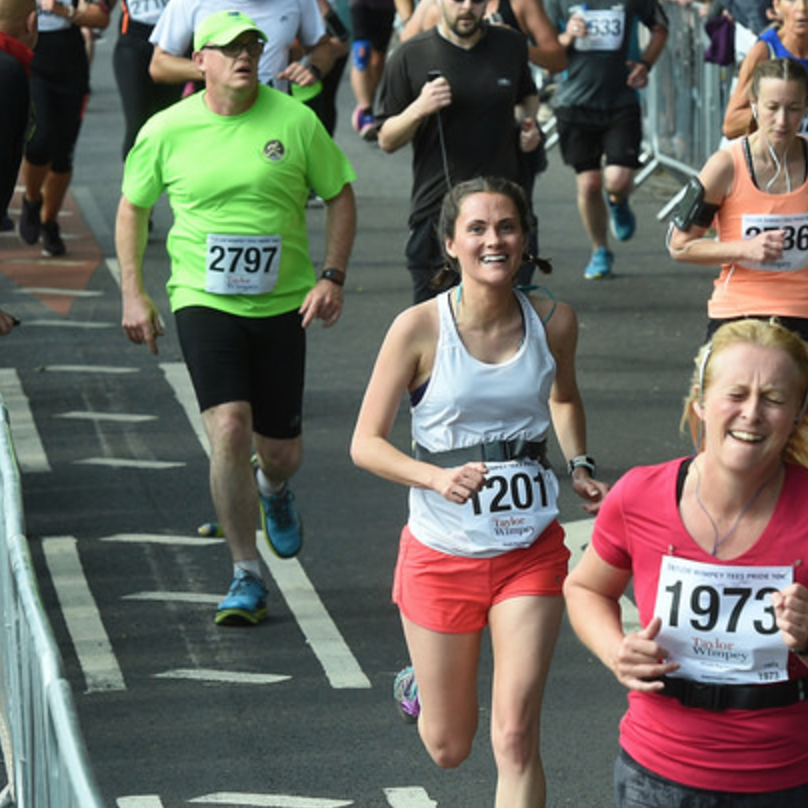 It just feels like at  the point where the wheels would normally have fallen off previously, there still seems to be something extra left in the tank now. On the days when I just fancy going out for a plod by myself, plodding is exactly what happens. But when and if I do decide to stride out, there's also something there. It's almost like the Hogwarts Room of Requirement – it's only there when I actually want it to be there. In the picture above, I am 20 metres from the finish line at a 10K, 5 months pregnant, striding to beat my Stockton Striders team mate, in green – I left him in the dust, and still felt fine!
Being a massive nerd, I decided I wanted to know more about what was happening – this surely couldn't just be coincidence that it was happening at the same time as all of the other big physical changes happening in my body. Was I running faster despite being pregnant, or actually because of it? There must be some link.
I found two big pieces of information that helped make everything a bit clearer:
I have way more blood than I did before I was pregnant, already. I had known that blood volume increased in pregnancy, but I thought it was proportional to your body increasing in size. So, when I'm really big at the end, then of course I'll need more blood to go round. However, the increase in blood volume happens much earlier than that:"Profound changes occur in the cardiovascular system early in pregnancy. By the early second trimester, circulating blood volume increases 40-50%. This is due to an increase in both the circulation of red cell mass and an even larger increase in the plasma volume."
(From the Stritch School of Medicine)This explains why I felt like I had "more left in the tank" while running – I literally DID have a bigger tank! It also explained some of why I've been so thirsty over the last few weeks, without any significant increase in output – I've been hoarding water in the form of plasma.
Without noticing, my body is breathing more deeply, all of the time. This extract from the Mayo Clinic Guide to Healthy Pregnancy explains more:"At the same time, your respiratory system makes some adaptations to allow your blood to carry large quantities of oxygen to the placenta and to remove more carbon dioxide than normal. Stimulated by the hormone progesterone, the respiratory centre of the brain causes you to breathe more deeply and more frequently. Your lungs will inhale and exhale 30 to 40 percent more air with each breath than they did before."Again, this explains that feeling of having just a bit more to give than I usually do. I'm really only running short distances at the moment, so I have a big oxygen store built up before I begin, which doesn't quite get used up during the run. This probably wouldn't keep holding true over longer distances, when I would start depleting my own supplies and having to restore them.
I am very aware that this won't last – the reason that my lung capacity has increased now is because shortly, there is going to be a massive upward pressure on my diaphragm, squeezing my lungs to about 60% of their usual size, and so they will need to be much more efficient. I'm just in the sweet spot at the moment, where my body has got itself ready for the changes coming, but they haven't actually really happened yet. I've definitely got a bump, but it's pushing out rather than up currently, so there's not too much pressure on my organs.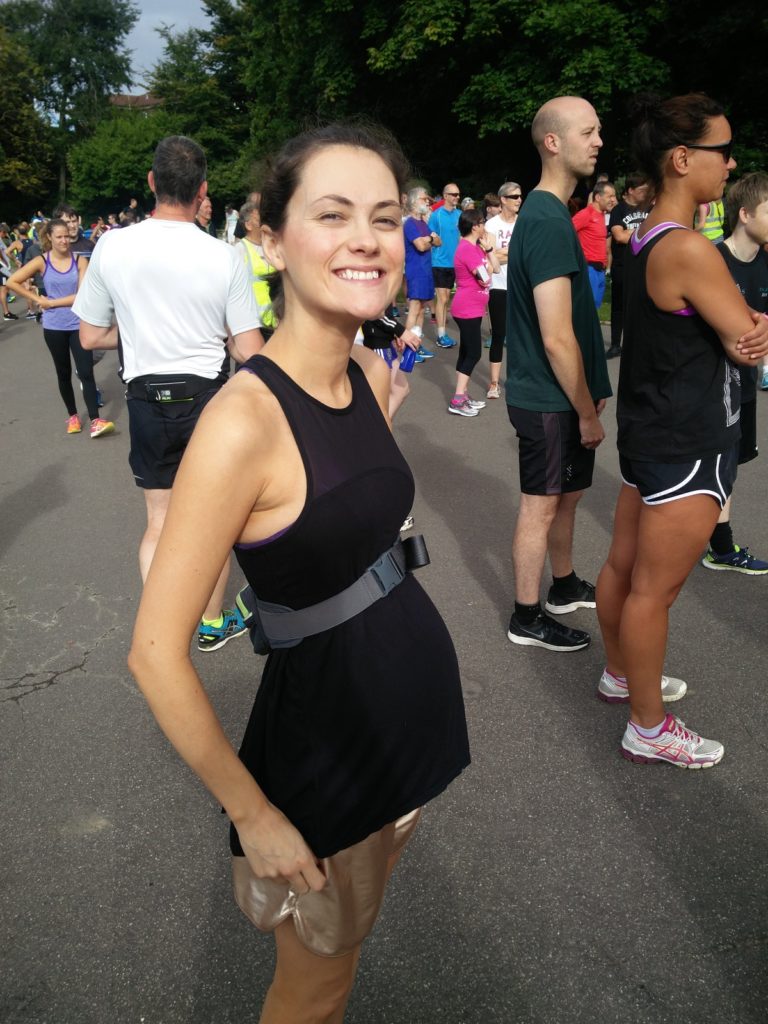 I'm 23 weeks pregnant now – the baby will continue to get bigger and I'm probably going to get somewhat unwieldy. For now, though, I'm absolutely loving speeding along and filling the baby and myself with happy exercise hormones! An added benefit is that when I'm exercising, my baby's heart is also getting stronger, so I can honestly say I'm exercising for two.
Running mamas, did you speed up unexpectedly when you were pregnant? How long did you run through pregnancy? Did find any other exercise helpful that I might like?