Race entry deadlines force you to make decisions months ahead of your intended races. So, just three months after having Stanley I'm starting to think about post-partum marathon plans.
I started doing gentle exercise at six weeks post-partum, and began running again this week, ten weeks after Stanley's birth. I had thought I might want to get straight back into long distance running after my pregnancy, but as race entry deadlines came and went, I kept not entering anything. I realised… I don't want to run a marathon this year, while Stanley is still so small.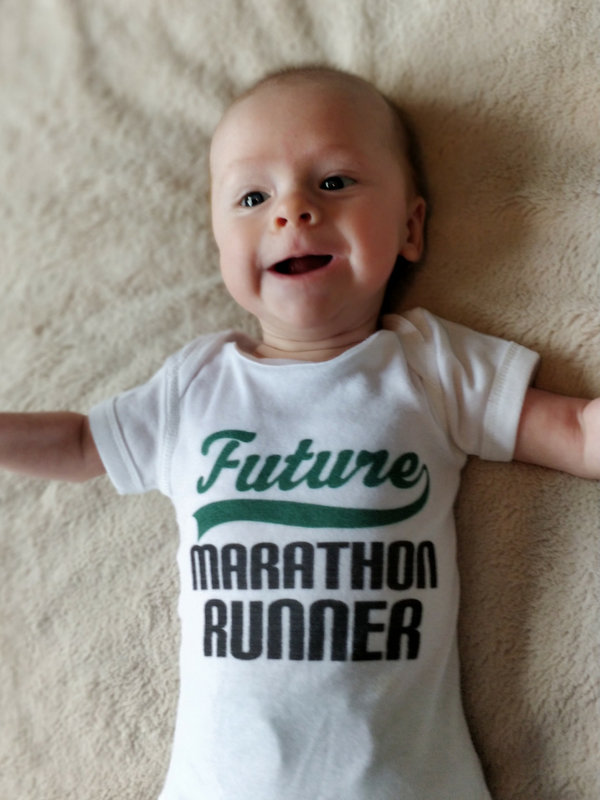 After giving it lots of careful thought, and discussion with my physio, I've made the decision to wait at least a year to run another marathon. It may be longer depending on how juggling baby, work and training go in the future.
These are my reasons for wanting to wait a year post-baby before I enter another marathon –
As my physio has identified an imbalance in my trunk, he has recommended that I don't do really long runs with the running buggy. The running buggy holds your arms stationary, while your legs continue to swing from side to side, which can exacerbate any leg issues over long distances. So if I were to up my mileage, I'd be out of the house for long mornings sans bebe. And if I'm going to be away from the little guy for 4 hours, I may as well get to go for a run AND a coffee and cake, rather than just one long run.
The same hormones that cause ligament laxity in late pregnancy continue to be released during breastfeeding. This increases your chance of becoming injured because your ligaments are looser and so your joints move differently. As I hope to breastfeed Stanley for at least a year, I want to make sure that my joints are completely stable before I start upping my mileage significantly.
I also find that I need more sleep for recovery when I'm marathon training and that's something that's in short supply these days…
Breastfeeding hunger is something else! If I added that to marathon training hunger, I'd never stop eating.
Other people have run marathons in the year after giving birth. I totally admire women who get back into distance running after pregnancy – they're doing what feels right for them, as I am too. If you're interested in reading about mums who have chosen to run long marathons and more after babies, I'd really recommend reading Jess at Twins in Trainers; and Mary at A Healthier Moo. They are totally inspirational, and are definitely a couple of badass mother runners.
So what will I be doing if not marathons? I'm going to focus on speedwork and 10k's for the remainder of the year. Working with my physio, he recommended now that I'm back running to start out fast, or at least 'not slow'. This surprised me, as I'd assumed the safest way to get back into running would be to plod a bit. But actually, he said if I hold myself back, I'll a) change my running form, and probably end up heel-striking and b) spend more time on my feet per run. Both of which would increase my chance of injury. So, I'm going to be doing walk/run sessions, with the 'running' sections pretty speedy.
This works well for me, as even though I won't be running long distances, I'll definitely still need that runners' high, and speedy interval sessions are good ways of getting one in a short amount of time. So, I'm going to be entering 10K's once a month from the summer time, and hopefully seeing my times improve as I go along, with speed and interval sessions. The best of all worlds for me at the moment – loads of endorphins, and time for cake.