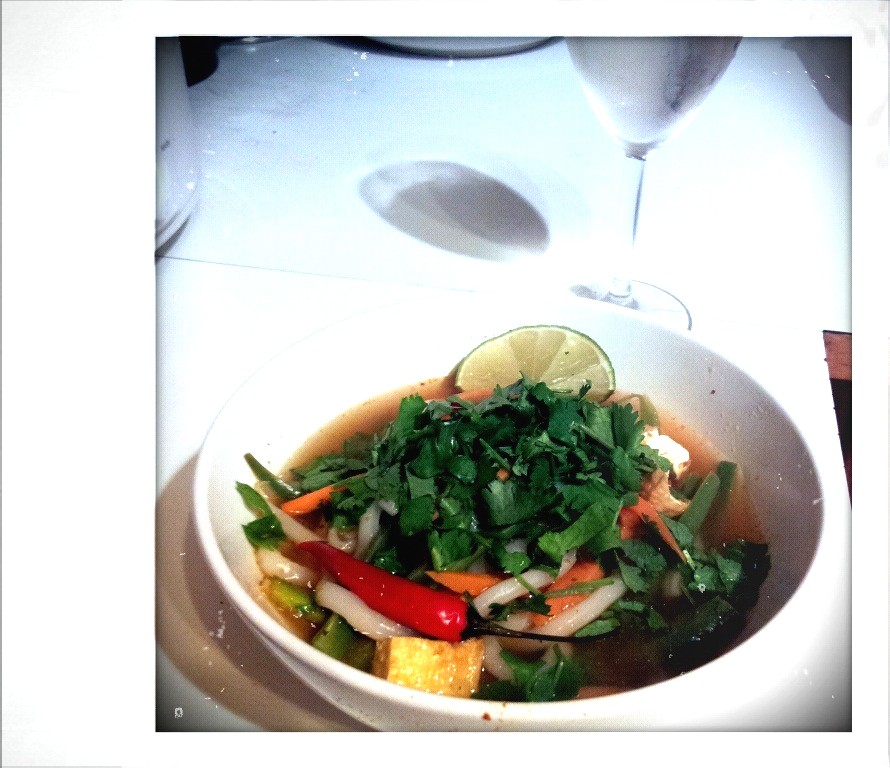 I HATE having my training plan derailed by a cold rearing its snotty head right into MY previously clear one. So, when I felt that familiar malevolent tickle, I pulled out all the stops to prevent it sticking around. I made this deeply aromatic, antimicrobial, bug-busting soup and – success! I halted my cold before it had even properly begun, and now I can be out enjoying the glorious sunny early evenings that London keeps giving me as gifts.
The ingredients for this might seem a bit intimidating, but it's SUCH a quick, tasty, fortifying meal once you've got them that they're well worth it.
Vegan Tom Yum Soup
Ingredients
2 tbsp tom yum paste
1 tsp grated galangal (a hot, peppery root. Substitute ginger if you can't find it.)
1-2 birds eye chillis  chopped
4 kaffir lime leaves (fresh, frozen or dried, whatever you can get hold of)
Stalk lemongrass, bashed and bruised and cut into 5cm .
Pinch sugar
1 pack ready cooked udon or some quick-cook rice noodles.
Tofu (For the soup in the picture, I bought mine ready-fried from my favourite Japanese café)
To serve:
Squeeze of lime juice
Handful of chopped coriander
Instructions
Method
Pour two bowlfuls of boiling water into a pan and add the first group of ingredients, leaving to simmer on a very low heat for 10 minutes. This will let all those hot, sour, flavours make a fantastic, deeply aromatic stock.
Next add the noodles and the tofu, chopped into bite sized pieces. Turn up the heat slightly and cook through for 5 more minutes.
Ladle into bowls and serve immediately with coriander and a squeeze of lime juice.
Eat with spoons and chopsticks. Slurp your noodles carefully. I was once on a first date and accidentally lassoo-ed noodle soup into my ear with an udon noodle. There was a very sore ear and no second date.