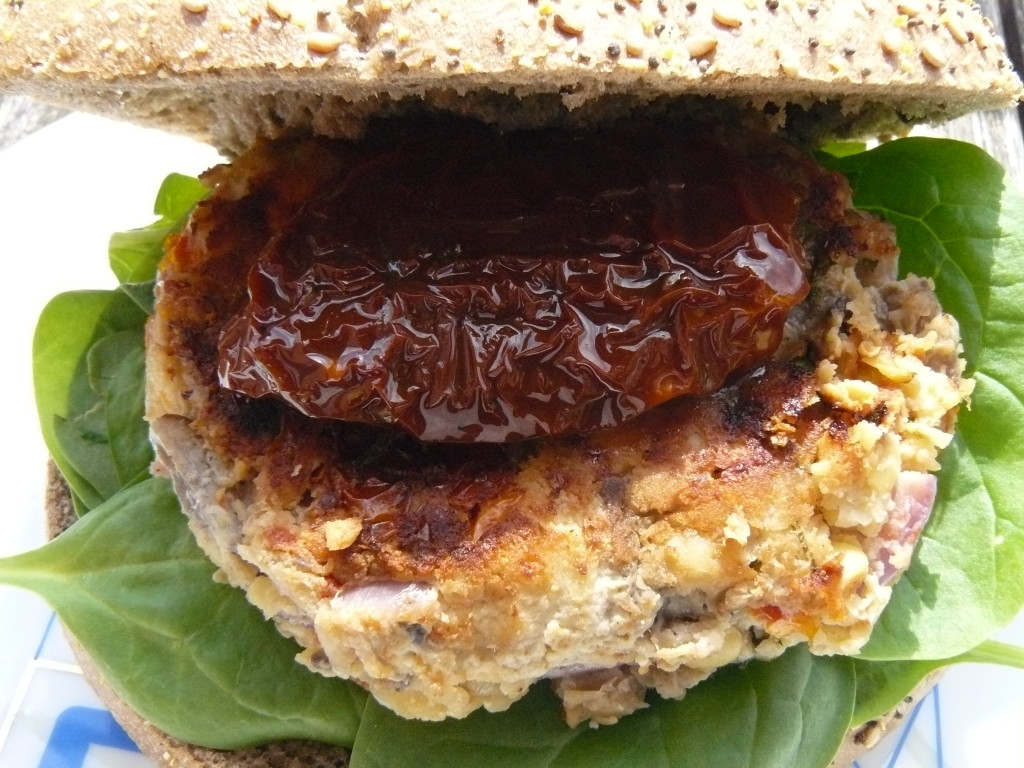 You have to feel bad for the poor old lentil burger, so often mocked and maligned. We can blame pub grub and its half-assed 'vegetarian options' – sloppy, bland burgers or greasy, deep fried monstrosities. But, people, it's time to learn to love your lentil burger! With the right blend of ingredients, your unloved lentils will become your lifelong friend.
This Lentil, Feta and Sun Dried Tomato burger definitely has the right combination of flavours. From the saltiness of the feta to the tart sweetness of the tomatoes, it's a lovely, lively little number. Sun dried tomatoes are rich in nutrients, including protein, fibre, and vitamins K, C and A, along with some healthy B vits. With the protein in the lentils and the feta and the extra carbs from a wholemeal roll, this makes a great recovery treat after a long run. Serve it in a roll with salad greens and another sun dried tomato on top. It's a family-friendly burger too though – you won't hear anyone complaining at the dining table when this is on the menu. They're easy to make and freeze well too.
Note: make the burgers quite small – about 7-8cm across. They hold together best that way 🙂
Lentil, Feta and Sun Dried Tomato Burgers
Ingredients
150g red or green lentils (dry weight) - SOAKED OVERNIGHT
8 sun dried tomatoes, roughly chopped
50g feta cheese
1 egg, beaten
1 onion, diced
2 cloves garlic, finely sliced
1 tablespoon tomato puree (optional)
Large handful fresh mint, finely chopped
Salt and black pepper to season
Vegetable oil for frying
Instructions
Cook the lentils until soft (DON'T add salt to the cooking water or they'll stay hard forever). Drain well.
Place all of the ingredients in a large bowl and mix together well.
Make into burger shapes - the size is up to you - with your hands.
Shallow fry until lightly browned on both sides.