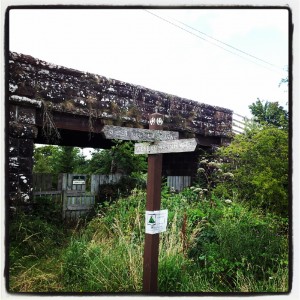 96 miles, that's a silly distance to run, isn't it? Especially when this is as good as the signage gets on the West Highland Way. Most of the signposts are waist-high with just a little yellow thistle painted on them. Or, to put it another way, they're very easy to miss. It's only when you've been running a couple of hours and you see campers trudging wearily in the opposite direction that you know you're going the right way. You can spot the campers because they carry backpacks the size of small houses. 
We (my running mate, Sarah, and I) were not keen on the idea of carrying lots. It seemed like quite enough of a challenge to keep your feet moving for 96 miles without carting all your worldly goods with you. For this reason, we devised a cunning plan and posted packages on ahead. These contained all our daily post-run needs (shower gel samples, toothbrushes, moisturisers etc), as well as what would sustain us the next day until we could get to a village and buy cottage cheese and bananas. Note for anyone who wants to do a run like this: you really don't feel like eating but you really, really have to!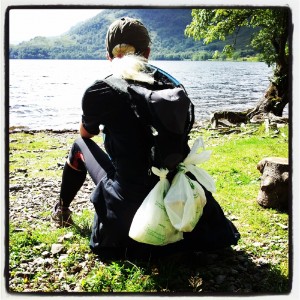 Sarah was absolutely averse to carrying anything superfluous (she's a West Highland Forager – she'd eat just berries and fungi if she could get away with it). She thus adopted a novel approach, stuffing the pockets of her running jacket with protein bars and gels and dangling carrier bags from her miniscule backback (which contained a water bladder only) until she'd used/eaten their contents and could find a bin to dispose of them.
People have asked me if I enjoyed it. Hmm, that might be a bit strong – bits of it were horrid – but it was great fun and I did relish every moment. I didn't realize it at the time but I was running in what our recent guest blogger, Katie Brown, referred to as a mindful way. I didn't want to think about the miles ahead, or even the miles behind. I was in a spectacular place, with a great friend, doing a cool (OK, slightly mad) thing. What was not to love?!
It's not a trail, as I was expecting. It's more of a general 'Set off from Fort William, head in that direction and you'll get to Glasgow eventually' kind of route. I'm not being funny when I say it's not a trail. Sections of it look like this.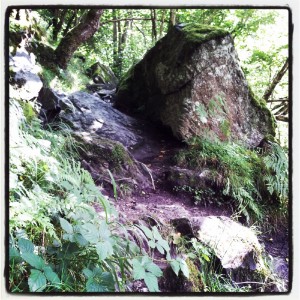 That is not a running route by anybody's definition. There was quite a bit of climbing and scrambling (and, yes, slithering on our bums) going on in places. Other bits of it look like this for miles.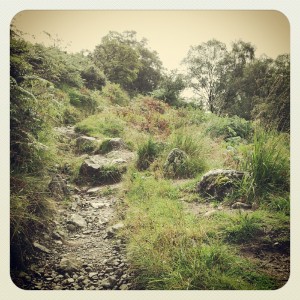 Not easy terrain then, as you're constantly watching your footing (and, if you're me, missing it). I'm guessing this is how I managed to tear my hamstring insertion point just behind my knee, making the last day a painful hobble-jog (a jobble? a hog?) I looked like Eddie Izzard on the very last of his 43 marathons – i.e. not glam but still doing it!
I ran in memory of my late brother, Mark, raising money for Macmillan Cancer Support. On that last day, the heavens opened and it poured down – for several hours. At one point it was all getting a bit silly so we had to stop and take shelter. As I stood under the rotting canopy of an outhouse (whose outhouse or where, I do not know), my phone beeped and I discovered I had a signal for the first time in hours.
When I checked the donations page I found all the wonderful, touching messages of support from people who'd sponsored me. Obviously, I had a little cry, grateful for the generosity of friends and strangers. It was just what I need to inspire me to jobble the last 10 miles or so – so a million thanks if you were one of those lovely people!
If you weren't one of those who sponsored me, you didn't missed your chance; every penny makes a difference and the link for donations  is still open if you can spare a dime or two. There's also a unique, one-off, world-exclusive gift for everyone who does, a cartoon that commemorates the run from legendary cartoonist, Tony Husband (of 'Yobs' in Private Eye fame and a gazillion other things too).
I'll leave you with images of the splendour of the West Highland Way but please don't ask me where any of these places are, as I haven't the foggiest idea. All I know is that they were taken somewhere between Mile 0 and the fabulous recovery curry we had at Mother India when we reached Glasgow.