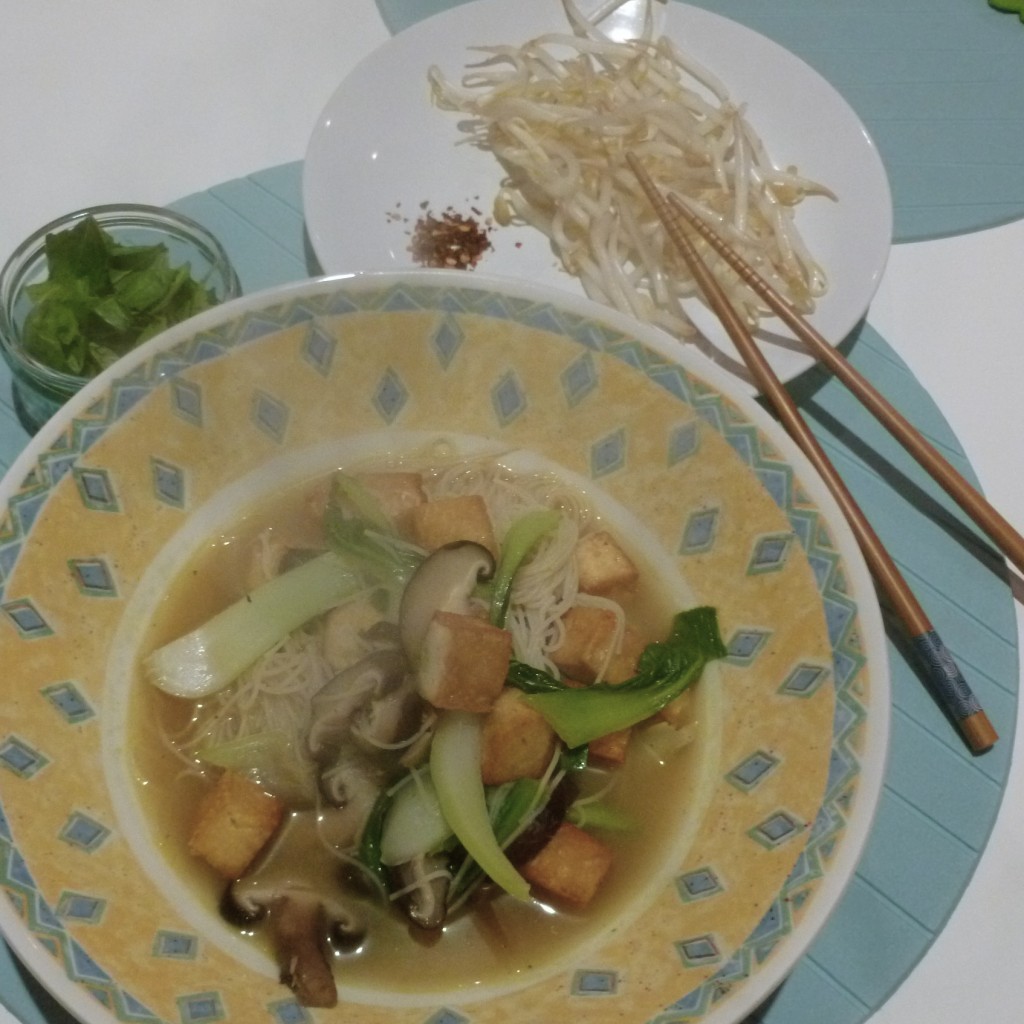 All over North America, there are restaurants that serve Pho, a Vietnamese noodle soup. And more often than not, they have a puntastic name (it's said like our naughtiest swearword, without the 'ck' on the end) – "What the Pho" "Pho Sho" "Pho Shizzle".
So far, so good. (Who doesn't love puns?!) But did I mention that the soup is DELICIOUS? It might seem a faff to make your own broth at the beginning, but trust me, it's worth it. The umami liquid is the colour of darjeeling and just as exotically beautiful. All of the adding on bits at the end would make this a really impressive meal for guests if you scaled up the quantities.
If I were to open a restaurant serving just this i'd call it 'ToPho'.
What the Pho – Vietnamese Noodle Soup
Serves 2
Ingredients
For the broth
1 star anise
1 cinammon stick
½ white onion, chopped
1 clove garlic, diced finely or microplaned
1 inch piece ginger, diced finely or microplaned
500ml good-quality vegetable stock
1 carrot, roughly chopped
2 tbsp liquid amino acids (Such as Bragg's) or soy sauce
For the soup
1 block firm tofu
1 tbsp oil + 2 tbsp amino acids
1 bok choi, chopped into lengths.
Pack ready-cooked rice noodles
6ish shiitakes mushrooms
To serve
Fresh basil
Bean sprouts
Lime wedges
Chilli flakes (optional)
Method
1. First make your broth. In a large saucepan, fry the cinammon stick and star anise for one minute. Then add the onion, garlic, ginger, carrot, stock and amino acids and simmer very gently for 30 minutes.
2. Towards the end of your broth cooking time, toss the tofu in the oil and amino acids and fry off on all sides until golden.
3. Drain your broth off, back into the pan it was cooked in. Add the bok choi and noodles and cook through for 3 minutes. Add the tofu.
4. Serve in wide bowls, with torn fresh basil and bean sprouts for freshness, lime wedges to lift the savoury broth and chilli flakes.