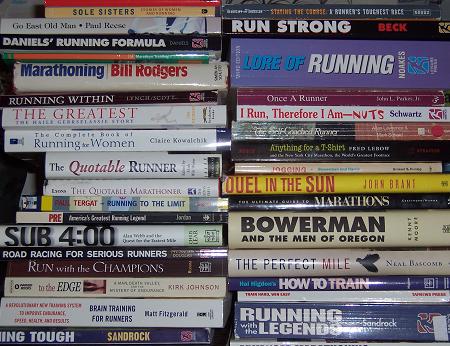 Photo copyright: goerieblogs.com
Anyone who's into running and fitness knows that it's easy for well-meaning friends and family to get it wrong when it comes to gift-giving. They do their best, bless 'em, but if they're not out running beside you, they never know what you really, really want.
So, rather than end up with socks that don't wick or technical tees that don't fit, why not ask them to buy you one of the books on The Veggie Runners Guide to the Top 15 Running Books? You never know, they may end up reading it themselves and joining you next time you head out for a run.
To make things even easier for you, we asked our followers on Twitter and Facebook to tell us their favourite running and fitness books so you can be sure these are the books that real runners read. Here it is, our list of tried, tested and thoroughly recommended books for people who are fit or would like to be. Share it with your friends, and pass it on to loved ones whenever they're stumped for a gift for you.
Chi Running, Danny Dreyer
Feet in the Clouds, Richard Askwith
What I Talk About When I Talk About Running, Haruki Murakami
Born To Run, Christopher McDougall
How To Run: From Fun Runs to Marathons and Everything In Between, Paula Radcliffe
Eat and Run, Scott Jurek
Run!, Dean Karnazes
Lazy Girl Running: How I Got Off The Sofa and Ran A Sub-4 Marathon, Laura Fountain
Running Like A Girl, Alexandra Heminsley
The First 20 Minutes, Gretchen Reynolds
Relentless Forward Progress: A Guide To Running Ultra-marathons, Eddie Grossman and Byron Powell
Finding Ultra: Rejecting Middle Age, Becoming One of the World's Fittest Men, and Discovering Myself, Richard Roll
Marathon: The Ultimate Training Guide, Hal Higdon
The Lore of Running, Tim Noakes
Can't Swim, Can't Ride, Can't Run: My Triathlon Journey from Common Man to Ironman, Andy Holgate
Thanks to everyone who sent in suggestions. If you have any more to add, let us know in the comments box below.